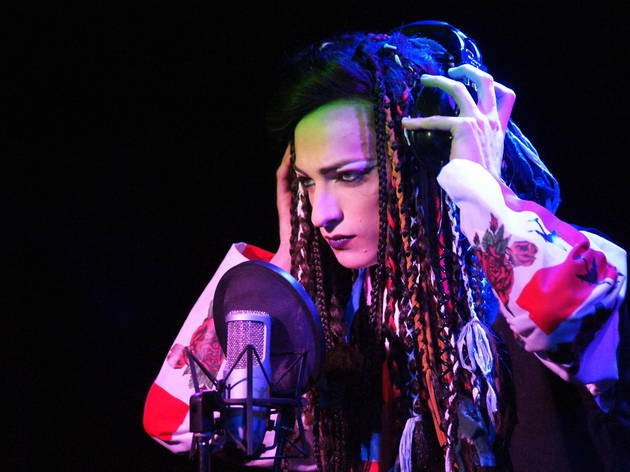 Autobiographical musicals are often bland jukebox numbers; soulless cash cows written to rinse hardcore fans of their hard-earned cash. Yet this revival of Boy George's 2002 effort, 'Taboo', has characters as colourful as a Gay Pride rainbow, glorious original songs and costumes that make Lady Gaga look prudish.
Christopher Renshaw's wonderfully shameless production is staged in the Brixton Clubhouse, a suitably sweaty, site-specific location for a musical set in the titular nightclub at the height of the '80s new romantic scene. The stage is a glorified catwalk that winds through the audience, the performers' garish makeup practically dripping into our laps.
The one bland ingredient is Mark Davies Markham's book, which is straightforward and slight. It's the classic story of boy (Alistair Brammer's Billy) meets girl (Niamh Perry's Kim). And then meets Boy (George – played by Matthew Rowland). With various key new romantic players drifting through, the gang flirt, sing and shoot up together. Rowland, as the seemingly soft-hearted but steely Boy George, stops things getting too schmaltzy. \
But this is essentially a bonkers fashion show and it's the colour, costumes (give designer Mike Nicholls an award) and chorus that stand out. Boy George's original songs are gutsy and soulful, particularly the edgy ensemble numbers such as 'Petrified' and 'Touched by the Hand of Cool'.
Sam Buttery is unforgettable as performance artist Leigh Bowery. His costumes are outstanding: he is alternately covered in silver, caked in green and decked in an outfit that can only be described as a huge, shredded lime. Best of all is Buttery's appearance in his birthday suit; a brave moment that reminds us of the vulnerability beneath the sparkle and sequins.
Average User Rating
4.7 / 5
Rating Breakdown
5 star:

2

4 star:

1

3 star:

0

2 star:

0

1 star:

0
As someone who saw the enjoyable but mediocre New York Broadway production years ago with Boy George playing Leigh Bowery, this more intimate production is far superior. It is well worth the time and one may actually being part of the production.
Absolutely phenomenal show. Cast of highly talented performers and in a wonderfully unique setting.
Delighted that the wonderfully shameless Taboo is back! I loved the setting, loved the songs, loved the performances and have to say I loved the book! It's the language that gives the characters all the colour of a gay pride rainbow – the wit of Philip Sallon, the hilarious showmanship of Leigh Bowery, the ludicrous Marilyn and the vulnerable loveable Boy George. It's all comes via Davies Markham's book along with Billy and Kim – characters that are real, accessible and fallible. Every man and every woman driving the story through. This show would not be the same without them. Bland it is not. Sharp, sarcastic, original and with the biggest heart and soul on the West End. Why else do audiences laugh and cry with recognition and return to see it time and time again?