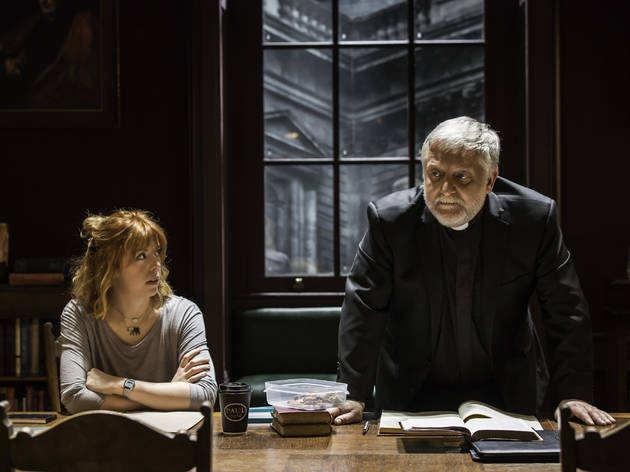 1/5
© Johan Persson
Rebecca Humphries (The PA) and Simon Russell Beale (The Dean)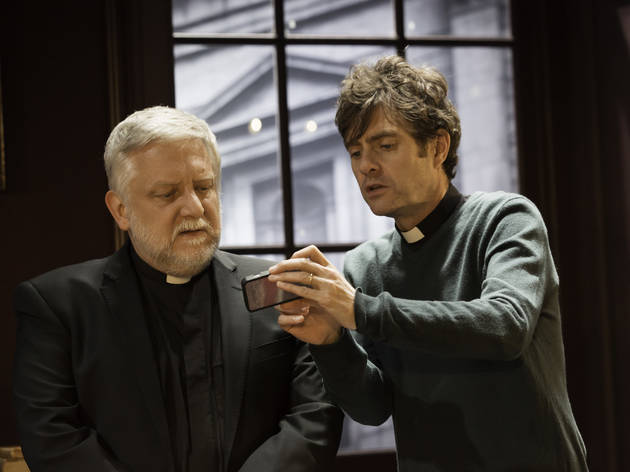 2/5
© Johan Persson
Simon Russell Beale (The Dean) and Paul Higgins (Canon Chancellor)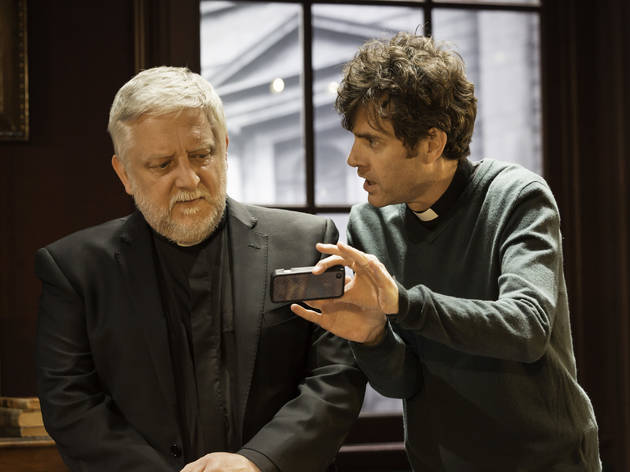 3/5
© Johan Persson
Simon Russell Beale (The Dean) and Paul Higgins (Canon Chancellor)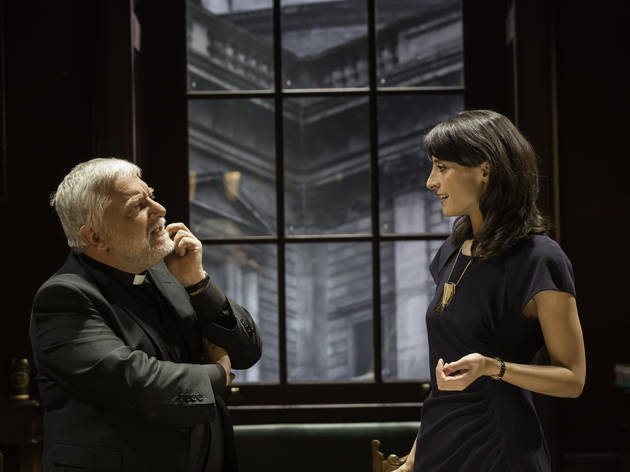 4/5
© Johan Persson
Simon Russell Beale (The Dean) and Shereen Martin (The City Lawyer)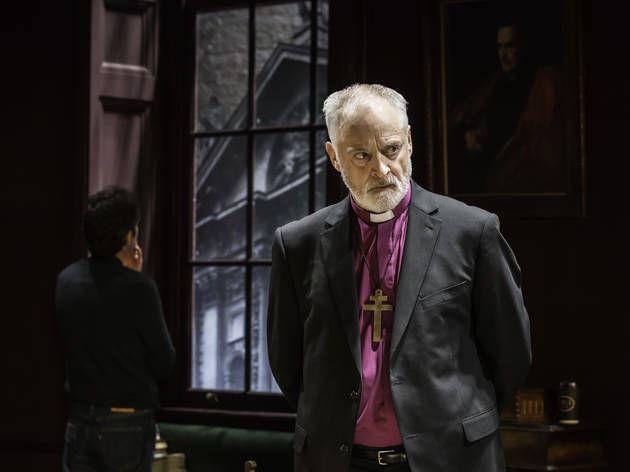 5/5
© Johan Persson
Malcolm Sinclair (Bishop of London)
Time Out says
Simon Russell Beale is great in this slightly wobbly fictional take on the Occupy protests outside St Paul's Cathedral in 2011.
Fiery canon chancellor Giles Fraser was the churchman made famous by the 2011 Occupy London camp at St Paul's cathedral, following his principled resignation in protest at Church collusion with the City of London's eviction of the protesters.
But he just gets a supporting role in Steve Waters's questing new drama, which concerns itself with the less remembered Graeme Knowles, the erstwhile Dean of St Paul's, who gave in to the City then quit shortly thereafter.

I say it's about them: neither Fraser nor Knowles are named in the script, with the characters played by Simon Russell Beale and Paul Higgins simply referred to as 'the Dean' and 'the Canon Chancellor'. Yet whatever the legal or literary reasons, there's no doubt Waters is imagining the two real men – not only are the biographical details identical, but the soul of the play lies with them in a way that it simply doesn't with the other characters who wander into their deliberations in the Dean's office on the morning of the cathedral's re-opening.

Simon Russell Beale proves his mettle for the hundredth time as the Dean. His supercilious early sections are a bit of fun (there's a terrific walk-on gag) but he slowly, inexorably finds the heart of the man: a decent, efficient chap who has become terribly aware of his own mediocrity. He knows what the right thing to do is – knows what Jesus would do – but he also knows he doesn't have the strength of character to oppose it, and he prays he will be obliterated by history. In the most heartbreaking line he acquiesces to the City by declaring it's 'the choice that comes from the person you've come to be, not the person others would wish you to be'. It is a delicate, painful, beautifully modulated performance. And Higgins is good too, his troubled, preening energy bouncing nicely off the sad, quiet Beale.

But elsewhere Waters's script and Howard Davies's production wobble a bit. Worst is the use of the dilapidated cliché of the Naive Young Woman: Rebecca Humphries is perfectly good in the invented role of the Dean's new PA, but the half-light relief, half-expositional part gets clunkier the more serious the play gets. And as a soulless City lawyer, Shereen Martin feels like she's wandered in out of 'W1A' – Waters's 'fictional' characters are far broader than his 'real' characters, and it unsettles the short play.

Nonetheless, 'Temple' is an intelligent, moving 90 minutes with its heart and mind in the right place. What would Jesus do? Applaud, I imagine.
Details