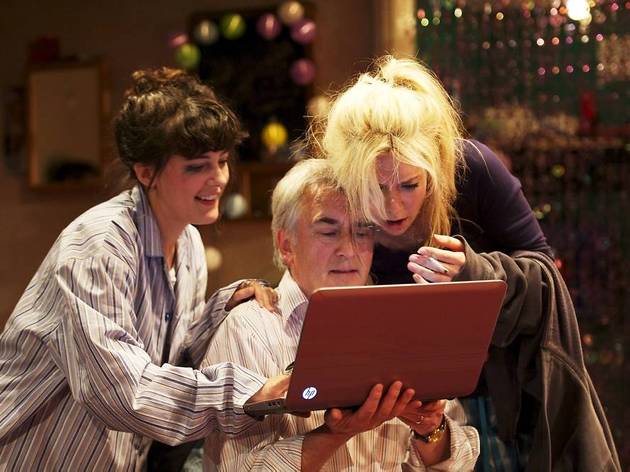 Youth is an age of embarrassment. But, for a 20-year-old virgin, it probably doesn't get much worse than watching your drunken dad doing dad-dancing with your flirty flatmates.
Nineteen-year-old playwright Anya Reiss already has one Royal Court hit under her belt. She proves again that she has a sharp ear for the comedy and sexual misery of youth and, indeed, middle age.
Simon Godwin's vivid production of her second play is cringe-powered comedy: you're gripped for the whole 90 minutes by the tantalising fear that Jessica's recently dumped dad, Jim, will make a move on one of her friends.
Paul Wills's exceptional set draws you in: you enter through a long corridor of scuffed front doors and join the three girls in their sitting room, all fag-butts, fairy-lights and barely drinkable novelty vodka.
Denis Lawson makes Jessica's dad, Jim, a marvellously creamy old stager, puzzled and angered by his daughter's extreme hostility in his hour of need – the play's crux, which it fails to expand on.
Vanessa Kirby and Phoebe Fox make seductive frenemies out of Dana and Ruth: one faux-ditzy, the other bonkers; both needy, naive and wasted.
Lydia Wilson's Jessica is the sober, angry foil for their midriff-baring, shenanigans – but they're so much more fun that it's hard to sympathise.
After a night of hard drinking and home truths, their flat is littered with expletives and broken illusions, but the story has run out of steam – and the supporting characters, who refuse to support their friend, have cornered the spotlight.
Self-proclaimed slut Dana has an icky offstage encounter with her boss. Her reaction is the most moving insight here into something the play doesn't quite get its head around our raunched-up expectations of young women. It's a subject that reaches way beyond a bender in a bedsit – and one that I'd love to see Reiss, with her lively talent, tackle at greater length.