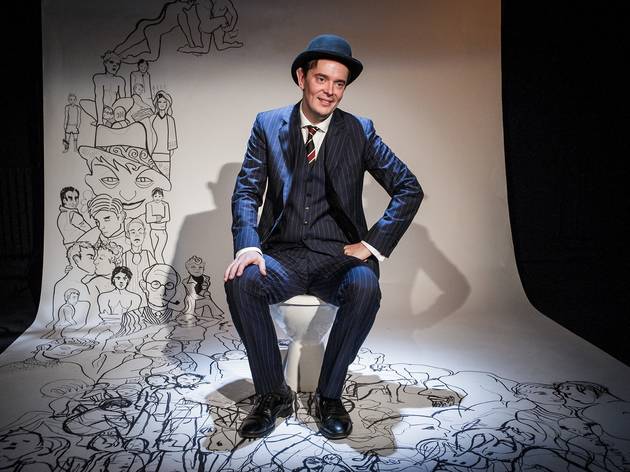 1/5
Robert Workman
The Act - Oval House - 8th October 2013 Actor - Matthew Baldwin Created by Thomas Hescott and Matthew Baldwin
2/5
Robert Workman
The Act - Oval House - 8th October 2013 Actor - Matthew Baldwin Created by Thomas Hescott and Matthew Baldwin
3/5
Robert Workman
The Act - Oval House - 8th October 2013 Actor - Matthew Baldwin Created by Thomas Hescott and Matthew Baldwin
4/5
Robert Workman
The Act - Oval House - 8th October 2013 Actor - Matthew Baldwin Created by Thomas Hescott and Matthew Baldwin
5/5
Robert Workman
The Act - Oval House - 8th October 2013 Actor - Matthew Baldwin Created by Thomas Hescott and Matthew Baldwin
We've been here before with Nicholas de Jongh's Gielgud cottaging drama 'Plague Over England'. Here we go again with another warm and likeable survey of the legal trials and social tribulations of gay men in the 1950s and '60s before the decriminalisation of homosexuality. Hot from the Ovalhouse, director Thomas Hescott teams up with Matthew Baldwin to focus on one dapper young man's experience at school before graduating to pill-popping in Soho nightclubs and the 'cottage' toilets of St James's Park, for which he is prosecuted following a violent encounter. The story cuts between his trial for homosexuality and an MP arguing in Parliament for decriminalisation. But the story is framed by a gay man today moaning about campaigning 'super-gays'.

Baldwin presents himself in a sharp three-piece suit with bowler hat and brolly – reminiscent of Quentin Crisp's 'Naked Civil Servant'. It is a technically accomplished performance, slipping in and out of characters including the camp Edna in a Soho club, the urbane MP discussing the Wolfenden report in Westminster and the central character himself, who endures odium, violence and moments of sexual piquancy. This is interspersed with a smattering of songs spoofing 'Danny Boy', 'Carmen' and 'Greensleeves'. Baldwin is a versatile performer and Hescott's production is slickly staged with a toilet pan set on a photographer's infinity curve. On this Gavin Dobson has sketched a morass of bodies from which arise the distinct images of Crisp, Gielgud and sundry Adoni.

At 75 minutes it doesn't outstay its welcome and as social history the show is both salutary and stimulating.