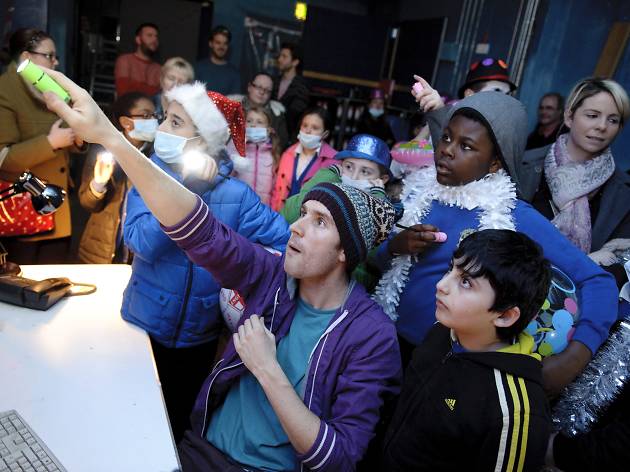 Time Out says
Friendly warning! We're working hard to be accurate. But these are unusual times, so please check that events are still happening.
The Lyric Hammersmith opens up its backstage with this immersive adventure show.
Clowns tend to get a bad rap these days, but it's hard to express quite how grateful I was for the presence of shambolic children's entertainer Mr Wren in this interactive kids' adventure from theatre company Bad Physics. With his hacking cough, horrendous interpersonal skills, rubbish sock puppets and complete ineptitude with balloon animals, Nathaniel Tapley's Wren is a total disaster, failing miserably in his attempt to keep the young audience (ages seven to 13) entertained by regaling them with the story of Noah's Ark in a cramped little locker room backstage at the Lyric. I loved it, and was one of the minority – shout out to the two eight-year-olds who agreed with me – who voted to stay when a trio of squeaky clean youths burst in and invited us to join them on an adventure to rescue their scientist father, abducted by a nefarious corporation that conveniently had offices upstairs in the Lyric.

Democracy had its cruel way and, outvoted, I joined in with the short but convoluted quest, the grumbling Wren fortunately in tow. Centred around solving a couple of somewhat improbable puzzles in a pair of atmospherically tricked out rooms – expect younger children to be a bit scared – it's all good, 'Scooby Doo'-ish fun, though it has to be said not in the same league as Punchdrunk's fairly similar 'Against Captain's Orders' (though if your sprogs enjoyed that, they'll like this).

The kids totally dug it. After about 45 minutes of slightly cheesy hijinks, I was contemplating asking Wren if he wanted to sack this off and go for a pint. But then 'The Adventure' takes an entirely bizarre and thoroughly entertaining turn that I suppose I shouldn't spoil here, but certainly serves to justify both the title and the ticket price. A mini-adventure that hits its mark in the end.
Details