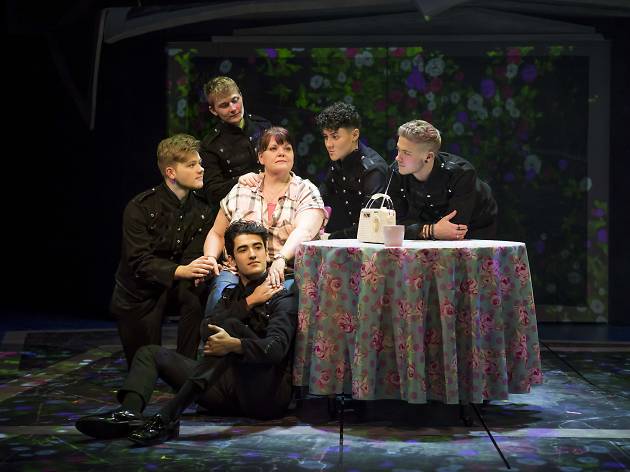 Time Out says
Friendly warning! We're working hard to be accurate. But these are unusual times, so please check that events are still happening.
This Take That musical is warm-hearted and loveable
Remember Take That? Well, hold on to those memories because, songs aside, there's precious little of the '90s boyband in Gary Barlow's jukebox musical 'The Band', which trundles into the West End after a lengthy UK tour. The five sweet-voiced guys on stage – winners of the Barlow-presided TV contest 'Let It Shine' – are just abs-y window dressing in a show that's really about music fandom, growing up, and most of all female friendship.
Tim Firth's story centres on five totally, refreshingly ordinary teenage girls who have a primal obsession with a boyband, its music the glitter glue that holds their friendship fast. Except then, 25 years slip by and they hardly know each other anymore. And the songs that saved their lives when they were 16 are now the only thing that can help them.
What little plot there is centres on this group's attempt to see the band on their comeback tour in Prague, which results in some totally ludicrous situations. A highlight is seeing these forty-something women frolic in a fountain that features the five-strong band masquerading as statues, coated in grey latex. But this gaggle are arguably more satisfying to watch as teenagers, all gobby energy, excitedly taping 'Top of the Pops' and begging for a free bus ride home from their first concert after they spend all their money on merch.
The show's most poignant moment comes in the second half, when their 40-something selves sing 'Back for Good' to their younger selves, in an almost unbearably vivid repurposing that summons up all the regret that comes with growing up, and outgrowing the friendships and passions you used to live your life for. These regrets feel a bit more real than the slightly contrived storyline, which handles the obligatory big issues only semi-sensitively. It's great to cast actors of different body types, but the constant joking about the character Claire (even as played by the very funny Alison Fitzjohn) and her size feels uneasy, as does the final suggestion that getting back with her mates is all the inspo she needs to start losing weight.
'The Band' is all about the redemptive power of fandom, but the black hole at the centre of this show is the actual band. Boybands like Take That weren't just about the songs (although their hits sound great here, repurposed for new voices and new contexts). They were about the boys, and the cults of personality around them that were fueled by Smash Hits interviews and brooding bedroom wall posters. This band are distant icons, performing on a stage high above the five women's heads: a bit of stardust floats down, but not enough to make this warm-hearted show catch light.
Details