The Book of Mormon review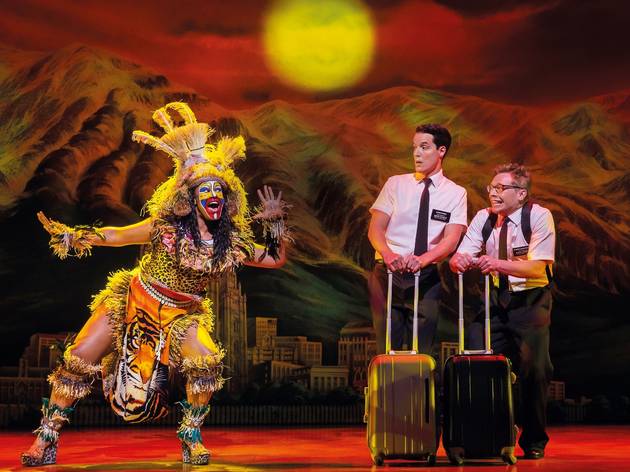 1/7
© Johan Persson
Tania Mathurin, KJ Hippensteel, and Brian Sears in 'The Book of Mormon'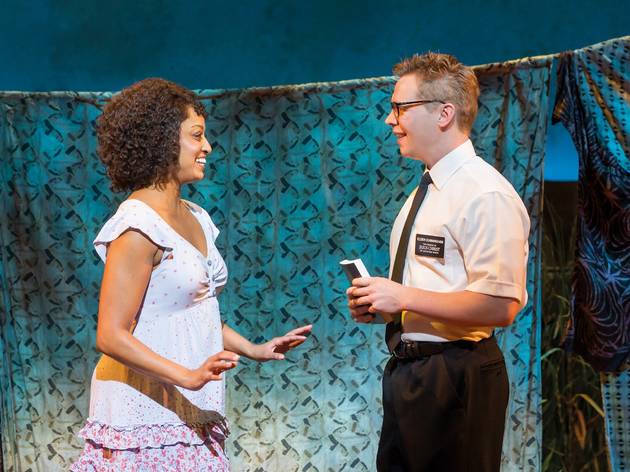 2/7
© Johan Persson
Asmeret Ghebremichael and Brian Sears in 'The Book of Mormon'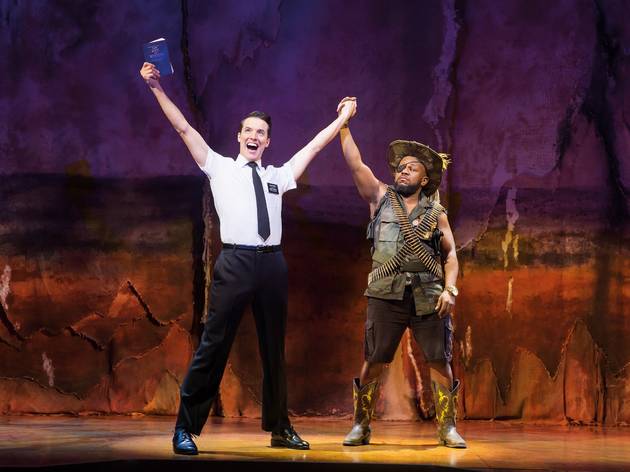 3/7
© Johan Persson
KJ Hippensteel and Delroy Atkinson in 'The Book of Mormon'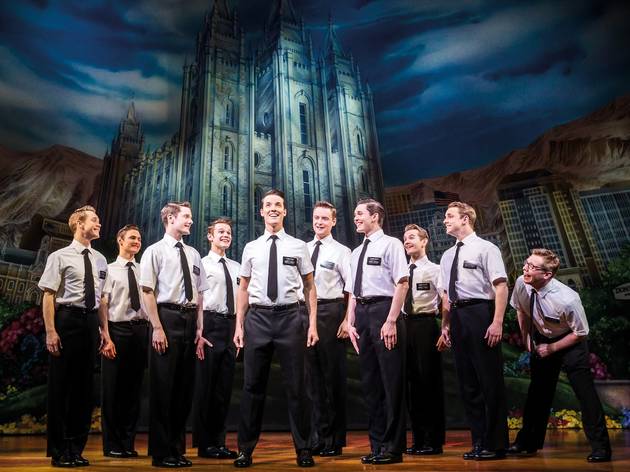 4/7
© Johan Persson
The London cast of 'The Book of Mormon'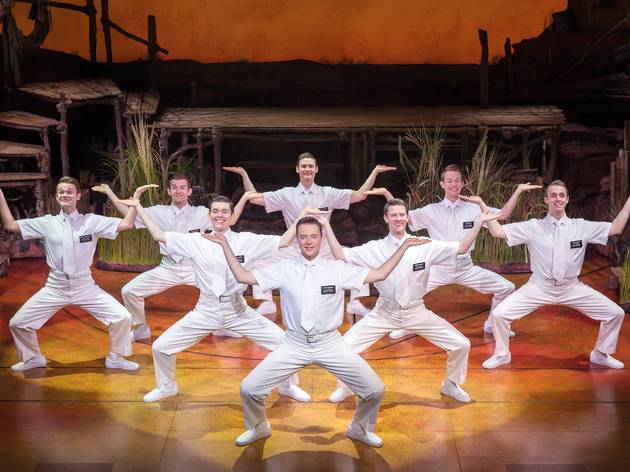 5/7
© Johan Persson
The London cast of 'The Book of Mormon'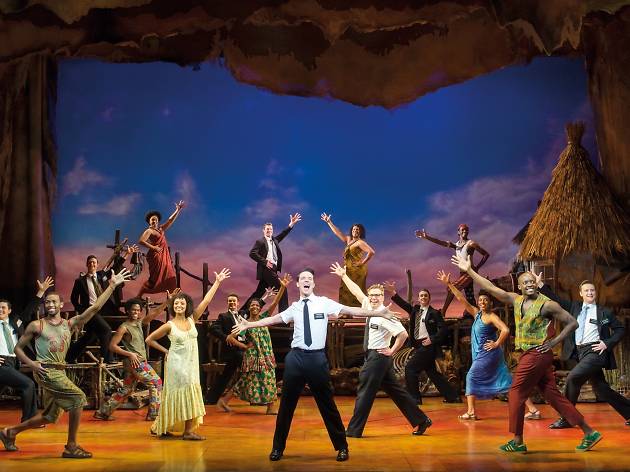 6/7
© Johan Persson
The London cast of 'The Book of Mormon'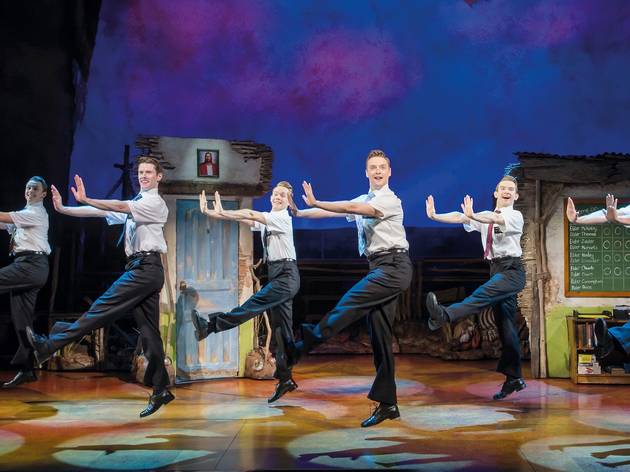 7/7
© Johan Persson
The London cast of 'The Book of Mormon'
Time Out says
Trey Parker and Matt Stone's naughty but extremely lovable comedy
Brace yourself for a shock: 'South Park' creators Trey Parker and Matt Stone's Broadway-munching musical is not particularly shocking. Sure, there are 'fucks' and 'cunts' and gags about baby rape – but most of it is deployed ironically; beneath it all, this is a big-hearted affair that pays note-perfect homage to the sounds and spirit of Broadway's golden age.
The strapping young Latter Day Saints missionaries in 'The Book of Mormon' are as cartoonish as any 'South Park' character, with the endearing alpha-male woodenness of the 'Team America' puppets. In other words, they are loveable, well-intentioned idiots, traversing the globe like groups of pious meerkats, convinced they can convert the heathen through sheer politeness. And if they have doubts, then as Stephen Ashfield's scene-stealingly repressed Elder McKinley declares in glorious faux-Gershwin number 'Turn it Off', 'Don't feel those feelings – hold them in instead!'
His advice is ignored by the show's heroes, narcissistic, highly strung Elder Price (Gavin Creel) and dumpy, lying Elder Cunningham (Jared Gertner). The pair are sent to Uganda in an effort to convert a village to Mormonism, a religion that essentially tells the penniless villagers how great distant America is. The locals are not keen: Price cracks and unwisely clashes with a crazed local warlord; Cunningham makes up his own version of Mormonism which involves fucking frogs to cure oneself of Aids.
'The Book of Mormon' is, above all, very funny, breathing three-dimensional, all-singing, all-dancing life into the absurdities of literal Mormon dogma without ever being particulalry mean. It's the mildest thing Parker and Stone have done, atheist in outlook but conciliatory towards anyone whose beliefs make them happy. If they and co-creator Robert 'Avenue Q' Lopez are angry about anything, it's 'The Lion King': 'Mormon' neatly sidesteps accusations of racism by making its Uganda a scathing and explicit parody of that musical blockbuster's misty-eyed romanticism.
From Casey Nicholaw's kitsch choreography to the sheer detail of a book that hops with elan from Biblical Egypt to eighteenth-century America to a sort of vaginal version of hell, this is a tremendous show, as accomplished as it is funny. It also has as hard-working andwell-drilled an ensemble as you'll see on the West End.
And yet, after the biblical deluge of hype, for me 'Mormon' is only the best West End musical since the stronger 'Matilda'. It offers a series of great-to-sublime songs and set pieces, but for all the laughs, as a whole it lacks the satiric purpose and angry animating spark of its creators' other work.
Trey Parker and Matt Stone are not West End messiahs. But they are very naughty boys, and it's hard not to love their smash musical.
This review is from 2013. The cast now includes: Dom Simpson (Elder Price), J Michael Finley (Elder Cunningham), Leanne Robinson (Nabulungi), Steven Webb (Moroni/Elder McKinley), and Richard Lloyd-King (Mafala Hatimbi).
How to get cheap tickets: 'The Book of Mormon' runs a 'lucky draw lottery' for £20 tickets to each performance. Turn up at the box office at 5pm before the evening's show (noon for matinees) to register your name. Winners will be announced at 5.30pm (12.30pm for matinees), and must be present with a valid form of ID to purchase their tickets.
Details
Venue name:
Prince of Wales Theatre
Address:
31
Coventry Street
London
W1D 6AS

Transport:
Tube: Piccadilly Circus/Leicester Square
Price:
£35-£202.25. Runs 2hr 30min
Opening hours:
Check website for show times
Average User Rating
4.4 / 5
Rating Breakdown
5 star:

148

4 star:

40

3 star:

14

2 star:

8

1 star:

7
It says something about their reputations going before them, but I was actually expecting this to be more extreme. It's hardly take-your-gran material though and still incredibly unique on the west end stage.
I would have liked to have seen more from the supporting Mormons too, they were brilliant, so I was disappointed they were under-used.
But as an intelligent spectacle on a grand scale, it's a pretty magnificent beast.

Ah Book of Mormon...It took me such a long time to see you, and my expectations were so high. And yep, they were pretty much met! The first act is, as is often the way, the most hilarious and engaging. I laughed so hard at at least two of the songs. Though I must admit, there were often moments when I genuinely cringed, and thought maybe they were going a little too far. Certain topics (if you see it, you'll know what I mean) that are in bad taste, rather than being ironically funny. My aunt and uncle asked me if they should see it, and I said no: The type of humour is really only suitable for those with dark sides! But if you enjoy that kind of humour, definitely see it - it can be very, very funny.
Awful. In a time when country leaders are calling African countries "shithole countries" and American think they should be the rulers of the world, it's a bit tone-deaf to have a play that stereotypes the ignorant immigrant and white savior so shallowly.
I understand this show supposedly is a criticism of the Mormon faith, but it is much more positive about the need for Mormanism than the intelligence of Africans. I'm sure this play was hilarious a couple years ago, but now it just seems dated.
The only redeeming part of this play was the great singing by the women in the show. But even that isn't enough to rescue the mediocre songs (I couldn't remember a single tune after leaving the theater)
Considering all the amazing plays on West End -- Chicago is crass without being so morally paper-thin, and even Killer Joe has more laughs than this farce of a play -- this is definitely not a must-see.
whether you are fan of South Park or not, as long as you have an open sense of humour- you are gonna absolutely LOVE the Book of Mormon. Booked for me and my other half to watch and we were in tears from laughing throughout the show. It definitely exceeded my expectations and all the hype I heard about it. I would definitely watch it again.
If you've got a filthy sense of humor, a love of musicals and a free evening you HAVE to go and see the Book of Mormon.
Hilarious from start to finish (and not just "hilarious", but "carry tissues to wipe your smudged mascara from laughter caused tears" kind of hilarious) with brilliant songs to boot. It doesn't mater if you're a South Park fan or not - it is true Broadway genius in it's own right.
And, to make the evening truly perfect, it's being played in one of the most beautiful theatres in town. It's deco lobby and bar are worth a visit regardless of what's playing so make sure you get there early for a drink and a wander.
This lived up to the hype, as far as I am concerned. Entertaining, fast-paced and laugh-a -minute, this show had me hooked from the get go. As others have said, you might not want to watch it with your in-laws or your grandparents sat next to you, but it's generally gentle fun, rather than "WTF did he just say" (one or two exceptions).
The film is satirical brilliance throughout, and actually sheds light on Joseph Smith and his now infamous gold plates. Deserves all the accolades it gets, a wonderful, wonderful performance!

The best show in the West End by far. Laugh out loud funniness that leaves you wanting more. Listen carefully for the sounds of other big musicals which are littered throughout the score. wickedly naughty and likely to offend. Brilliant stuff

An absolutely fantastic evening. Crying with laughter!
As people before have written: definitely such a big build up prior to seeing this show and a big price.
Ive seen plenty of musicals and this was definitely as enjoyable as the rest - lots of laughter and great singing. The songs are definitely a bit less memorable and its missing that little bit of heart that comes with most of the West End, but it makes up for it by covering some important topics with great wit, gusto from the cast and some very memorable lines! I think the African cast far outshone the American mormons!
Snap up exclusive discounts in London
Time Out's handpicked deals — hurry, they won't be around for long...