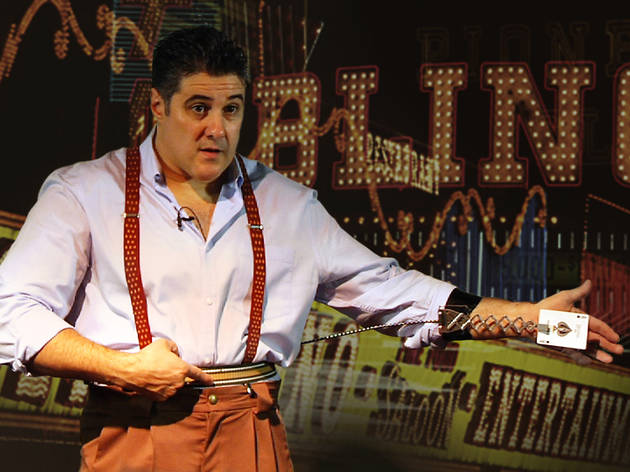 Seasoned gamblers might consider the £50-£60 ticket price to 'The Card Shark Show' as an investment, but they'd be better off fluttering their money away at the Blackjack table.
Of course, close-up magician Steve Truglia's solo show only promises to demonstrate 'how sleight-of-hand techniques honed by hardened gamblers influenced modern card magic', not 'how to cheat at cards'. Even so, there's little to justify the steep entry fee.
The 50-year-old east Londoner talks us through the history of card cheats with tales of Wild West poker players, modern deck-controls and mechanical swindling devices. The stories themselves are interesting, but our narrator-magician tells them at such tedious slow-pace they can seem rather dull.
The magic is fairly hit and miss, too. Truglia's obviously an accomplished, if slightly inelegant, magician and his sleight-of-hand is very impressive. But by explaining that he's controlling cards, false shuffling and so on, the reveals are automatically less spectacular. On our visit, he also seemed to be struggling to remember each line, ushered multiple volunteers on stage when just one would do, and told far too many corny jokes.
There's also little to back-up the marketing blurb's promise of a 'multimedia show'. Presumably it's referring to the live camera-feed of the card table. The angle was slightly askew during my performance, so Truglia's hands were often out of shot, but even when aligned, this is hardly technological wizardry.
Perhaps the show will get slicker throughout its run. Truglia seems like a charming guy, but he's no polished showman, and 'The Card Shark Show's biggest illusion is that it's worth the money.
Average User Rating
4.4 / 5
Rating Breakdown
5 star:

12

4 star:

3

3 star:

0

2 star:

1

1 star:

1