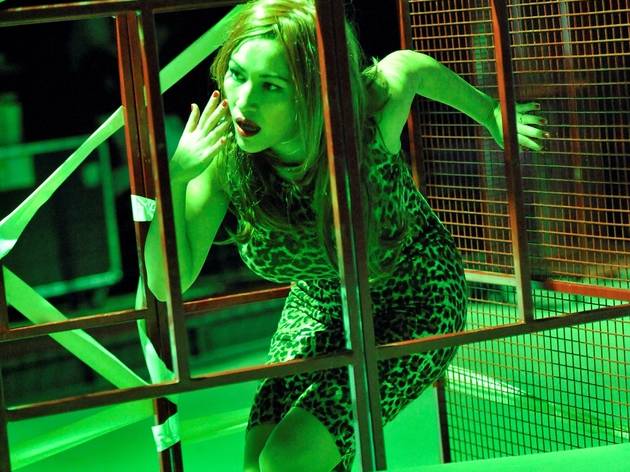 At the Young Vic the panto season started waaaay back in January with Joe Hill-Gibbins's deliriously OTT, trifle and jelly-drenched revival of 'The Changeling'. Now this feverish revamp of Thomas Middleton and William Rowley's gory 1622 tragedy is back for the hols, scaled up as it transfers from the Maria studio to the Vic's main house.
Recast and slightly longer, it's lost a measure of its demented élan in the move, but it's still the most compelling eruption of sex, death and pudding in town.
In the Middleton-penned 'main' plot, Sinead Matthews's dangerously narcissistic noblewoman Beatrice-Joanna attempts to put her love life in order by having unstable servant De Flores (an enjoyable Zubin Varla) bump off her inoffensive fiancé Alonzo so that she might instead get hitched to the dashing Alsemero.
Inevitably this doesn't play out the way she'd hoped, with events consluding in a welter of stabbing, humping and Beyoncé tunes in the tour de force wedding night sequence, in which an array of desserts stand in for blood (and other bodily fluids).
But it's William Rowley's asylum subplot where Hill-Gibbins and designer Ultz's scheming really bears fruit. Here the madhouse is cast as a neon streaked netherworld of mad doctors and slightly saner patients, in which clever doubling of the main plot actors turns the whole sequence into a hallucinatory commentary on the morbid obsessions of the Jacobean psyche.
Playing it semi-straight in the midst of the madness, the diminutive Matthews doesn't make the impact of original star Jessica Raine. But she is ably supported – in particular, Eleanor Matsuura is fantastically funny and sexy in her duel roles as loose moraled lady in waiting Diaphanta and zonked out doctor's wife Isabella.
This is an overtly sensual production, one that dives headlong into the violent, cracked moral landscapes of 'The Changeling' and amps everything up until the only legitimate response is to cackle incredulously.