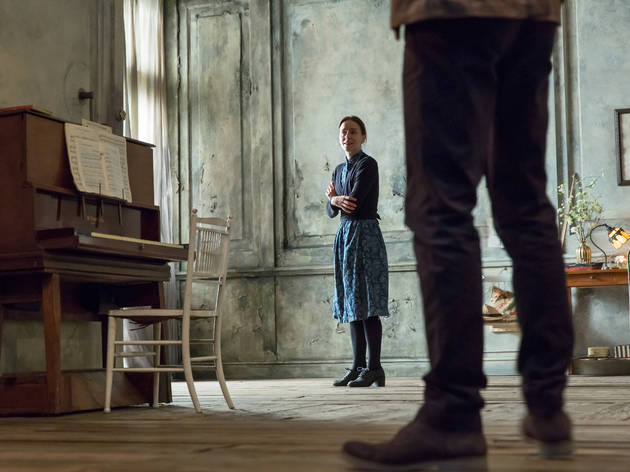 1/4
© Stephen Cummiskey
Natalie Klamar (Varya)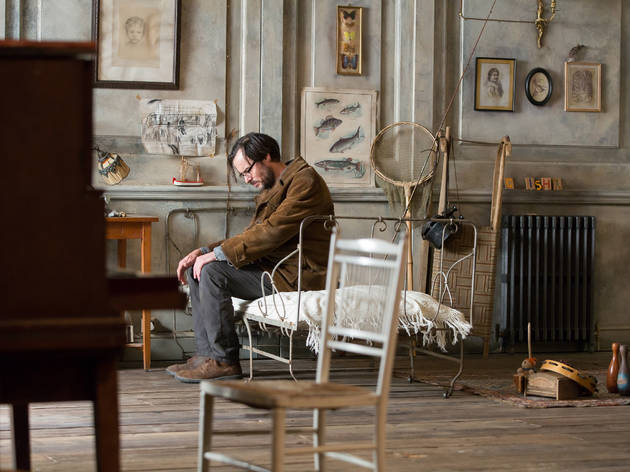 2/4
© Stephen Cummiskey
Paul Hilton (Peter Trofimov)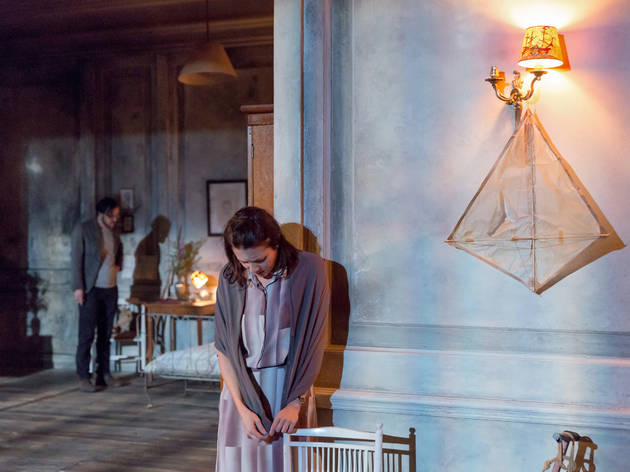 3/4
© Stephen Cummiskey
Catrin Stewart (Anya)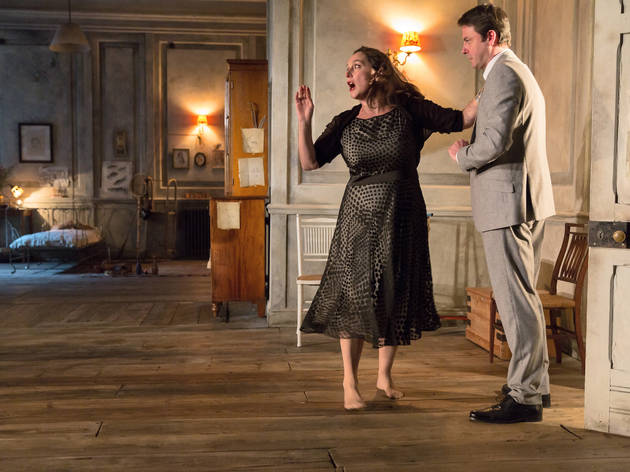 4/4
© Stephen Cummiskey
Kate Duchêne (Lyubov Ranevskaya) and Dominic Rowan (Alexander Lopakhin)
The biggest thing to hit Germany since David Hasselhoff, the great auteur director Katie Mitchell has been sequestered in Europe of late, crafting a series of ever more avant-garde works for her rabidly appreciative continental fanbase.

'The Cherry Orchard' marks a return to London – she's directing three plays here before Christmas – a return to Chekhov – whose other major works she directed over a decade ago – and a return to collaboration with 'Curious Incident…' playwright Simon Stephens, who adapted the script.

It's also been billed as a return to the naturalism of her early days after a decade drifting leftfield. And by Mitchell's standards it is, though I can imagine Chekhov purists might be fairly horrified. In fact much as I loved the show, I was fairly horrified, because Mitchell has actually styled 'The Cherry Orchard' like a gothic horror.

Here, Chekhov's skint aristocratic protagonists don't lose their ancestral estate and fall apart with the usual bittersweet wistfulness: they disintegrate, sickeningly. There's a real sense that profligate matriarch Lyubov Ranevskaya (Kate Duchêne) is losing her mind in a modern-ish dress production that's defined by claustrophobically dim lighting and, frankly, terrifying sound design from Gareth Fry and Paul Clark, an ever-present series of industrial hums and roars and disembodied music floating in from distant rooms.

I couldn't help but think of Charlotte Perkins Gilman's 'The Yellow Wallpaper' – partly because of the peeling old wallpaper of Vicki Mortimer's set, mostly because Mitchell and Stephens have refocussed Chekhov's play into a potent study in feminine – rather than societal –collapse. With a large cast to be accommodated in under two hours, it's not an especially actorly production, but there are stand-out turns from Duchêne as brittle Lyubov and Natalie Klamar as estate steward Varya, whose expected marriage to Dominic Rowan's nouveau riche, Nick Clegg-ish Alexander slides painfully out of view as the play wears on.

Stephens's adaptation is terse, blunt, and comes across an awful lot more like a Simon Stephens play than the hit version of 'A Doll's House' he did here a couple of years ago. But Chekhov would be tedious if it was just the same exquisite melancholy every time – Katie Mitchell's haunted country house is worth the admission.
Rating Breakdown
5 star:

0

4 star:

0

3 star:

0

2 star:

1

1 star:

0
michael e's review is spot on based upon the opening night preview performance. A few laughs towards the front of the audience but the rest of the audience struggled to hear many of the lines.so silence - and it is a small, nicely intimate theatre. I have not seen a "classic" version of the pay but am keen to do so. This gave the impression of trying to be more modern and different and that's what the subsequent reviews have said. Lack of love and comedy makes for a long two hours. Thankfully the bar was open for a while afterwards!
If you are thinking of going to the Young Vic's 'The Cherry Orchard' expect to view Chekhov's tragicomedy through a glass darkly. There isn't much that is not dreary or pedestrian. In the main the acting is wooden (Kate Duchene is seriously miscast - as if she stumbled on stage from a Woman's Institute meeting), the script views this classic through the wrong end of the telescope and fillets it of humour (one rare occasion arises from Leonid waxing lyrically over an old bookcase), characters crisscross the stage for no apparent reason, Sarah Malin as thr Governess gets her kit off for no apparent reason, significant chunks of the dialogue are inaudible and stage lighting generally crepuscular for reasons best known to Kate Mitchell.