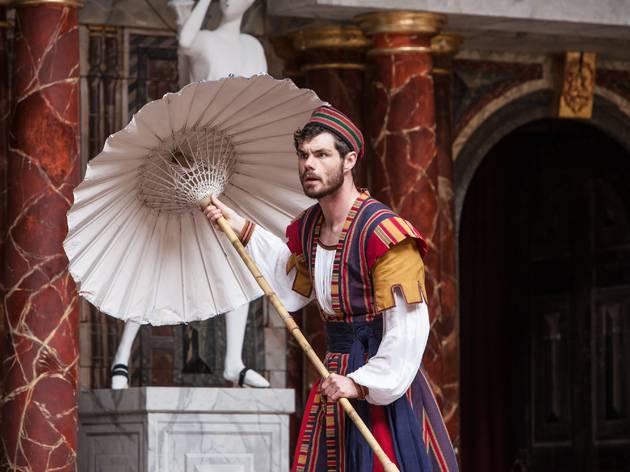 1/3
© Marc Brenner
2/3
© Marc Brenner
3/3
© Marc Brenner
Still one of the daftest plays ever written, Shakespeare's giddy proto-farce 'The Comedy of Errors' is, on the face of it, made for the bawdy confines of the Globe. And when Blanche McIntyre's production hits a sweet spot – as it undoubtedly does for much of the second half – it is pure chaotic joy. The stage collapses, various things blow up and, for some reason, lots of grown men start beating each other with dead animals (a squid, a fish and a rabbit). It's all in the name of Shakespeare's skilfully constructed but inane comedy about identical twins Antipholus (Simon Harrison and Matthew Needham) and their twin servants Dromio (Brodie Ross and Jamie Wilkes). The four, having been separated soon after birth, are unknowingly reunited to much confusion on the day their father Egeon (James Laurenson) is scheduled to be executed for breach of an improbable edict.

But it takes Globe débutante McIntyre too long to find her feet in a night that frequently feels underpowered. Laurenson's weirdly tremulous opening monologue sets the tone for a first half that doesn't feel big enough for the huge theatre. Early on, there are a couple of great physical set pieces (including the appearance of the aforementioned squid) but the wary scenes feel threadbare, lacking the lusty confidence and bold exploitation of space expected from Shakespeare at the Globe.

Still, one suspects that with its short run and smallish cast, this 'Comedy's budget is probably lower than that of other plays in the season. But unlike this summer's gloomy blockbusters ('Titus Andronicus', 'Julius Caesar', et al), it is, as the name suggests, a comedy, and when McIntyre's production does get going it's really very funny. Even when it's not quite there, the four leads offer a great line in aggrieved confusion that paper over most of the cracks. Not a classic production, but certainly a ray of sunshine as autumn falls on the Globe.