'The Comedy of Errors' review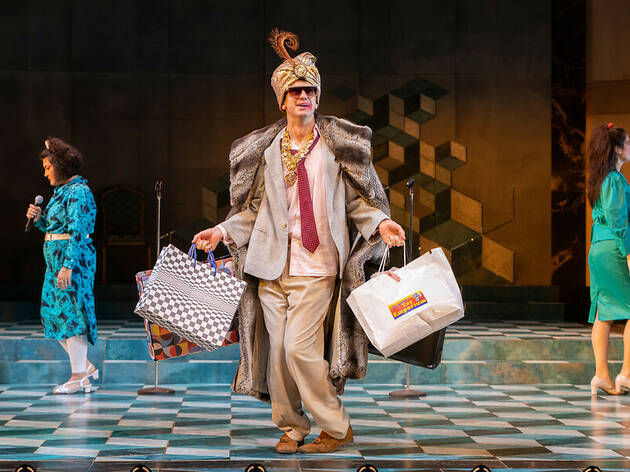 Time Out says
This magnificently OTT RSC production still doesn't make a case for Shakespeare's early comedy actually being a good play
At one point during a long, obnoxious speech comparing a fat lady's body parts to various European countries, the actor breaks out and appeals to the audience: 'Come on, these jokes are over 400 years old. Help me out here!'
And that's the signature move of Phillip Breen's flamboyant, manic take on 'The Comedy of Errors'. This RSC production throws everything in the prop box at Shakespeare's daftest play, leaving no farcical stone unturned: waiters with comedy toupees, '80s aerobics routines, an onstage a cappella group with awesome original tunes by Paddy Cuneen, lashings of hand sanitiser: it's all in here and more, and the ideas and delivery are dazzling. For me though, all this heroic effort didn't connect emotionally, or lift a play which is obstinately unmodernisable.
'The Comedy of Errors' is a farce featuring not one but two sets of identical twins, one pair servants and the other pair masters, who owing to circumstances which are too preposterous to relate (it takes the entire opening scene to explain them) are separated at birth, and then as adults find themselves washed up together in a port city where one master and servant lives, and the others are recent immigrants. Two sets of twins is double the trouble and half the laughs: the hijinks which ensue are forced and thin, and a far cry from Shakespeare's more brilliant mature situation comedies: 'Comedy of Errors' is heavy on puns and confusion, light on character. It doesn't travel well through time.
The actors give it their all in this RSC production: Naomi Sheldon deserves special mention as the heavily pregnant and long-suffering wife of one of the posh twins. Max Jones's set is a beaut and the setting and costumes – blingy, rich and strange, like an '80s Dubai shopping mall – are fantastically apt. But the play's a thin vehicle for all this plush furnishing and for a short piece, it has a long runtime. I was impressed by the talent and energy on display but I found myself wishing they'd picked a different play to lavish it on.
Details
Best selling Time Out Offers