The Curious Incident of the Dog in the Night-Time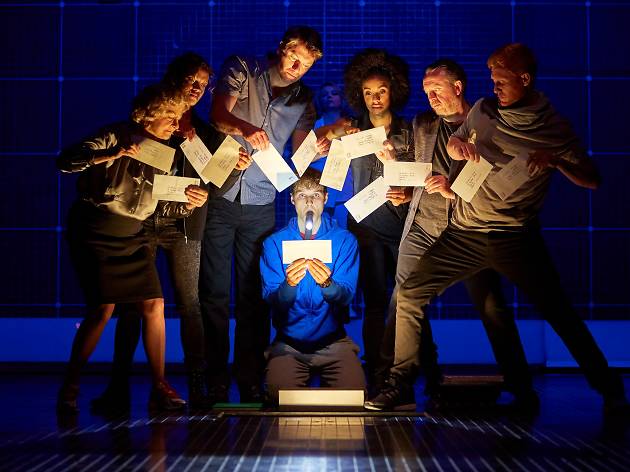 1/10
© Brinkhoff/Moegenburg
Sion Dan Young (Christopher)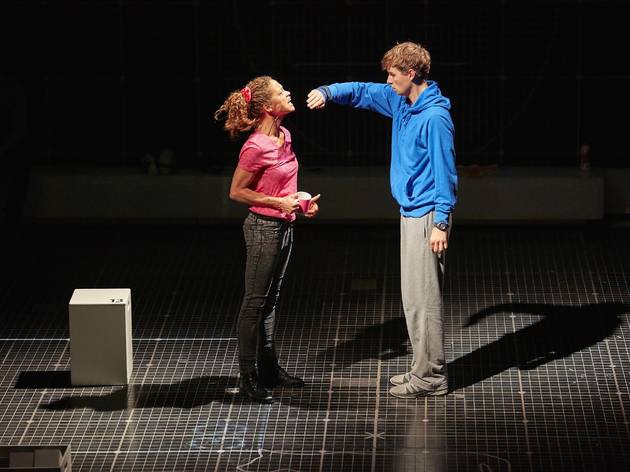 2/10
© Brinkhoff/Moegenburg
Indra Ove (Mrs Shears) and Sion Dan Young (Christopher)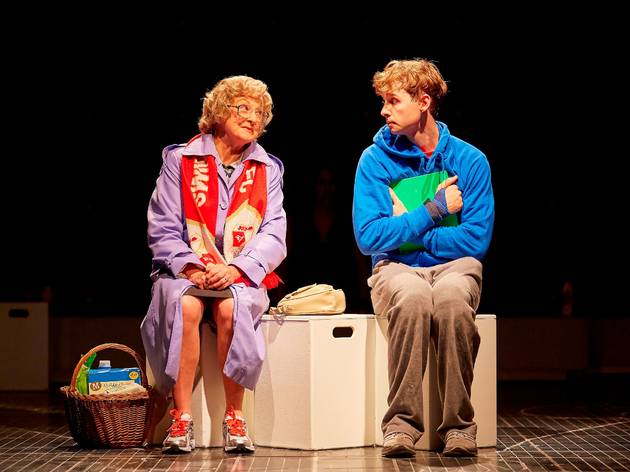 3/10
© Brinkhoff/Moegenburg
Jacqueline Clarke (Mrs Alexander) and Sion Dan Young (Christopher)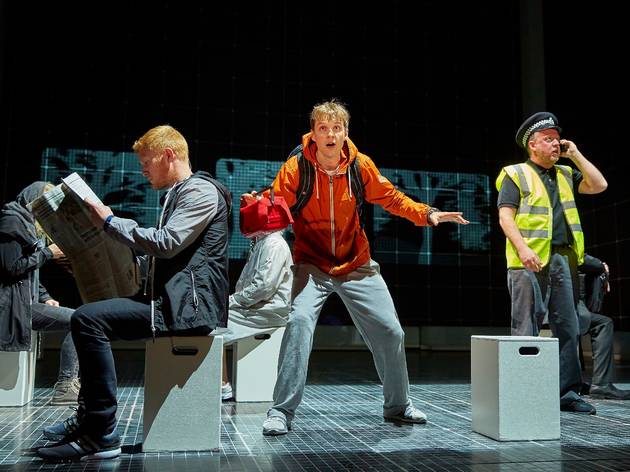 4/10
© Brinkhoff/Moegenburg
Matthew Trevannion, Sion Dan Young and Seab McKenzie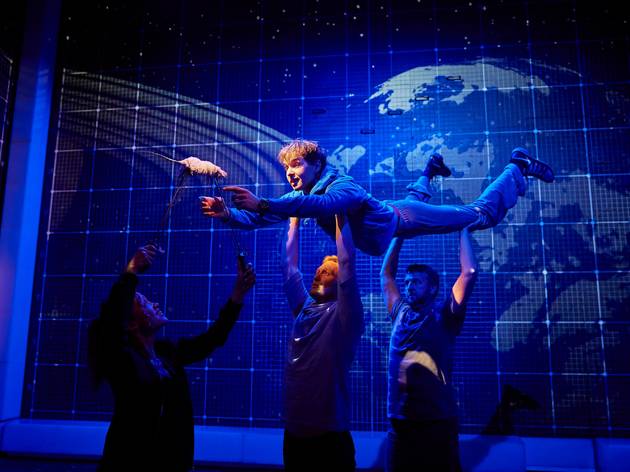 5/10
© Brinkhoff/Moegenburg
Sion Dan Young (Christopher)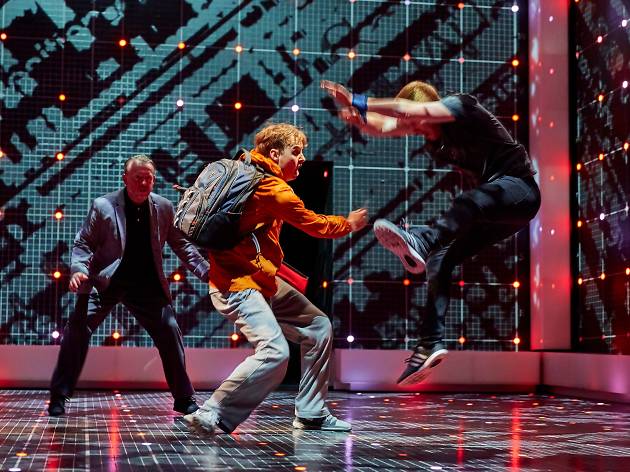 6/10
© Brinkhoff/Moegenburg
Sion Dan Young (Christopher)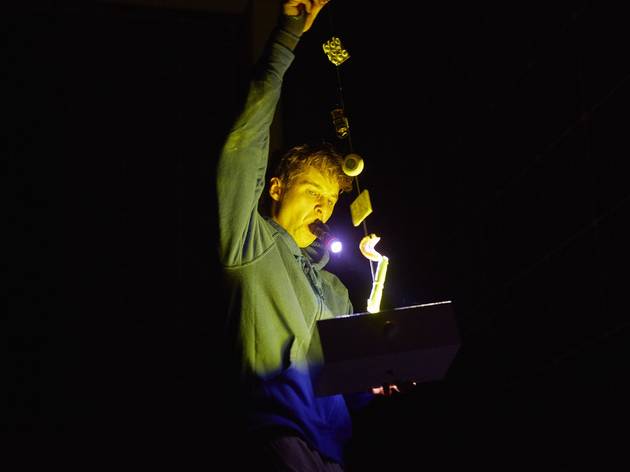 7/10
© Brinkhoff/Moegenburg
Sion Dan Young (Christopher)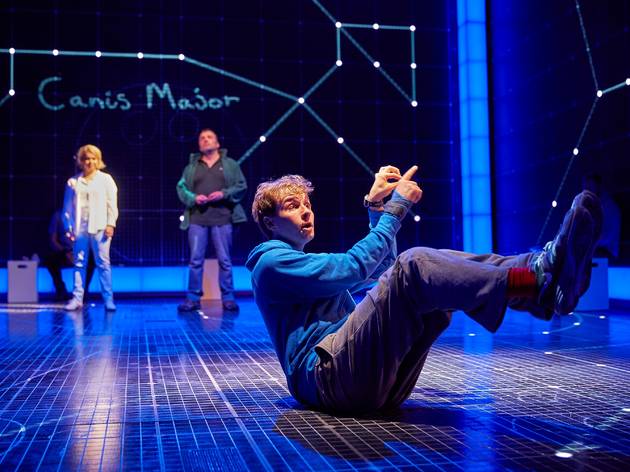 8/10
© Brinkhoff/Moegenburg
Sion Dan Young (Christopher)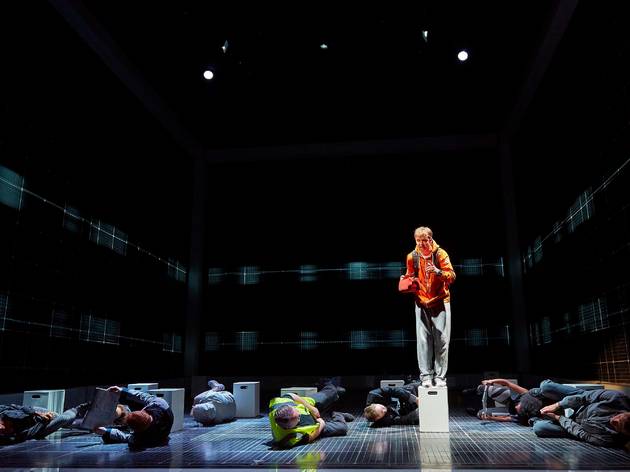 9/10
© Brinkhoff/Moegenburg
Sion Dan Young (Christopher)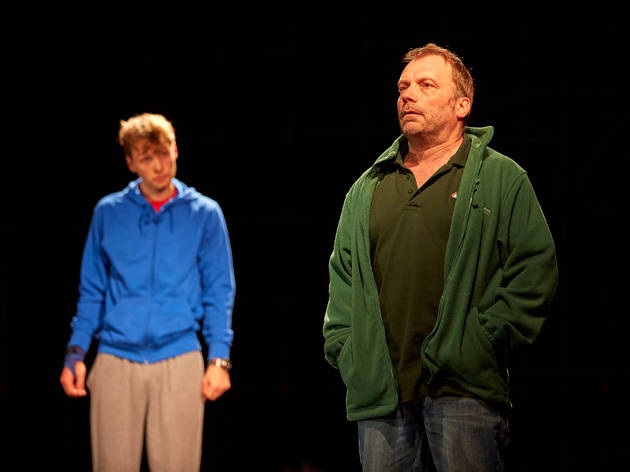 10/10
© Brinkhoff/Moegenburg
Sion Dan Young (Christopher) and Nicholas Tennant (Ed Boone)
Time Out says
Friendly warning! We're working hard to be accurate. But these are unusual times, so please check that events are still happening.
This dazzling hi-tech drama from the National Theatre is a story of a family struggling to cope
'Curious Incident' transfers to Troubadour Wembley Park in November 2020. This review is from 2017.
Three theatres, three casts, one major disaster and seven Olivier Awards on, the National Theatre's adaptation of Mark Haddon's novel about Christopher Boone, the teenage 'mathematician with some behavioural difficulties' remains a thing of unbridled wonder.
The occasion for this re-review is the end of the enforced layoff inflicted upon 'The Curious Incident of the Dog in the Night-Time'. The show figuratively blew the roof off when it transferred from the NT to the Apollo Theatre, but unfortunately the ageing ceiling responded by literally collapsing, necessitating a change of venue and months off. Hopefully, that episode will provide a footnote.

The most important thing is that Simon Stephens's adaptation remains high tech and high quality. The first Christopher, Luke Treadaway, will always cast a huge shadow, and incumbent Graham Butler can't match his coiled spring energy and manic otherness. But if Butler offers a gentler, more 'normal' hero, his superficial lack of strangeness means that it's all the more heartbreaking when his nameless condition – presumably Asperger's – leaves him suddenly, unexpectedly broken, unable to cope with something as simple as a human touch.

Ultimately 'Curious Incident' is a tragedy about a family torn apart by the pressures of looking after their son. Nicolas Tennant and Emily Joyce are excellent as Christopher's bumblingly selfless dad Ed and agonised mum Judy, driven to put her own wellbeing before that of the child who will never love her in the way she loves him.

The genius of Marianne Elliott's production is that the tragedy is bound up in so much charm, whimsy, good humour and virtuoso staging that you only occasionally feel blue as Christopher – convinced his dad is dangerous – embarks on an ill-advised odyssey to London to find his mum.

Bunny Christie's design was neat at the intimate Cottesloe, but blown up for a big stage it's awe-inspiring, her huge mathematical grid set flaring with life at every turn: maps, cities, trains, constellations – the wondrous strange workings of Christopher's mind, pumped into something exhilarating by Adrian Sutton's electronic score.

Perhaps it was weight of expectations, but at the NT I felt the show was a brilliant but conventional adaptation of Haddon's unconventional bestseller, reliant on Treadaway for greatness. But on a bigger stage, its virtuoso techiness is given full reign – this is a show that's as extraordinary as its hero.
This review is from July 2014. 'The Curious Incident of the Dog in the Night-Time' returns to the West End at the Piccadilly Theatre in a limited run from November 2018, with a new cast.
How to get cheap tickets: a limited number of day seats for each night's performance will go on sale at the box office every morning at 10am, priced £15 each. In person only. Arrive before the box office opens for your best chance of securing seats.
Details