The Devil and Mister Punch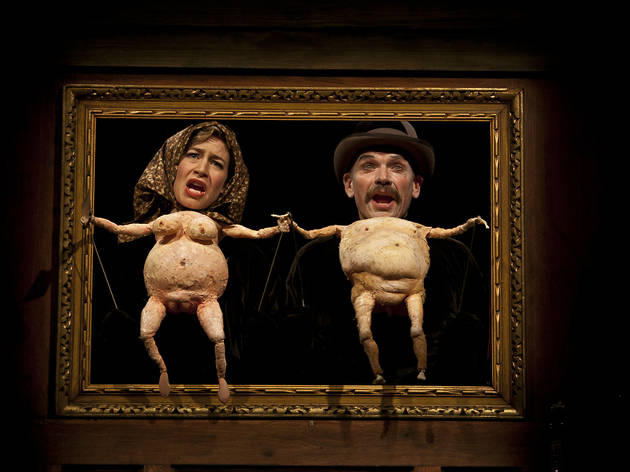 Time Out says
Experimental theatre company Improbable's latest venture is a Punch and Judy puppet show injected with smart modern humour and blown up to enormous scale on a stunning, multi-chambered puppet booth set.
Three hundred and fifty years after making his first recorded British appearance, Mr Punch is finally punished for his un-PC ways: after hurling The Baby to its death and braining Judy with his slapstick, Punch goes on the lam, only to be caught and sent to Hell.
The brainchild of Improbable co-artistic director Julian Crouch (who directs and has a hand in everything from text to costume design), 'The Devil and Mister Punch' is rude, raucous and irreverent, but also full of wistfulness for the vaudeville era.
Though the bulk of the fun comes from its gleeful revelling in Punch's antics, we also meet his puppeteers, Victorian entertainers Harvey and Hovey, two likeable white-faced oddballs on the cusp of becoming as obsolete as their puppets. Their despair at being stuck in these vaudevillian end times strikes the sorrowful note that the psychotic Punch so cheerily avoids.
This affecting air of lament for popular entertainment's wilder pre-silver screen past gives this show just enough sense of purpose to compensate for its messiness. It is frustratingly full of trippy digressions. It looks cool when two giant Punches chase each other, or Harvey and Hovey appear in huge and tiny puppet incarnations, but the diversions sap the story of lucidity and poignancy.
But then, how tight is the average Punch and Judy plot? This is visually stunning, blackly comic and gently sad. Were Punch to look up from the flames below, he'd surely approve of this tribute.
Details
Users say