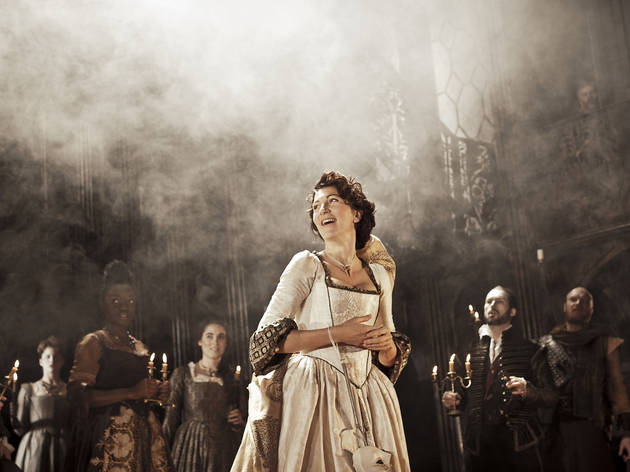 Ah, Jacobean tragedy: with its stock plots (noblewoman is doomed by her passions, basically) and predictable climaxes (everyone dies horribly), it's still debatable 400 years on whether the classics of the genre are up there with Shakespeare or simply high-class shlock.
Jamie Lloyd's revival of John Webster's savagely poetic 'The Duchess of Malfi' is unlikely to make sceptics look at the genre with fresh eyes. Indeed, purists may rather despair at a production in which two key characters (Mark Bonnar's troubled hatchet-man Bosola and Finbar Lynch's Machiavellian Cardinal) speak with the sort of boomingly nuance-free declamation that Brian Blessed might consider a bit much.
Nonetheless, this show impresses from the off. Soutra Gilmour's multi-tiered gothic set is extraordinary: part castle, part cathedral, part nightmare, drenched in incense and populated by eerie, cowled figures who jerk and sway ritualistically to Ann Yee's evocatively sinister movement.
If this sense of a world encased in stiff ritual extends to some of the performances, then that's surely deliberate, because when Eve Best's Duchess walks on stage her radiant naturalism contrasts thrillingly with her gloomy surrounds.
The ever reliable Best essentially does what the Webster asks of her, that is, play the virtuous widow to a tee. There is an alluring wildness and mischief to her as she dances through her court, breathing life into its stultified chambers and wooing and wedding her servant Antonio (Tom Bateman). But mostly she radiates a simple goodness and homespun strength of character that threatens to banish the encroaching dark entirely.
Captured by the hooded forces of her scheming brothers, she doesn't weep or get angry, but belly laughs gaily, much to their disconcertion. And at the moment of her execution, her cool serenity makes growling executioner Bosola look like a lost little child.
Not all performances match Best's by any means, though several come close, notably Harry Lloyd, camply sinister as the Duchess's brother Ferdinand. And the play's final act remains awkward, a bloody but cumbersome tying up of loose ends.
But Lloyd's production embraces Webster's vision, faults and all, a bleakly grandiose spectacle lent tender humanity by Best's terrific turn. If the rest of the cast lack her nuance, the booming deliveries certainly articulate Webster's pungent prose with admirable clarity. 'A politician is the devil's quilted anvil; he fashions all sins on him, and the blows are never heard,' roars Bosola at one point. Quite so.