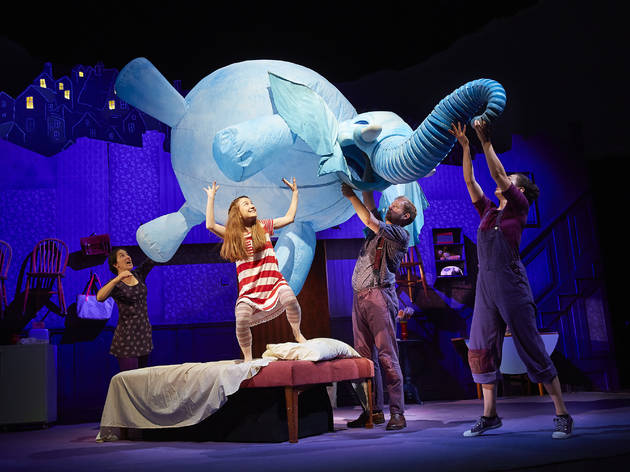 1/5
©Brinkhoff Mögenburg
'The Elephantom'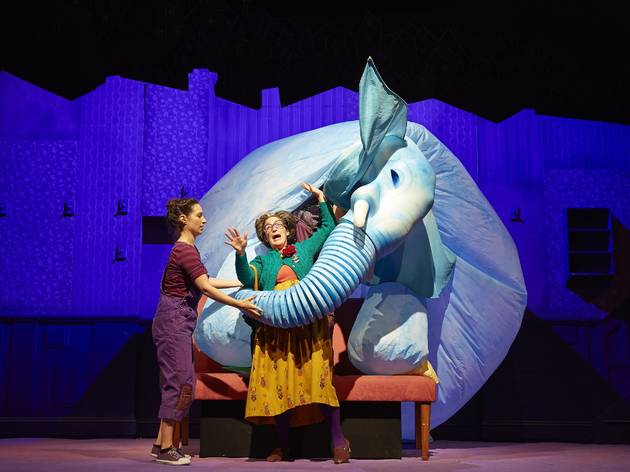 2/5
©Brinkhoff Mögenburg
'The Elephantom'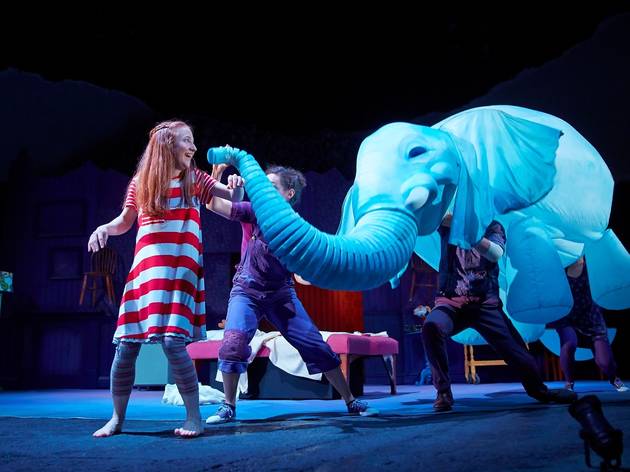 3/5
©Brinkhoff Mögenburg
'The Elephantom'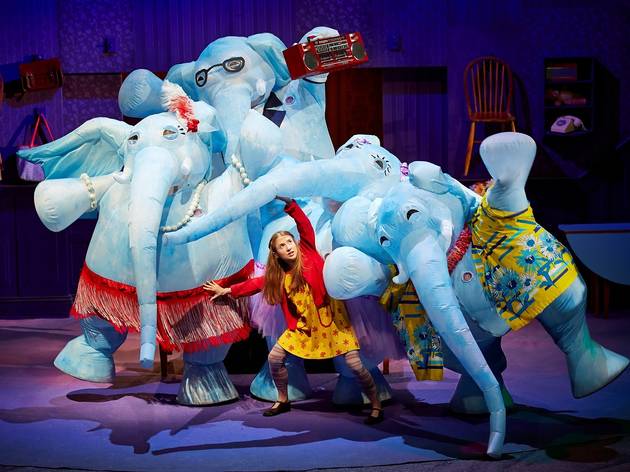 4/5
©Brinkhoff Mögenburg
'The Elephantom'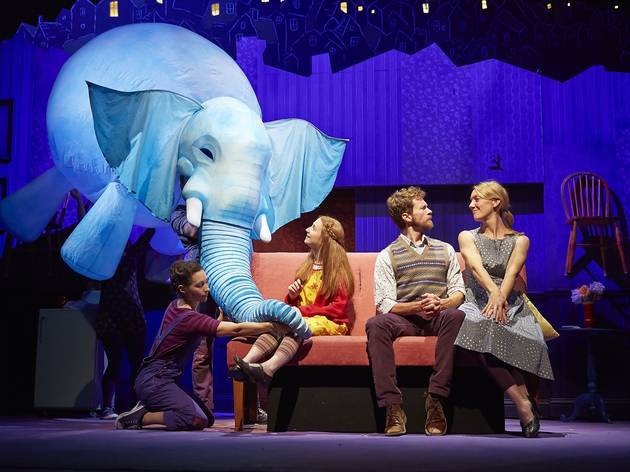 5/5
©Brinkhoff Mögenburg
'The Elephantom'
It's official: there ain't no party like an elephant party. And you probably won't have been to an elephant party unless you've seen Ben Power's glorious adaptation of Ross Collins's book for kids, 'The Elephantom'.

The show has transferred from the National Theatre's cosy Temporary Theatre (aka The Shed) to the much bigger New London Theatre in the West End. But I'm pleased to report that the larger space doesn't reduce the joyful energy and ridiculous fun this production provides for the entire family. In fact, the wider aisles mean there's more opportunity for cheeky chaos amid the seated audience.

'The Elephantom' is about an unnamed girl who is visited by a ghost. Not just any ghost, though – it's a massive, hulking, giggling, farting elephant who, though fun at first, proceeds to cause utter havoc in the girl's otherwise ordered life.

Collins's original book and his beautiful illustrations have more than a smidgen of naughty magic about them and this staging is filled to the brim with that too. The main puppet, designed by Toby Olié, is a huge puffball of inflated parachute material with a manipulated elephant head that's bundled and thrown around the stage by three puppeteers. The Elephantom's buddies who turn up for an immense boogie (to Salt-n-Pepa's 'Push It') are actors in inflated elephant suits and they almost made me cry with laughter.

Samuel Wyer's bright, friendly designs move smoothly from living room to school to bedroom. Adam Pleeth's music is engaging, brave and surprisingly complex, but the young people in the audience I joined, went with it. The show is wordless, so Pleeth's cartoon sound effects really help keep things pacey and exciting.

'I guess magic is real,' a little boy near me said as he watched. And yes, when faced with 'The Elephantom' it certainly seems so.
Average User Rating
3.7 / 5
Rating Breakdown
5 star:

2

4 star:

0

3 star:

0

2 star:

0

1 star:

1
Patricia,
I must have taken my son to see a different show then. Most of the story is either too fast for the little ones to understand or too obscure too make any sense to them. The few minutes the elephants are on stage, they enjoy. Before the end, he asked me to go home.
Captivated nephews, an enthralled nanna and a content aunty left the theatre in bounds and leaps today after watching a fabulous performance of The Elephantom. Cleverly thought up, the show leaves you on the edge of your seat from start to finish! Beautifully performed and created, this is for both children and adults In search of something special and unique......Not to be missed!
Genuinely Beautiful. Exactly as children's theatre should be: not just for children. Magical.