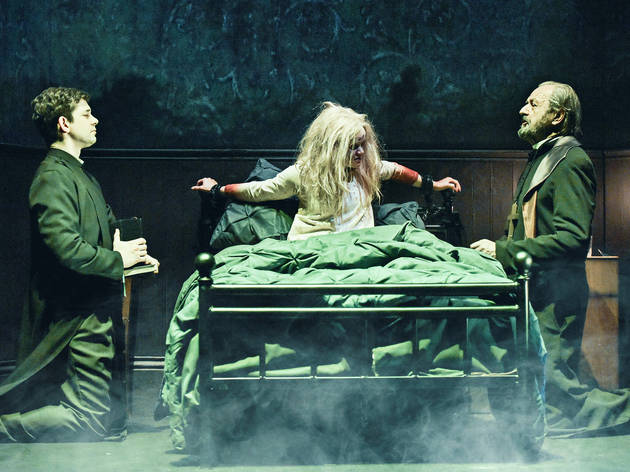 1/6
© Pamela Raith
Adam Garcia (Father Karras Clare Louise Connolly (Regan) and Peter Bowles (Father Merrin)
2/6
© Pamela Raith
Clare Louise Connolly (Regan)
3/6
© Pamela Raith
Clare Louise Connolly (Regan)
4/6
© Pamela Raith
Jenny Seagrove (Chris)
5/6
© Pamela Raith
Adam Garcia (Father Karras) and Jenny Seagrove (Chris)
6/6
© Pamela Raith
Clare Louise Connolly (Regan) and Peter Bowles (Father Merrin)
Ian McKellen lends his voice to this enjoyable but somewhat dumbed down stage version of the classic horror film
This stage version of 'The Exorcist' is billed as a fresh adaptation of William Peter Blatty's 1971 horror novel. But lovers of the blockbuster 1973 film shouldn't panic – it is, to all intents and purposes, a replica of the movie and its set-pieces, condensed into a tight, FX-heavy 100 mins.
Accepting that it's basically a story about Satanic child abuse, it's all quite enjoyable, and Sean Mathias's production is an undoubted technical triumph. It's not exactly terrifying – the story has been absorbed by pop culture – but there's enough nifty use of light and makeup and illusion, and things appearing in the dark, to guarantee a few scares for even a jaded audience. Not that the audience seemed jaded: with an 8pm start time, the Monday night crowd I saw it with were agreeably lively (ie they'd been to the pub) and clearly up for a scare.
In case you're somehow unaware, the plot basically runs thusly: a young girl, Regan (Clare Louise Connolly, solid), is possessed by a supernatural entity, who may or may not be the Devil himself. Her increasingly unnerving behaviour prompts her mother Chris (Jenny Seagrove, whiny) to call in hot young neighbourhood priest Father Damien Karras (Adam Garcia, fiery), who in turn escalates things with management and summons the titular demon-banisher Father Lankester Merrin (a dignified Peter Bowles).
All your favourite bits from the film make it in: spinning head, vomiting, creepy sexual swearing; there's even a snatch of Mike Oldfield's iconic theme at the curtain call. It is all very technically accomplished, and boasts one absolutely stupendous turn: Ian McKellen's pre-recorded voiceover as the demon is genuinely sensational, with its seductive, even comforting tone, lightly tinged with fathoms-deep menace. It's the one area in which you'd say the play exceeds the film it's clearly indebted to.
And that's my basic problem with 'The Exorcist'– everything about this show feels subservient to the film. Clearly there's an audience up for that, but I'd have loved to see a freer adaptation that could surprise as well as shock. This version was adapted by minor US playwright John Pielmeier and originally premiered in LA in 2012, in a production starring Brooke Shields, and it feels like an efficient transposition of the film but little more. Even the cast's US accents feel frustrating – it would have been ten minutes' work to tweak the script to set it in the UK, diminish the air of staginess and at least do something to differentiate it from the parent feature.
Still, it knows what it wants to be: it's a piece of entertainment as much as a play, perfectly suited to twenty-first-century attention spans as it rattles out half an hour shorter than the film. There is real craft here – particularly from McKellen – and populism can be a seriously underrated virtue in the theatre. But it feels haunted by the spectre of the braver production that might have been.
Average User Rating
3.7 / 5
Rating Breakdown
5 star:

4

4 star:

6

3 star:

6

2 star:

2

1 star:

0
I LOVED THIS!!! And I would highly recommend it!!!
I haven't seen the film, I know deprived childhood!! But I guess I knew the premise - girl possessed, head spins around, exorcist comes to get rid of the demon.
What made this play insane is the amazing visual effects. Things crawling about, faces jumping out and of course the cringe worthy head spinning!!!
This is not one for the faint hearted and I'm not just talking about the horror elements there's also some pretty gross sexual stuff in there too. No different to the film I assume?!?!
Honestly if you are a horror fan you should defiantly check this one out!
If you are a fan of the film..... If you regard acting talent essential to a production..... If you require more that just some rather good special effects during a night out at the theatre, I would suggest you give this one a wide berth.
The biggest disappointment, other the shortage of acting talent on the stage, is Sir Ian Mckellan's urbane sounding demon voice recordings. One would have thought that such a gifted performer would have mined a little deeper and darker to chanel Mercedes McCambridge rather than a potty-mouthed Gandolf.
I was really looking forward to the exorcist but I was not sure what to expect at all.
Right from the second it started, I was hooked. I would love to say the audience was too but I couldn't break eye contact with the show to see peoples expressions.
I don't scare easily at all but my heart was pounding, it was chilling and thrilling right from the start.
I haven't seen the exorcist film in quite some time so I couldn't quite remember all of it but even if you was expecting it to happen, it's so different happening in front of your eyes than it is on a screen. It really does feel real.
The lighting and special effects used were spectacular and really gave it the eerieness needed.
The acting was incredible by the whole cast and they really drew you in.
Would seriously recommend watching this.
5 out of 5.
In preparation for this theatrical version, I watched the movie again in order to jog my memory.
As one of the greatest horror movies ever made and one of my all time favourites, I felt that this process was setting up the theatrical version to fail........I regretted the booking initially as I had gone on the strength of the poster and advertising and I thought maybe I should have played it safe and gone for the "Phantom of the Opera" instead.
It was excellent.......devilishly jumpy and the humour was cleverly embroidered in the dialogue without losing the horror of it all. The feel, the shadows, the shafts of light were all there, particularly the classic Exorcist in the beam of light image.

I wont provide any spoilers, however even if you know the story and the film, it is thoroughly and horribly enjoyable.
The highlights were Clare Louse Connelly (Regan), her body and head coordination along with the timing of her dialogue, was head and shoulder above everyone else.....if you mind the pun.
The excellent and delicious humour of Tristram Wymark (Burke) was definitely on the mark with this performance.
So what are you waiting for.......Its the power of good & evil that compels you! Book now!