The Fantastical Adventures of [Not] Being With You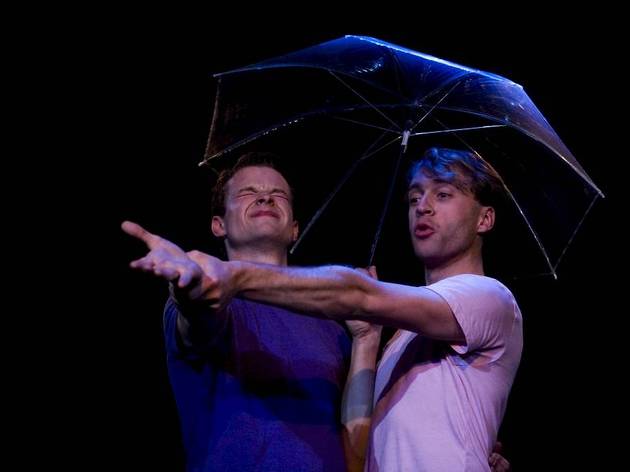 Exploring the depths of your relationship with another person is something that Justen Bennett's play likens to boarding a flight with an unknown destination – a daunting prospect. Over 80 packed minutes, 'A' and 'B' (Max Wilson and Ryan Wichert) embark on a metaphorical journey into themselves and each other.
Clown-like silliness is mixed with hilarious adventures – one underwater – as they touchingly remember and discover each other's passions, limits and needs. Though the play is performed by a couple of men, little fuss is made about sexual orientation (for once) and the romance is refreshingly gender-neutral.
The actors achieve a lot with two basic suitcases and a few props (people have taken more on weekends away). And the context, backstory and detail of 'A' and 'B's relationship is similarly pared down. Well-timed, sharp, funny physicality fills in the gaps, as tongue-twisting dialogue expresses ever-deeper feeling.
The lovers move from playfulness, to fighting to heartfelt reconciliation – scenes descend from triviality to an explosion of anger in a heartbeat. The audience is invited to join in their games in the dark (I was asked to hide something) and, although those moments are a little over-played, this is an engaging and moving piece of theatre which makes your imagination race to keep up.