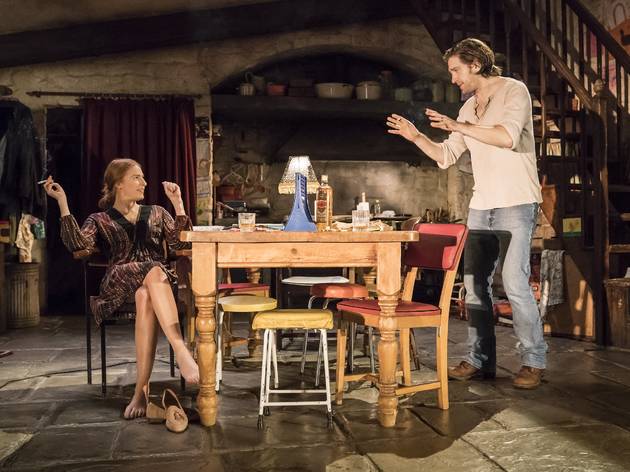 1/5
© Johan Persson
Rosalie Craig and Owen McDonnell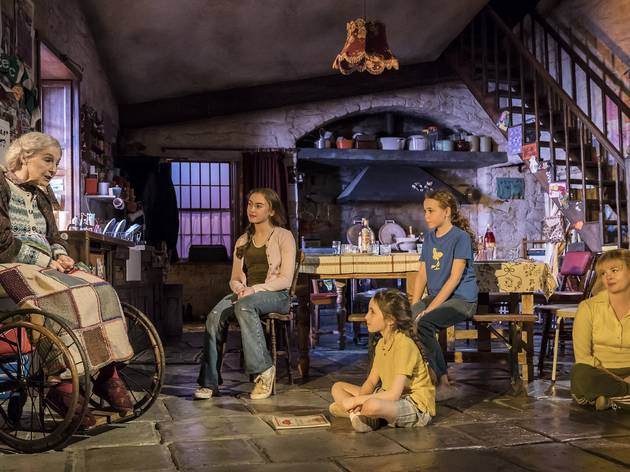 2/5
© Johan Persson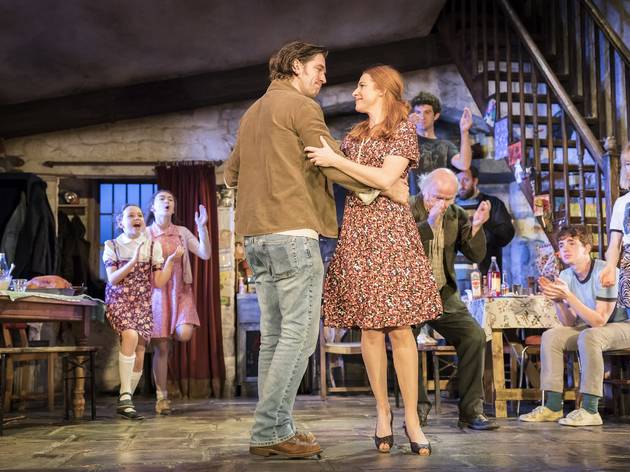 3/5
© Johan Persson
Owen McDonnell and Rosalie Craig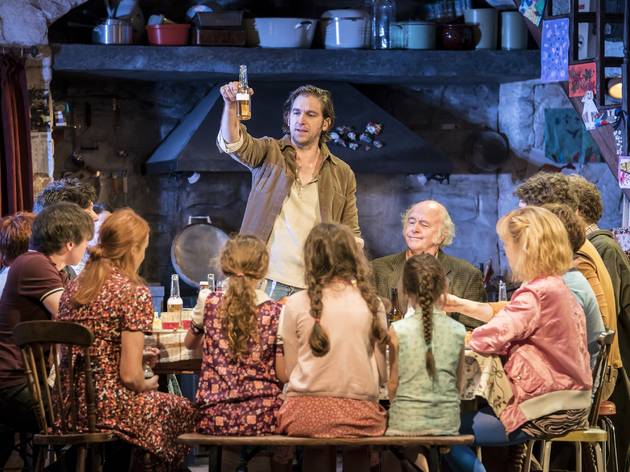 4/5
© Johan Persson
Owen McDonnell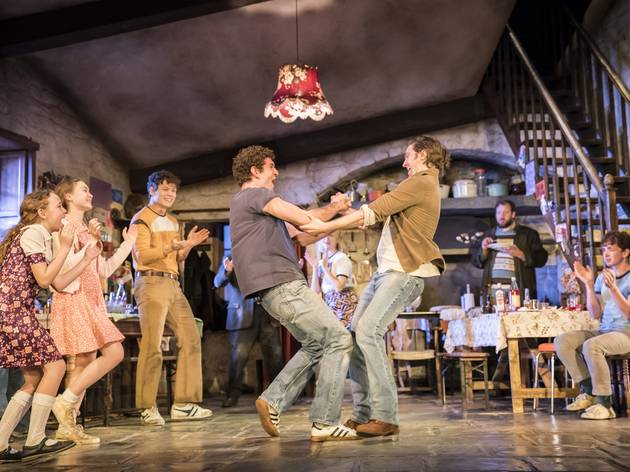 5/5
© Johan Persson
Time Out says
Sam Mendes directs the astonishing new play from Jez 'Jerusalem' Butterworth
This review is from 'The Ferryman's run at the Royal Court. It has since transferred to the West End, and is on its third cast (pictured)
There is a live goose in 'The Ferryman'. And a live rabbit. And a live baby. None of these things are particularly important in and of themselves, but I guess I have to start somewhere in describing this enormous, shattering eruption of a play from 'Jerusalem' playwright Jez Butterworth.
'The Ferryman' is vast, a play that's formally conventional but has an ambition that's out of this world, a sense that it wants to be about EVERYTHING. And insofar as is realistically possible, it succeeds. But despite the teeming cast and interwoven plot lines it remains intimate, set in the kitchen of a single Armagh farmhouse in 1981. Bond director Sam Mendes's recent theatrical record has largely involved bombastic West End fodder, but here he controls everything with a powerful restraint that keeps 'The Ferryman' in sharp focus through every shift of shape.
INTERVIEW: Jez Butterworth on 'The Ferryman', Bond and the future of 'Jerusalem'
'The Ferryman' is a play about Ireland and about Northern Ireland (Butterworth's family is of Irish descent). It is a play set at the height of Bobby Sands's hunger strike. It is a play about an era modern enough to feel recognisable, but far enough away that its older generation experienced the Easter Rising firsthand. It is a play about a mystical idea of Ireland in which fairies and banshees and magic all exist, somewhere. It is a play about youthful idealism and brutal adult pragmatism. Like most of Butterworth's work, it is funny, with much of the humour here coming from its child cast swearing like troopers.
It is, in a more prosaic sense, about Quinn Carney (Paddy Considine), a loving father whose life has been haunted by the unexplained disappearance of his brother Seamus, leaving him and his distant wife Mary (Genevieve O'Reilly) to take in his brother's vivacious wife Caitlin (Laura Donnelly) who always clung to the possibility Seamus would return. But a body has been found preserved in a bog, and a watchful peace made possible by uncertainly is about to end.
This is not a rehash of 'Jerusalem' - spoiler alert, but you might want to look to David Cronenberg's 'A History of Violence' for closer inspiration. And while Considine's performance - full of tenderness, authority, and suppressed violence - is remarkable, he is not a 'Rooster' Byron but a little part of a big, scary, beautiful world. He feels scarcely more important a character than his seer aunt Maggie Far Away (Brid Brennan), or his strange, shamanic English neighbour Tom Kettle (John Hodgkinson) or young Shake (Tom Glynn-Carney) seduced by thoughts of IRA glory.
The play is vast - three-and-a-half-hours - but even though lengthy stretches are nothing more than generations bickering at the breakfast table, nothing feels wasted, every strand is respected, Mendes choreographs everything to perfection.
And when the climax you half suspect is coming, comes, it is like a final, epoch ending volcanic eruption, the play's carefully constructed emotional checks and balances detonating in a maelstrom of violence and feeling that left me genuinely stunned.
How to get cheap tickets: 20 front row stalls day seats for that night's performance will go on sale at the box office every morning from 10.30am, priced £20 each. In person only.
Details
Average User Rating
4.7 / 5
Rating Breakdown
5 star:

22

4 star:

4

3 star:

0

2 star:

0

1 star:

1
I'm a big fan of Jezz Butterworth - he is able to create a magic on stage that is reminiscent of Tennessee Williams. There were some flaws perhaps - a few characters too many, I wasn't sure about the Tom Kettle character (it felt more like a plot device than a real character), and the ending drifted towards an almost Tarantino-esque melodrama. But you are guaranteed a great night at the theatre with this one. Catch it while you can.
This was my view from my 90 pound seat - and, I was sitting on two coats when taking the photo, which put me at the same level as my husband who is 6ft tall and, was having the same difficulty seeing the stage as I was. And, I hasten to add, this photo was taken during the interval, so when those gentlemen in front of me turned their attention back to the stage, I could see even less. It was the worst seating in any theatre I've ever been in, anywhere in the world. I booked around 9 months in advance - phoned from Australia to talk to the booking office about the seating and was told these were the best seats in the house - they were certainly the most expensive; which I was happy to pay, thinking I'd have a prime view. There is barely any seating rake (2" at most) Now I can appreciate that this is an old theatre with a history and one wouldn't want to mess with that but, surely a raised floor could be put in without too much difficulty or expense and they keep the original seats if they must - though they were probably the most uncomfortable I've ever sat in - and would test the muscles in anyone's bottom, especially in a show that goes 3.5 hours. This was supposed to be our big treat during our visit to London and a month later I am still feeling disappointed and ripped off. Totally unacceptable.

Wow...Bravo, just bravo. Not knowing anything about the show going into it and being American, I was a little weary that I could lose some of the context of the story, just not knowing about the times and the historical background. However, the play was easy to follow from the opening and hooked me like a serial page turner. At 3 and 1/2 hours long, it didn't feel like it and keep me yearning for more. The cast was superb and the acting was on point. Definitely a must see!
Brilliant production. Enjoyed this as it captured so many emotions and being Irish some bits resonated with Irish families, the craic, singing. Fantastic acting and so many surprises.
Get tickets for the West End run NOW ! As soon as word gets out, tickets will be imposdible. Play of the year so far for me. I'd say even edges out the Almeida Hamlet. (Not including the van Hove Roman plays as that was not in rep).
Do anything you can to get tickets. Even for a first preview, this is a triumph.