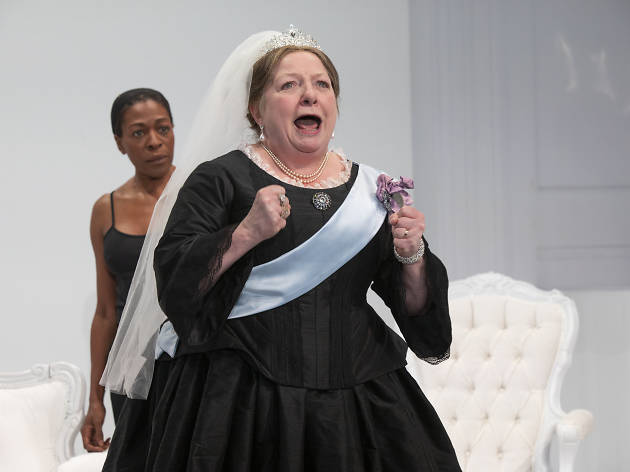 Time Out says
An intriguing and ambitious satire on imperialism, based around Queen Victoria's real-life adoption of an orphaned Yoruba princess
When she was just seven, orphaned Yoruba princess Sarah Forbes Bonetta was given as a 'gift' to Queen Victoria. Janice Okoh's play shows how this girl grew up smothered by the cumbersome wrapping paper of corset, tradition and etiquette, her heritage lost. And if 'The Gift' sometimes feels as stilted as an audience with her crinolined highness, it still offers a convincing study of how colonialists wielded politeness like a weapon.
The play's three acts are set decades apart, but they all centre on the act of tea-drinking. Being able to sip neatly from a china cup is a mark of 'civilisation'. Sarah Forbes Bonetta (Shannon Hayes) has mastered it, of course, but she wants to teach other black women the art of conforming to white high society – starting with her maid Aggie (Donna Berlin). Dawn Walton's production lays on the 'My Fair Lady'-style slapstick; Sarah is all poise, but Aggie clatters her cup on the saucer, gurns, then keels over from the pressure. Outside, their white neighbours gawp at the windows. There's a lot at stake here.
The next act zooms more than a hundred years into the future, where a black couple have their intruding, well-meaning-but-kinda-racist white neighbours over for tea. This couple has an adopted white daughter, tellingly named Victoria. The connections between these seemingly unrelated two parts of the play sing out, touching on ideas of transracial identity, unconscious bias and cultural colonialism. But there's something slightly unyielding about Okoh's text. It feels like eavesdropping on a table of strangers, struggling to make out the connections over the clatter of cups.
Everything crashes into focus when Okoh starts to rewrite history, instead of retelling it. In the third act, Sarah Forbes Bonetta starts to articulate the frustrations she's choked down like a stale rock cake. Queen Victoria makes a hilarious appearance. And there's a hint that Aggie can see through time and space in a flight of narrative fancy that suggests the impossibility of pinning down historical figures like butterflies.
'The Gift' doesn't have the kind of slick, witty archness that makes the great twentieth-century drawing-room dramas work. But it's fascinating as an exercise in dusting off a tired old genre, and for its confidence in the audience's ability to take up all its disparate narrative threads and weave meaning out of them.
Details
Best selling Time Out Offers