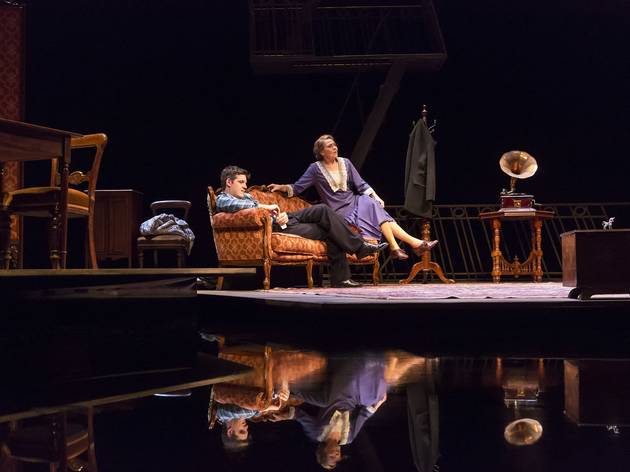 1/4
© Johan Persson
Cherry Jones and Michael Esper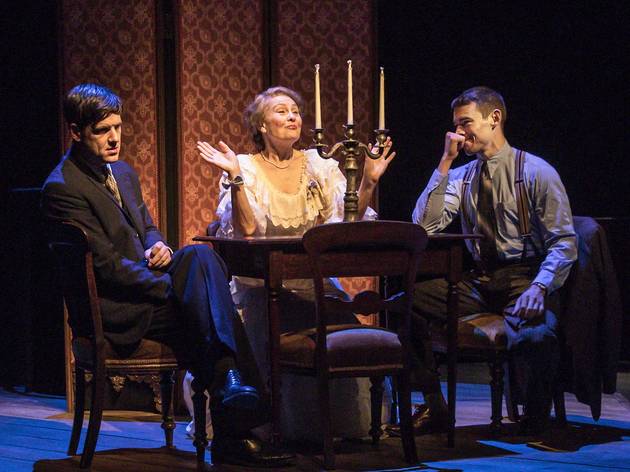 2/4
© Johan Persson
Brian J. Smith, Cherry Jones and Michael Esper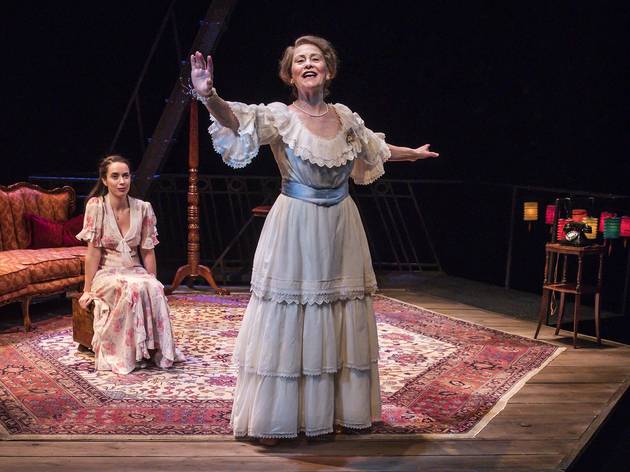 3/4
© Johan Persson
Cherry Jones and Kate O'Flynn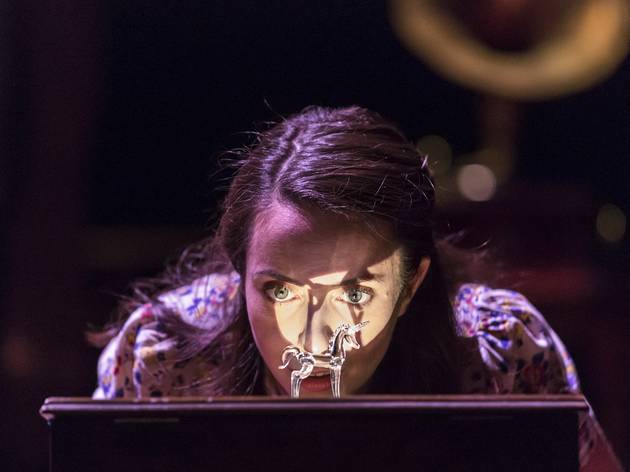 4/4
© Johan Persson
Kate O'Flynn
John Tiffany's stunning Tennessee Williams' revival
Interview: John Tiffany on 'Harry Potter and The Cursed Child', 'The Glass Menagerie', and *that* owl incident
What does 'make America great again' mean, exactly? Because if it involved a return to the US's mid-twentieth century dramatic zenith – when its playwrights were easily the best the world – I could actually probably get on board.
Tennessee Williams's breakthrough 1945 drama 'The Glass Menagerie' is the original 'memory play', in which jaded protagonist Tom (Michael Esper) wistfully recalls his long gone family: his formidable mother Amanda (Cherry Jones) and his frail, damaged sister Laura (Kate O'Flynn).
John Tiffany's production – finally making it to London after runs in New York and Edinburgh – is deceptively simply staged, but also infused with all the magic that the Harry Potter director and team can bring to bear. The action - with its movement stylised by regular Tiffany collaborator Steven Hoggett - takes place in an inky void, a couple of rooms in a St Louis tenement surrounded by obsidian pools of water (by designer Bob Crowley) and haunted by Nico Muhly's eerily beautiful score.
They blend to give it an extraordinary, dreamlike feel, halfway between hope and terror, innocence and despair, nostalgia and obliteration. The ambience reminds me somewhat of the David Lynch's heady 'Twin Peaks'. But it is more than just a box of director's tricks. Esper in exemplary as narrator Tom: existing in both the past (the play is set in 1939) and the present, he is wracked with guilt and irritation at the family he abandoned.
His most complicated feelings are reserved for the overwhelming Amanda – far from one of Williams's usual frail cracked Southern belles, Broadway star Jones virtuosically plays her as a loving woman whose nurturing instincts have gone too far, suffocating her children.
And sole Brit O'Flynn is fantastic as Laura, picking out the most delicate of paths between tragedy and comedy as her crippling shyness threatens to disperse when a brief, beautiful chance of escape is proffered to her by Brian J Smith's unexpectedly charming Gentleman Caller. Many productions suggest she has no chance – Tiffany's is generous enough to show us a vision of another world where she might have been happy.
And that's the key: other productions of 'The Glass Menagerie' tend to be sour or cynical, but for all its (literal) darkness, Tiffany's absolutely isn't. It is a vision of love, guttering in the void; a strange dream of America, falling through the night.
Average User Rating
2.9 / 5
Rating Breakdown
5 star:

4

4 star:

4

3 star:

1

2 star:

3

1 star:

5
If you look through the Time Out Users' reviews, as opposed to those of the Critics, there seems to be a clear divide between the more 'Arty' (if they'll forgive the lack of a better term) reviewers, who liked it and the more ordinary theatre-goers, like me, who didn't. I too would happily have left at the interval. I found it dull, lacking in credibility, plot and substance and felt the cast overacted, like caricatures of 'theatricals' perhaps might. For me, neither the narrator doubling as a player nor the dreary set worked. The misplaced magic and the virtual miming of the family meals did not fit in either and the whole thing just left me cold. It might be down to a more grounded approach to life (or other Philistine failings on my part) but it was the worst thing I have seen on the London stage in the past 12 years, probably since the equally dull 'Art' , leaving me to question how many of the multi-star reviewers were affected by Emperor's New Clothes syndrome.
Saw it last night, and wasn't impressed. The single stunning thing about it was this raving TimeOut review, featured at the entrance of the theater, too, on a board, and totally out of line with the show's actual worth. With the exception of the actress playing the mother, who was just all right, all performances were of amateur drama circle level. Especially cringeworthy was the Lucy Moran voice impression for the Laura character, that made TO gush about a Twin Peaks-y atmosphere, which was totally not the case. Missing were the obsidian pools of water, also. Interestingly, nobody mentioned this was going to be a "reduced value" evening when I bought my ticket.

When you decide to put on such a classical piece which has been performed so many times you MUST be innovative and try make it original, current and (note to the director) add something personal...There was nothing original in this production; nothing FRESH. It was so dull and old-fashioned. I've seen the play one other time and it was an amazing experience. It was so unique and very personal because the director had done a huge research on Tennessee Williams and there was a lot of substance as she used bits from his earlier works and early versions.
Back to the west end play: All of the performances felt overacted, like caricatures (maybe Americans like that kind of acting) and I could hardly believe any of the actors. Another thing: THERE WAS NO MAGIC. This play is a MEMORY PLAY and about dreams. Nothing in the production gave that feeling. The director had an abundance of source material to create something magical...but no just rush it up and make it like any other play...Very WRONG to have Laura speak in such irritating voice; made her a caricature and didn't do justice to Tennessee Williams character. Also why wasn't she more evidently crippled ? No justice at all to the original material.
Finally at the end, I was hoping to see Laura blow out the candles and have some closure...but no....just have the candles blow out by themselves...NO MAGIC at all. I can't find anything good to say about this production.
I don't understand how it got positive reviews by critics, let alone Olivier nominations...
Absolutely phenomenal performance from the entire cast, and supported by a stunning set and score.
I simply did not get this & didn't engage at all. Reading the Time Out review I don't feel like I saw the same play but that is probably more a reflection of my own tastes & lack of appreciation of the subtleties spotted by your reviewer. I couldn't connect with the characters & did not view the set as exceptional. I found the plot old fashioned & plodding. Since there was no visceral reaction or emotional attachment I left at half time so can not comment on the twist other reviewers mention. However my companions did stay & found while a very sad story it was a quality production & worthwhile endeavour.
Absolutely beautiful; brittle and sparkling like crystals. A Masterclass in breathing life into complex characters. I'd give it 6 stars if I could.
John Tiffany has directed this Tennessee Wiliam's masterpiece with a brilliant hand. And that is not an easy task. The 1944 play is notoriously difficult to pin down: is it realism or even magic realism? (Laura enters the stage through the sofa.) Tiffany's direction and stage design add to that 'magic realism' theme in my view. Cherry Jones as Amanda is superb and to me, the best actor in it by far, taking nothing away from the rest of the cast, but her understanding and portraying of Amanda is mesmerizing. It is a small play and it is a big play, you decide, but go and see it.
Shockingly boring and dull play......I stayed until the end but wasted the last few hours of my life....Tennessee Williams at his best if that is to bore the pants off an audience!
Probably the most boring play ever written topped off by a dark miserable set and uncharismatic acting. Luckily I had only paid £20 and so very happily left at half time to go and find some paint to watch drying.