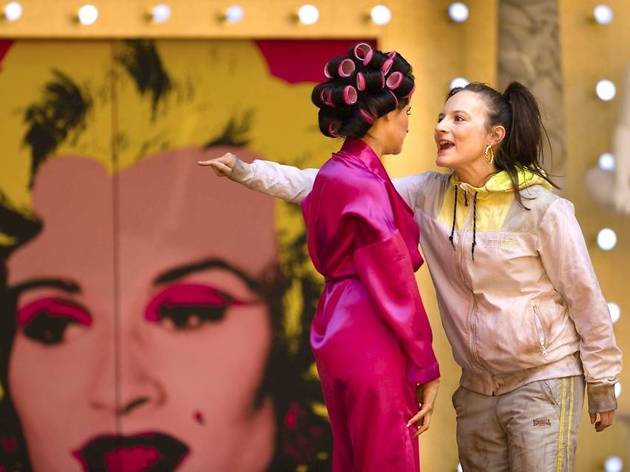 If God exists, then He is surely mad. Just look at Big God, stumbling around Soho looking for the ends of his sentences, and for his daughter, Clem, Goddess of Love. Clem was ousted from Heaven for failing to forgive the New God who dumped her; now she has latched on to a reality TV star, Natty, who dumps all over everyone. If the gods are lost and incoherent, what hope for Soho, with its coked-up media goons and self-hating celebs?
The two most grounded inhabitants of this play, Edwardo and Teresa, both sleep on the streets. This is not an accidental irony.
'The God of Soho' is that rarity, new writing that actually works well in the Globe (in fact, some of its digs at Shakespeare won't be as funny anywhere else). This is because playwright Chris Hannan dresses a serious question – how to break age-old patterns of belief or behaviour yet retain our sense of self – in sharp suits, salty language and carnival chaos – from the cross-dressing Dog Goddess to Natty's bravura rendition of her anthem, 'I Am Shit', during her mother's funeral.
The casting is superb – Phil Daniels was born to play a toga- and leather-clad uber-God with a crumbling mind – and it's clear that director Raz Shaw, an ex-gambling addict, knows a thing or two about toxic patterns of behaviour. Best of all, though, is Hannan's writing, which is dense, beautiful and shit-spattered – rather like Soho.
Average User Rating
2.8 / 5
Rating Breakdown
5 star:

2

4 star:

1

3 star:

0

2 star:

0

1 star:

3