The Hard Boiled Egg and the Wasp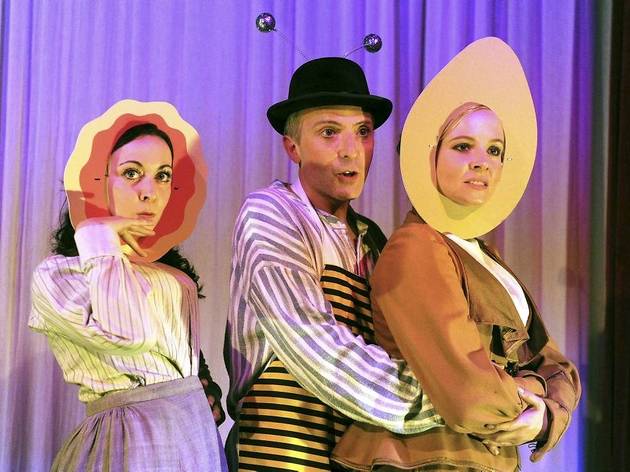 Dan Leno, one of the all-time great dames of the Victorian music hall, was committed to an insane asylum in 1903. Not content with the ample drama in his actual life, Jonathan Kydd and Andy Street's pudding-headed musical seriously oversteps the mark of poetic licence: Kydd and Street make Leno bisexual – apparently in order to show the crudity of Victorian attitudes to homosexuality and medicine – and change his cause of death – he is bumped off here by a somewhat anachronistic bungled lobotomy.
Even on its own terms, this musical is cackhanded. Comic songs are mirthless – unless sausage gags (wink wink) are your thing. And the straight numbers are risible ('Amelia/I feel for ya/If I had a rod/I'd reel for ya'). Kudos to the brave cast, but this is rotten.
Rating Breakdown
5 star:

2

4 star:

0

3 star:

0

2 star:

0

1 star:

0
Well, I am, of course, fairly biased in favour of this piece, being the pianist and working with the company every night. As the other comment from Gemma says, did Mr.Trueman attend the same show? Obviously he did, but perhaps he had a bout of dyspepsia that evening or was overcome by the heat, ot perhaps just likes slagging off shows he doesn't understand. From a professional point of view and having played in very many West End shows, I don't understand what the reviewer is cavilling at. The book and lyrics are excellent and a heartfelt diatribe against some appalling malpractices by the medical profession, the music is very apt and typical of turn of the century music-hall. This review has put off many friends of mine from coming to see the show and even for the cancellation of a performance. Matt Trueman should be somewhat more careful about the power he wields as arbiter of taste and judgement about London theatre.
Having read Matt Trueman's succinct slagoff, I'm wondering whether or not we saw the same show or not. Granted this show may not be the perfect choice for those Time Out readers who favour uberpretentious, arty-farty theatre, it may even benefit from a few tweaks and rewrites, but I found The Hard Boiled Egg and the Wasp a really enjoyable new musical. The original songs are witty, well constructed and beautifully accompanied and the cast superlative - by far the best to be seen on the north-westend stage. If you want a fun and original night out, please ignore this review and give it a go.