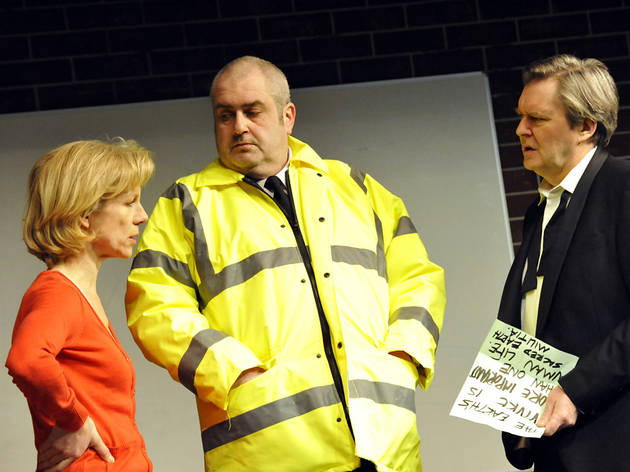 If last year's caustic IRA satire 'The Big Fellah' was playwright Richard Bean at his most ferociously unequivocal, 'The Heretic' is pretty much the opposite. It's a comedy in which he gives the issues thrown up by the 2009 'climategate' scandal a light stir, then decides to write a warm-hearted, middle-class relationship drama instead.
Diane (Juliet Stevenson) is an Earth Sciences lecturer at the University of York. On the cusp of publishing a paper shedding doubt on the rise of global sea levels, she is asked by head of department Kevin (James Fleet) to hold back its release, as it may jeopardise the chances of a wealthy insurance firm investing in the department. She assents, but after going public with her views she finds herself suspended 'on the grounds of mental capacity'.
Though it may strike the odd liberal nerve, 'The Heretic's ire isn't really directed at the environmental movement specifically, but at the more general manner in which trendy rhetoric and excessive bureaucracy can compromise scientific integrity. Hardly the most contentious view, and in any case not something the play's amiable, romcom-style second half is particularly concerned with.
Jeremy Herrin's production is sharp and extremely well acted, with Stevenson and Fleet sparking off each other nicely as two peas from the same cynical-but-goodhearted pod, divided only by her bloody mindedness and his pragmatism. And there's superb support from the younger characters: musician Johnny Flynn is excellent as perma-stoned, pathologically earnest eco-warrior Ben, while Lydia Wilson brings much needed edginess as Diane's hyper-intelligent but desperately fragile daughter Phoebe.
But none of this makes 'The Heretic' the first great play about climate change, which is kind of what most of us were hoping for. More feel-good than thought provoking, it's a witty comedy about middle-class English people triumphing over adversity, armed only with pluck, sarcasm and the power of true love. If it was written by Richard Curtis, you'd say he'd raised his game. From Bean it's fine, but we were hoping for a slap, not a cuddle.