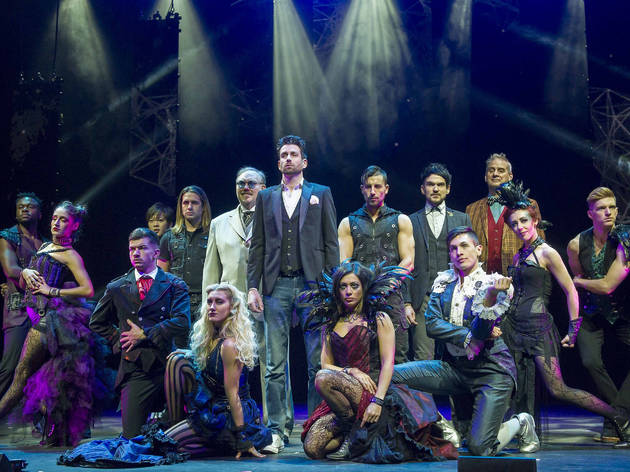 1/2
Alastair Muir
'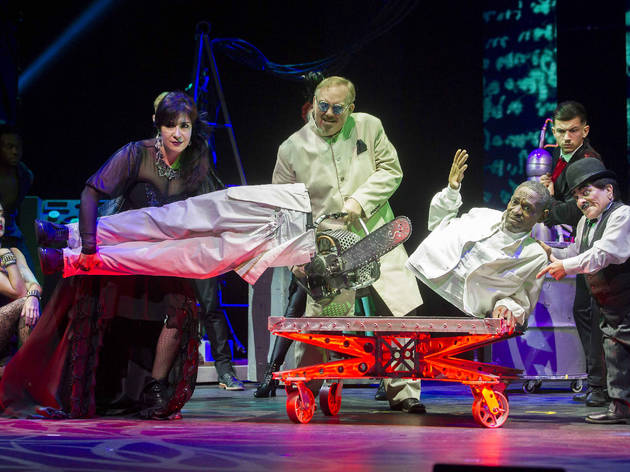 2/2
Alastair Muir
'
A mixed bag of magic tricks, performed by men
Derren Brown's 'Miracle', West End summer hit 'Impossible', TV boy wonder Dynamo's 16-night stint at the Hammersmith Apollo… believe it or not, large-scale magic shows are making a serious comeback.

The latest spectacle promising to amaze London is Broadway hit 'The Illusionists': a magic package show, featuring seven acts, all performing different conjuring genres. And it's a cock-fest. All seven performers are male and, by its very nature, the show's pretty hit-and-miss.

Scottish mindreader Colin Cloud – aka 'The Deductionist' – opens the show (with a slightly-fudged numbers trick) and takes on the role of compere, introducing his fellow 'Illusionists'. We see Andrew Basso, a torso-flexing escapologist with a messiah complex, reenact Houdini's famous water tortune escape; mad-scientist magician Kevin James perform an exposed version of sawing someone in half; and 'special guest' Jamie Raven – off of 'Britain's Got Talent' – impress with some nifty sleight-of-hand, all set to moody backing music.

Strangely, it's the less deceptive acts that are most entertaining. 'Weapons Master' Ben Blaque's crossbow routine is all killer, no filler; he simply enters, flicks back his luscious hair, and then fires an arrow into an apple on his own head using a series of chain-reaction targets. David Williamson's comedy magic routine, with the help of four child assistants from the audience, is charming, if not awe-inspiring.

The real star of the show is Japanese magician Den Den. His subtle card manipulation and origami dove routine is astonishingly impressive and, unlike many of the other acts, actually classy.

And that's the problem with 'The Illusionists': it's not quite sure what it wants to be. It tries to find a middle ground between unashamed Vegas cheese and the grittier, edgier feel of modern street magic, and I'm not sure that ground exists. Still, there are plenty of baffling moments, and really that's all 'The Illusionists' promises to deliver.
BY: BEN WILLIAMS
Average User Rating
4.1 / 5
Rating Breakdown
5 star:

3

4 star:

3

3 star:

2

2 star:

0

1 star:

0
Just seen the show with my kids. I cannot recommend it enough. The acts are amazing and we didn't want the show to end. A big thank you to all the people who put this amazing gobsmacking spectacle together.
No spoilers!!! This show is the most amazing magic show I've seen! And the cast do a meet and greet after which is so so rare these days! It truly was magical in every sense of the word! If I could I would follow them on the world tour!!
Saw this at the weekend - absolutely brilliant. Highly recommend.
Excellent show mixing magic, humor and risks ! Six differentes show. If you don't want to go on stage, you should avoid first raw.. I went there two times and I still don't understand how they do it.
Definitely recommended

Having enjoyed the Impossible Show in the autumn, my boyfriend and I were excited to repeat the experience of seeing live 'magic' unfold before our eyes. Though we largely enjoyed our evening at the Shaftesbury Theatre, in comparison to Impossible, the performance was wanting.
Gimmicky Vegas-style dancing in the opening seemed an unnecessary distraction and after the show opened with an arguably impressive (though lacking in build-up) trick making a large item appear from nowhere, this felt too much too soon and, after the initial wow-factor, the rest of the show was somewhat flat in comparison.
Den Den's close-up magic in the first half was not projected to the large screen and was difficult to see properly from the grand circle. We were left wondering what the fuss was about, though Den Den did redeem himself during the final scene. The water torture cell was excessively prolonged by the artist supposedly struggling with the lock-picking (he fooled nobody, he knows how to do this), and though impressive over all, no-nonsense Ben Blaque's cross-bow trick was only brief and he appeared on stage just once. David Williamson made up for this with his hilarious comedy-magic, complete with child assistants picked from the audience and guaranteed to make the audience go 'aww'. As for the deductionist, Colin Cloud, I will be first to admit I am not one to be impressed by mentalism, but he is clearly practised in his craft and impressed the audience overall. Jamie Raven and Kevin James gave a solid performance each – though the tricks were tried and tested, they were fun to watch and the latter was a favourite, together with David Williamson and Ben Blaque.
Of course, as the above list of performers suggests, gender equality is not a strong suit for magic and a female performer was missing. The old recipe of male magician with an attractive female assistant in vaguely sexual clothing was ever present throughout the performance.
The trouble is, putting together seven very different acts inevitably leads to trouble where a red thread is missing. The show is a confusing mixture of comedy, old school magic and Vegas hype and, as a result, does not really know whether it is coming or going.
A reasonably solid and entertaining evening overall, but, as one's teacher might say, 'could do better'.
P.S. Dear Time Out - why can I not have spaces between paragraphs?!
Amazing performance, good value, and even rear seats had a very good view. Took my parents to see it and they had a vey pleasant evening! Great magic show, better than any magic show I've seen before. It is a very fast paced 2.5 hours and there isn't a dull moment. Highly recommend!