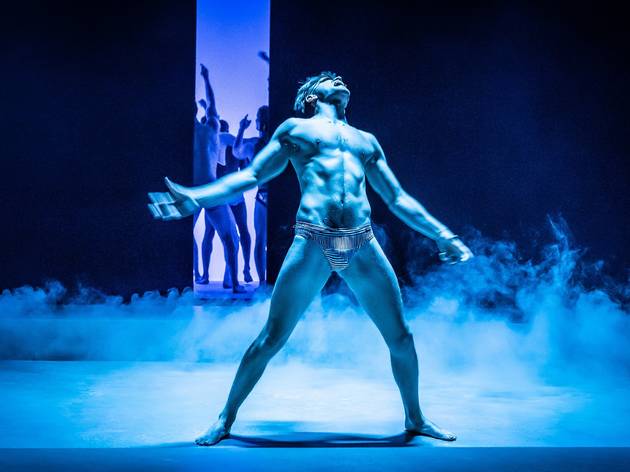 1/15
© Marc Brenner
Andrew Burnap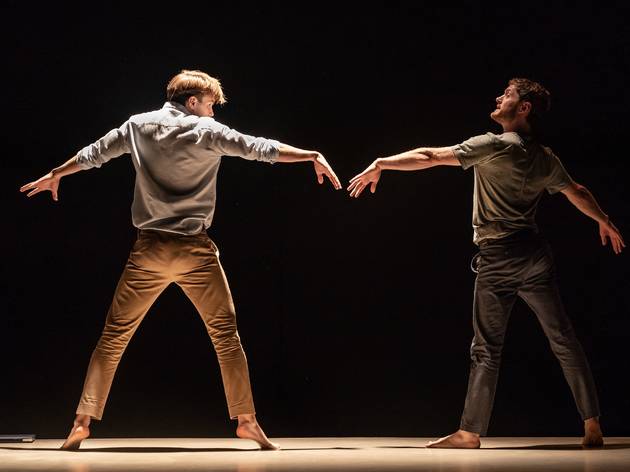 2/15
© Marc Brenner
Andrew Burnap and Kyle Soller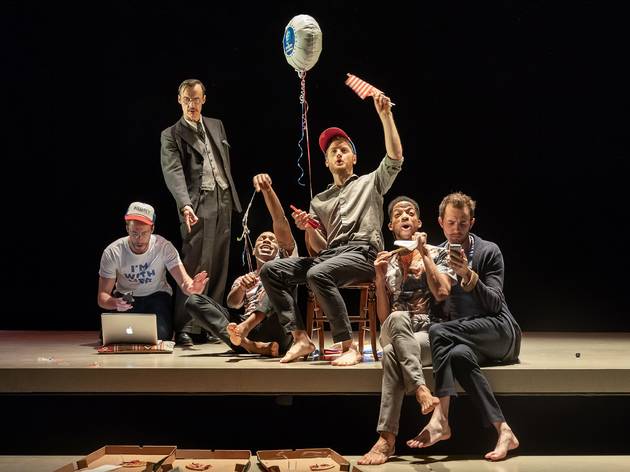 3/15
© Marc Brenner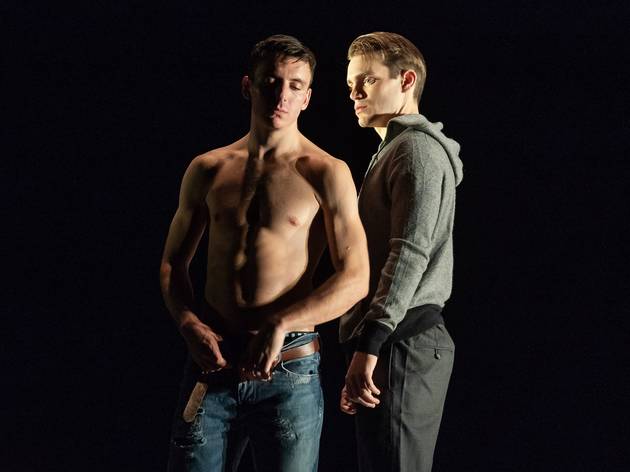 4/15
© Marc Brenner
Samuel H Levine and Andrew Burnap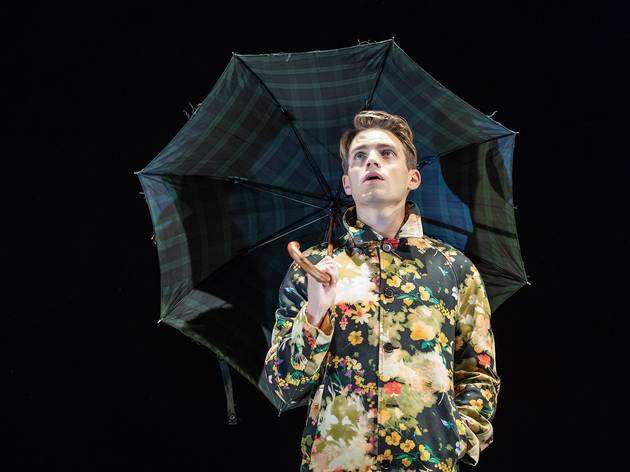 5/15
© Marc Brenner
Andrew Burnap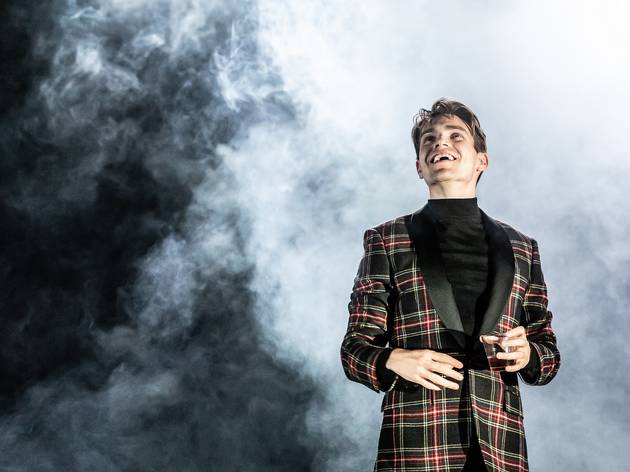 6/15
© Marc Brenner
Andrew Burnap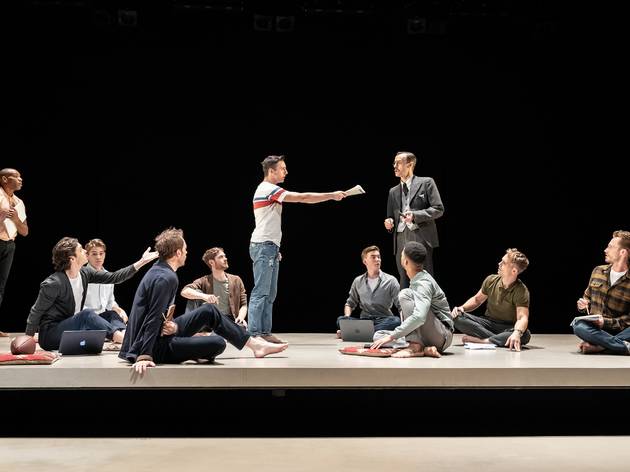 7/15
© Marc Brenner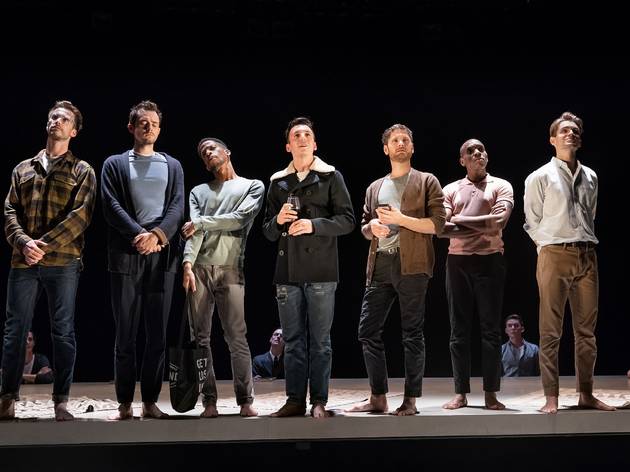 8/15
© Marc Brenner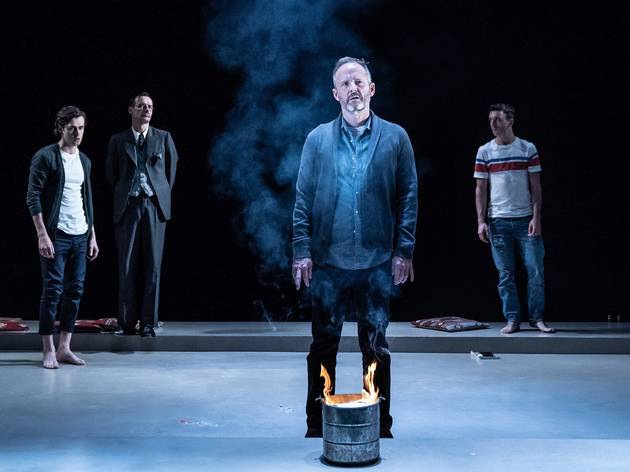 9/15
© Marc Brenner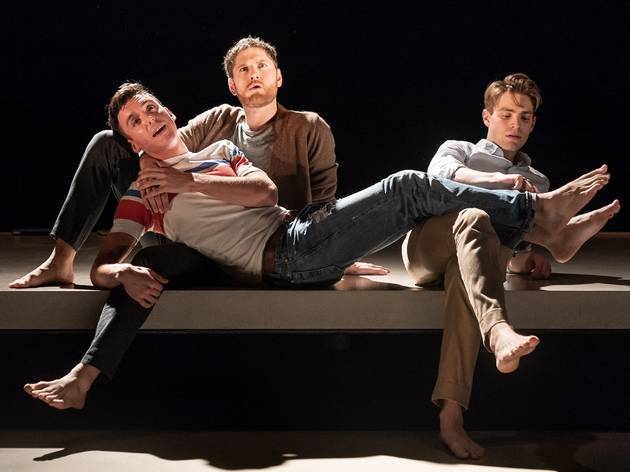 10/15
© Marc Brenner
Samuel H Levine, Kyle Soller and Andrew Burnap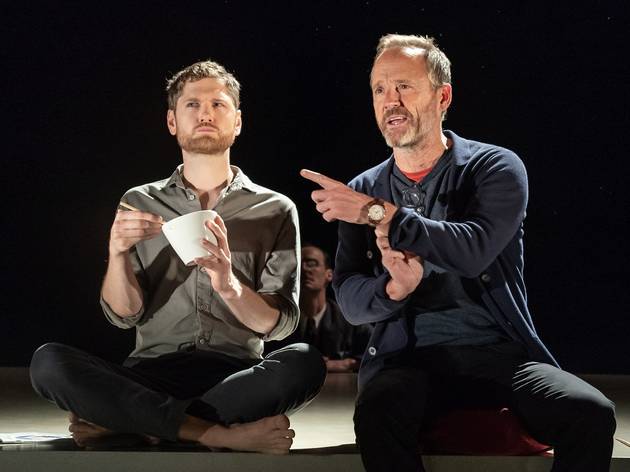 11/15
© Marc Brenner
Kyle Soller and John Benjamin Hickey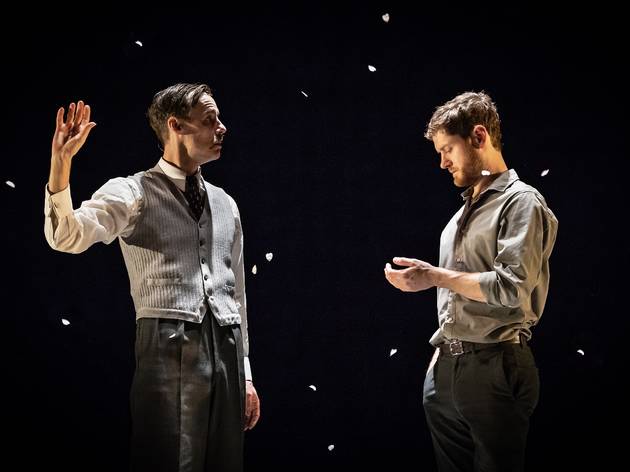 12/15
© Marc Brenner
Paul Hilton and Kyle Soller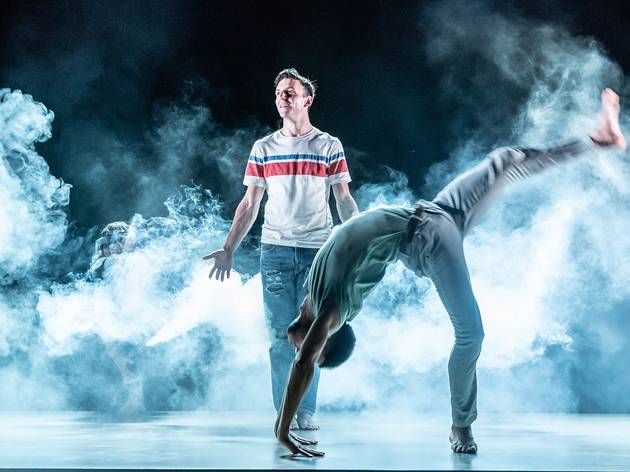 13/15
© Marc Brenner
Samuel H Levine, Michael Walters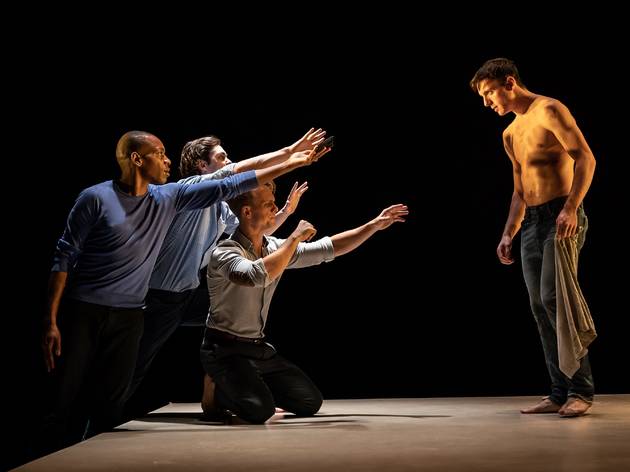 14/15
© Marc Brenner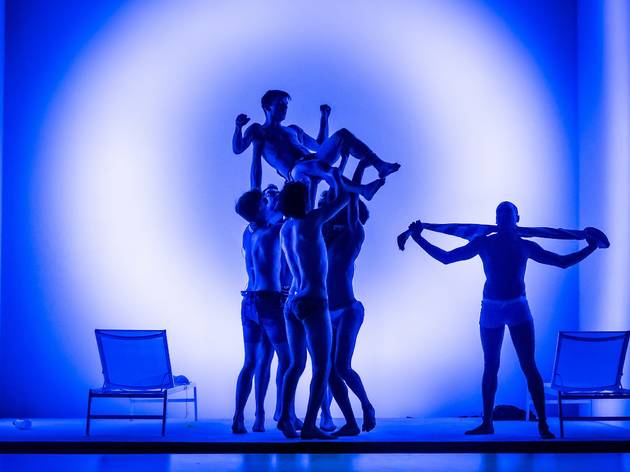 15/15
© Marc Brenner
Matthew Lopez's haunting, ambitious and flawed saga about the post-Aids generation transfers to Noël Coward Theatre
Transferring from a wildly successful Young Vic run to the West End, Matthew Lopez's 'The Inheritance' is, in some ways, an unlikely success story. Like Tony Kushner's 'Angels in America', it's an epic of gay life in New York that's more than seven hours long (and told in two parts). But there's no sweeping, magical realist bombast here. Director Stephen Daldry has crafted something softer and more intimate: a stage full of men who narrate their intertwining lives with honesty and gentle wit.
In the first half, the twentieth-century novelist EM Forster presides over the stage like a kindly uncle, awkward and moleish. Lopez's source material is Forster's 'Howards End', and he uses Forster's hidden homosexuality as the impetus to turn this story of three English families into an encyclopaedic survey of the traits of twenty-first century New York gay life. Political campaigning, brunches, ballet-going, parenthood, even chemsex – it's (almost) all there.

Eric Glass (Kyle Soller) is the quiet sun at the centre of this galaxy of New York gays, a sort of idealised, cultured everyman who's forever browsing the shelves of the Strand Bookstore, or watching four-hour arthouse films at the Brooklyn Academy of Music. His partner of seven years, Toby (Andrew Burnap), is an unrepentant narcissist, but a charming one, who's just about convincing Eric that he meets his emotional needs. A horde of their flirting, wise-cracking friends flit in and out of Eric's precious rent-controlled apartment, but it's ambitious newcomer Adam who shifts things: a fresh-faced, dazzlingly-well connected catalyst for this world to crumble.

A surprising amount of this story revolves around real estate: both around Eric's apartment, which he inherited from his grandmother, and around the beautiful Upstate New York house that Eric's friend and unofficial mentor Walter (Paul Hilton) used as a safehaven for young men during the Aids crisis. 'The Inheritance' circles round questions of what one generation passes from another, whether it's real estate or wisdom: and how this cycle was broken by the huge death toll exacted by Aids in the '80s and '90s. Daldry's production is particularly strong on hauntings, creating tear-pricking moments that fill the stage with a cavernous sense of loss.

Lopez's picture is both ambitious and limited. There's a moment where the entire cast entertainingly take Forster to task for never coming out as gay. By the time that homosexual acts between men were decriminalised in Britain, Forster was 88. Does 'The Inheritance' actually say anything as brave as it asks Forster to? With a story that focuses on five buff, conventionally attractive gay white men, it arguably doesn't. Its debates sometimes feel like op-eds, set-piece conversations around issues such as racism that its story never actually explores, however catchy the soundbites are. Ultimately, it affirms, rather than destabilises, the values of this urbane clique, with their emphasis on individualism and personal growth over a sense of collective responsibility.

The night I saw the second part of 'The Inheritance', the role that's usually taken by Vanessa Redgrave (Margaret) was performed by her understudy Amanda Reed instead: she brought a compassion and warmth to a part that nonetheless feels a little tacked on. Her appearance is the first sense that any women exist in this world, and she's there to mourn, repent, and care for a suffering man, not to have her own agency. Written over decades ago, 'Angels in America' still goes further, feels braver. But the inevitable comparisons aren't quite fair, either. This epic might be firmly set in 2015, but it's an elegy that's teeming with a whole century of lost history – and lost lives.
Average User Rating
4.6 / 5
Rating Breakdown
5 star:

19

4 star:

7

3 star:

0

2 star:

1

1 star:

0
This seven hour epic (broken over two parts) is the most affecting piece of theatre I've seen in a very long time. Even three days after seeing this on the stage of The Young Vic my mind is thinking about the characters and the experiences they shared. You'll laugh, cry and be left a better person after watching. Go see it!
I think it was Pure rubbish. This was the most plagiarised, borrowed, over-hyped gay theatre production of FRIENDS to date. Shall we even begin got count the thefts? Rips off Angels in America, Stoppard's invention of love (the big Forster speeches) and tries to legitimise itself by going "NEw York New York' a billion times.
Gay writer turns sex & drug addict 'Leave the Lights on'
Same kills himself outside of NYC in a car crash = Jackson Pollock story
And the fatal blow to this nonexistent plot: Forster did not want to suffer the same fate as Oscar Wilde. His 'moral shortcomings' assertions were erroneous.
There is not ONE memorable line in the six hours I sat watching this tripe, and my backside turning to stone. Derivative nonsense for an ignorant audience - ironically that bangs on about 'knowing your history' and present little in the way of fact - unless stolen from a real playwright.
PLEASE PLEASE PLEASE take this garbage to New York City so it will die the deserved death it has coming, and Mr Michael Riedel can officiate the funeral.
Funny how this crowd bangs-on endlessly about Trump and his right wing of history-revision, and this play relies and feeds upon just that.
The ONLY THING that kept me and to return after the first "half" was Samuel Levine's fine work - which carried this limping ignorant crowd panderer through SIX loathsome hours.
How this mess got past thinking producers is beyond me. Save your money and rent Longtime Companion and a box set of Sex and The City. That's all there is here, if that much.
I first watched this play when it was still showing in it's original home, The Young Vic, and I still didn't tire of its thought provoking themes. In fact, the conversation that started between myself and the friend I took about identity, the importance of being a community that is there for each other, and the importance of still documenting our history, became quite heated. This shows just how good an effect this show has. It reminded me how important, still, Pride is, and although we live in a city, and possibly country that is near enough all embracing of people's different feelings and life choices, there are still many, many people who don't live with this privilege.
Based on an adaption of Howard's End, it centres around a group of gay men of different ages, races and political beliefs who give audiences an insight into what the community has come through up until today.
It is funny, with some very well imagined and thought out sequences, that although are in no way risqué, you know exactly what they are alluding to, with great comic effect.
The whole production, all 7 hours of it, is incredibly sick and the ensemble work like a machine, never out of step.The two central characters are Eric played by Kyle Soller, a warm, kind and unbelievably patient character, and his boyfriend then ex boyfriend Toby, played by the marvellous Andrew Burnap, really take you on a rollercoaster of emotion. The pair together are a joy to watch and create some of the best theatre the show offers.
The importance of this production, what keeps it going, apart from the strong messages running through is the rhythm. It is constant and around 20 minutes in, really finds its feet. I think the arrival of Vanessa Redgrave's character in Part 2 slows it down, however she still gives a great performance about a mother loosing her child. I wish there more of the intense debates from Part 1 in Part 2, but nonetheless, the show delivers in its entirety and I didn't leave disappointed. I believe this show is transferring to Broadway, but like Angels In America, I don't think for a minute this will be the last we see of it.
The Inheritance is an epic 6.5 hour play split into two parts. Set in New York, it follows the friendship of a group of gay men who went through the AIDS crises in the 80's and 90's and how they educate the next generation. It's also a homage to EM Forster's Howard's End. It's funny and heartbreaking in equal measure and a stark reminder to always respect the struggle, fights and activism of those who came before us. The whole cast have a great chemistry and acting legend Vanessa Redgrave appears in part two, but it was the actor who played EM Forster/Walter, who really stole the show with an incredibly poignant and powerful performance
Minimal but clever set design worked perfectly with the razor sharp dialogue. It's certainly worth the lengthy run time.
What can I say? This was truly one of the finest theatre shows I have ever seen, and perhaps ever will see. The writing was absolutely perfect and it truly was like a "Netflix binge" as so many other reviews have said- I just wanted more!
I was hooked from the first minute and couldn't wait to watch the next 7 hours.
Messages were told-not shoved in your face- through a beautiful story of many men's lives, intertwined throughout- with simple, yet effective staging.
I was honestly blown away by the cast, every single one shone on that stage and the fact that Paul Hilton (E.M Forster/Walter) cried during curtain call-through a rapturous standing ovation for the second night in the row- shows just how much care the actors put into the story they were telling.
Both parts were just as strong, just as emotional as each other and, although at first looks it seems like a titanic length for a play on the west end it was not at all a chore to watch, at any point. The whole audience was hooked on every word throughout both evenings.
The Inheritance was such a catharsis, and as I walked out the theatre, blotchy and teary eyed, I knew I had just witnessed something special.
Watch this play, tell your friends, family, strangers on the tube and make them go see it- the whole world needs to see this show.
As daunting as a two part seven hour play sounds like, The inheritance, without a doubt, was the most vibrant thrilling and engrossing experience. The characters guided the audience through a roller coaster of emotions. The play touches the audience on an emotional and spiritual level illustrating the inheritance of emotion, disease and social etiquette through the generations of gay men. The experience all together surmounted the satisfaction of binge watching a TV series.
My friend and I both reacted differently to various parts of the play. We cried, laughed and became attached and invested into the characters' story . The most memorable moment for myself was Adam's graphic description of his disturbing experience in a Prague bathhouse.
The production was flawless effectively narrating a mixture of stories with emotion and clarity at the same time. The performances of Kyle Soller, Andrew Burnap, John Benjamin Hickey, Paul hilton and, most notably, Samuel H Levine were passionate and trans-formative.
This is a play I highly recommend going to. Truly is a modern classic.
I really enjoyed this play. The story telling was very unique and skilfully done by the ensemble. It's a 6 hour epic and the piece keeps the audience engaged better than most standard-length plays. Absolutely hilarious at times, at others very touching and heartfelt. The multi-layered plot and superbly formed characters bring this adaptation of Howard's End alive. Although never spelt out, the message is very clear and you do leave the theatre with a strong sense of community. I did think that the play could have been cut in places (we were the last West End audience to leave the theatre). Although I don't believe the piece tries to encapsulate the gay narrative in it's entirety - and the piece did give a brief nod to the coloured LGBTQ+ community - I would have enjoyed slightly more diversity than a thrice mention of a Chinese take out. The cast all look more or less like A&F models which doesn't do too well for an often image obsessed community. Personal preferences aside, it's a brilliant play and I'd definitely recommend it for any fun-loving theatre goer.
Just go- if you can get tickets.
Soul-stirring, though-provoking... theatre at it's finest. Getting to see it as a world premiere here in London is a treat, especially in such an intimate theatre as the wonderful Young Vic.
There's no doubt this is headed for Broadway once it closes here in a few weeks, and will probably be back here in a few years with a different cast (not sure how you could get any better than these gents- they are absolutely mind-blowingly fantastic), and higher ticket prices of the west- end. GO. GO. GO.