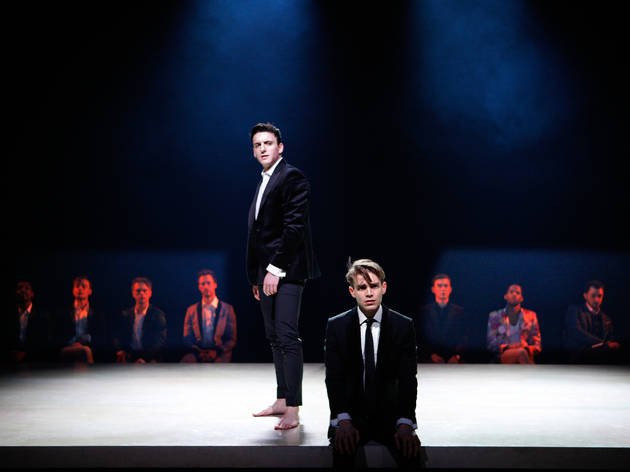 1/7
© Simon Annand
Samuel H. Levine and Andrew Burnap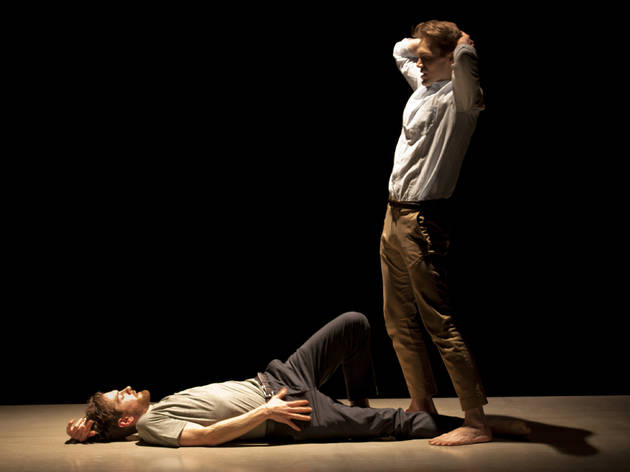 2/7
© Simon Annand
Andrew Burnap and Kyle Soller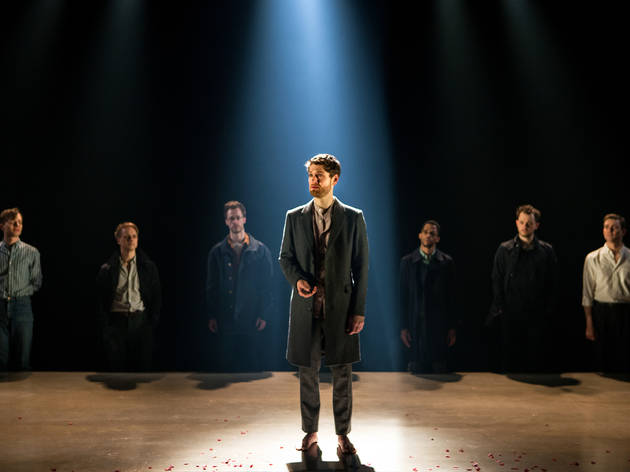 3/7
© Simon Annand
Kyle Soller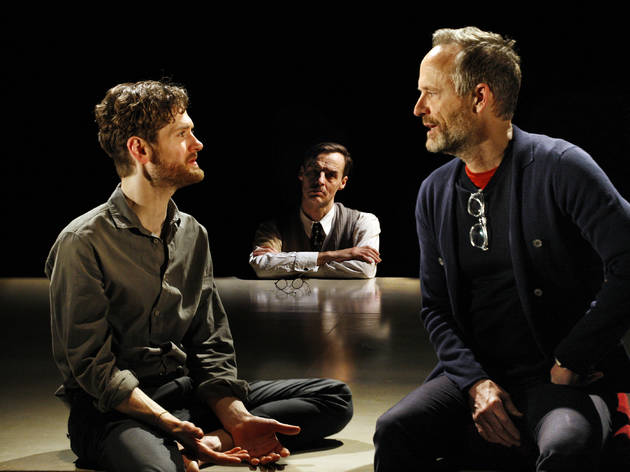 4/7
© Simon Annand
Kyle Soller, Paul Hilton and John Benjamin Hickey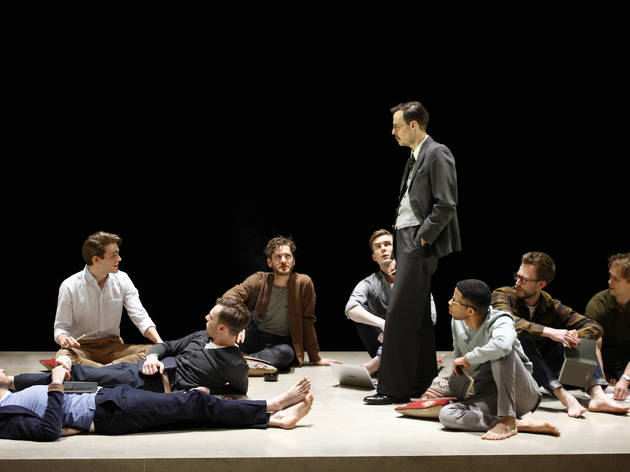 5/7
© Simon Annand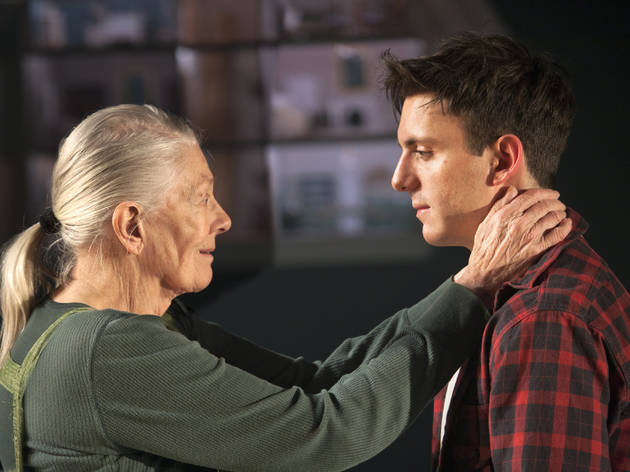 6/7
© Simon Annand
Vanessa Redgrave and Samuel H Levine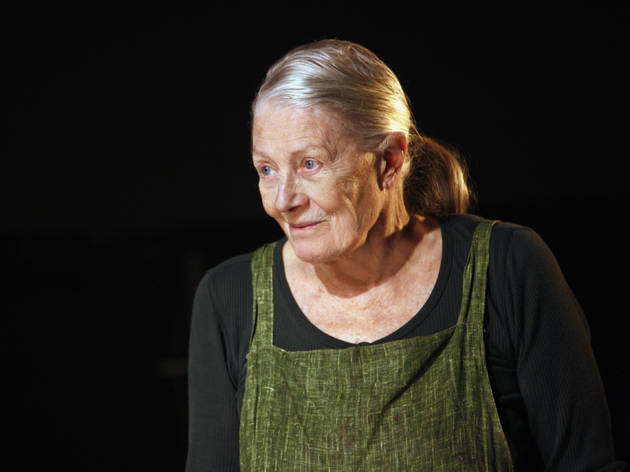 7/7
© Simon Annand
Vanessa Redgrave
Stephen Daldry directs this gripping, glib and often brilliant two-parter about New York's post-Aids gay generation
'The Inheritance' transfers to Noel Coward Theatre from 21st September 2018. This review is from its premiere at the Young Vic in March.
'The Inheritance' is the definition of a big ask: the world premiere of a two-part, seven-hour play by Matthew Lopez, a US writer Brit audiences are unlikely to have heard of, in a production by Stephen Daldry that stars only one big name: Vanessa Redgrave, in a virtual cameo in part two.
As tends to be the way with the Young Vic, the gamble has paid off. 'The Inheritance' is a flawed and messy play in many respects. But it is, nonetheless, a pretty monumental achievement.
In essence it's a New York-set drama about the relationship between the generation of gay men laid waste by Aids and the generation that came after them. It is also – and stay with me here – a reasonably faithful, albeit wantonly postmodern, adaptation of EM Forster's 'Howards End'.
Though stuffed with characters, it effectively focuses on Eric Glass (Kyle Soller), the play's equivalent to Forster's heroine Margaret Schlegel. A thirtysomething NGO worker, he lives in a capacious rent-controlled Manhattan apartment with Toby (Andrew Burnap), his livewire boyfriend, the hedonistic author of a single moderately successful YA book.
As 'The Inheritance' commences, things seem to be going well for Eric and Toby – the apartment is a bustling hub for their witty, coupled-up, exclusively gay friendship group. They decide to get hitched. They acquire a new friend, Adam, a minted young wannabe actor who seems to be going places. And Eric forges an enduring friendship with Walter (Paul Hilton), an older gay man with an apartment in their building.
But things start to fall apart: the rent control on Eric's apartment ends; his relationship with Toby becomes strained; and Walter passes away, asking his partner Henry to give Eric the upstate home where they weathered the Aids epidemic, a request a bemused Henry and his pugnacious sons fail to honour.
The plot is gripping: shimmering with excellent jokes and told at a great lick by Daldry and team on a minimal stone dais set from Bob Crowley, we indubitably become wrapped up in these fuck-ups' lives. Effectively divided into six hour-ish episodes, three per part – it is very much of a piece – the experience is a bit like gorging on a classy Netflix melodrama.
However, there's a bit more to it than that. Much of the story is lifted from Forster, but Forster appears as a character (Hilton again), wandering around prodding the story along like some cosmic dramaturg, but also the representative of a pre-out generation of gay men. And from this Lopez constructs a huge, ambitious thesis about the historical tragedy of gay men's lack of role models: Aids robbed the present generation of mentors; but before that heteronormative society stifled the great gay art that might have been. In effectively being a gay 'Howards End', 'The Inheritance' isn't just a celebration of Forster – it is a rebuke of him too, something made explicit when a frustrated Toby has a snarling go at the writer.
Is this all entirely successful? I mean, no. The tone is often wilfully glib, anchored by couple of lengthy monologues that do a lot of the thematic heavy lifting, as does Soller's soulful, conviction-heavy performance. Elsewhere, there is the definite sense that Lopez is winging it a bit, papering over the cracks with good jokes, speedy pacing and occasionally dives into sentiment. The very late deployment of Redgrave is a bit distracting in all honesty, especially as you get the impression that – charistmatic presence as she remains – she's possibly mostly there as a shoutback to the 1992 film of 'Howards End', which she starred in.
There is also a nagging sense that despite some attempts to broaden its scope, Lopez's grand thesis about gay men is mostly a grand thesis about white middle-class gay men.
Comparisons to 'Angels in America' are inevitable and slightly justified: both are two-part, postmodern New York-set epics that deal with the fallout from Aids. But to overcompare 'The Inheritance' to Tony Kushner's magical realist masterwork is a little unfair and not especially helpful. 'The Inheritance' is a cracking story, enjoyably (re)told, and in many ways the metatextual stuff is less there to fuck with our heads, more thrown in for a knowing chuckle. Despite being very long, it's a jolly good watch. And yet Lopez does pull something transcendent out of the bag, a vision of a long, sad tragedy, of an inheritance lost,but also a firm belief that we can learn from what remains.
Venue name:
Noël Coward Theatre
Contact:
Address:
85-88
St Martin's Lane
London
WC2N 4AU

Transport:
Tube: Leicester Square
Price:
£10-£38 per part. Part One 3hr 20min; Part Two 3hr 35min
Rating Breakdown
5 star:

3

4 star:

0

3 star:

0

2 star:

0

1 star:

0
Just go- if you can get tickets.
Soul-stirring, though-provoking... theatre at it's finest. Getting to see it as a world premiere here in London is a treat, especially in such an intimate theatre as the wonderful Young Vic.
There's no doubt this is headed for Broadway once it closes here in a few weeks, and will probably be back here in a few years with a different cast (not sure how you could get any better than these gents- they are absolutely mind-blowingly fantastic), and higher ticket prices of the west- end. GO. GO. GO.