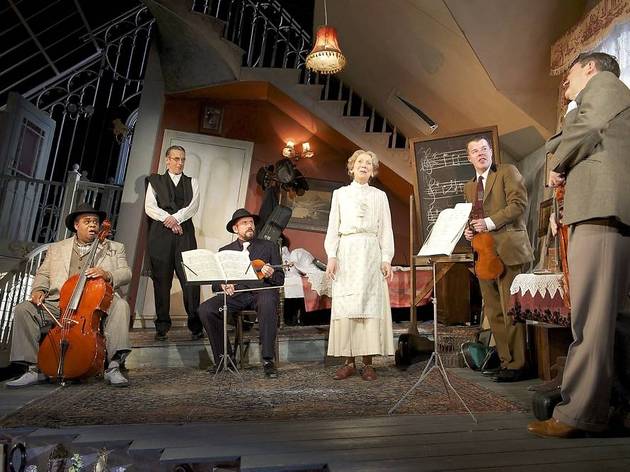 Slapstick is back with a vengeance this Christmas: it's all over the panto season, the National's big hit, 'One Man, Two Guvnors' and this: Graham 'Father Ted' Linehan's roisterous adaptation of our finest Ealing comedy.
This surreal heist story came to writer William Rose in a dream, but Alexander Mackendrick's 1955 film is a classic because of Alec Guinness, in creepily avian form as eccentric criminal mastermind Professor Marcus.
In the theatre, Michael Taylor's wonky house is the star – despite an errant doorknob on press night, which prompted ingenious ad libbing. Everything is askew, dingy, and potentially fatal in Mrs Wilberforce's down-at-heel King's Cross boarding house, whose chairs shuffle sheepishly off to the left every time a train whistles past.
When her criminal lodgers (who are pretending to be musicians) fall out after committing a robbery, every fatality is a coup de théâtre: with surprises for the ardent Ealing fans.
This is an arch, knowing farce which – on the night I saw it – was not quite the sum of its excellent parts. Peter Capaldi leads the villainous gang with deranged aplomb as Professor Marcus, a conceptual artist of crime, whose long bohemian scarf is a repeated gag that becomes his nemesis.
Linehan has added wonderfully weird touches to the gang and the tea-loving Mrs Wilberforce. But Sean Foley's broad production over-relies on crass physical comedy: Stephen Wight, an actor who can crease you up by curling his lip, is instead hit repeatedly in the gob by a tiresome revolving blackboard. The crims inadvertent nemesis Mrs Wilberforce is played with a Miss Marple-like mix of dottiness and moral force by the excellent Marcia Warren: their shenanigans look brighter in contrast with her fading moral world.
The best scenes happen when Linehan goes off-piste: when the robbers are found crammed in a cupboard with only their heads visible, like tinned sardines, it's an absurd treat. Their concert for her vigorous elderly friends is the show's comic pinnacle – as well as a good joke at the expense of the theatregoing audience – who receive the humour and indeed all of this ingenious retro farce in very good part.
Rating Breakdown
5 star:

0

4 star:

2

3 star:

0

2 star:

0

1 star:

0
Really enjoyed this - it's not quite One Man Two Guvnors in the belly laugh farce stakes but it wasn't far off. Capaldi was an absolute joy, and the rest of the cast shone too. If there was any complaint it was that the characters were *so* brilliantly played that you were kind of on their side - as baddies in a farce that's never going to end your way! And the set really made me smile too.
A delightful take on the original movie - which should be watched before attending - the script has many riffs on the original which really enhance our enjoyment. Very enthusiastic performances and a very effective set make this production a delight. An ensemble piece with verve and imagination.