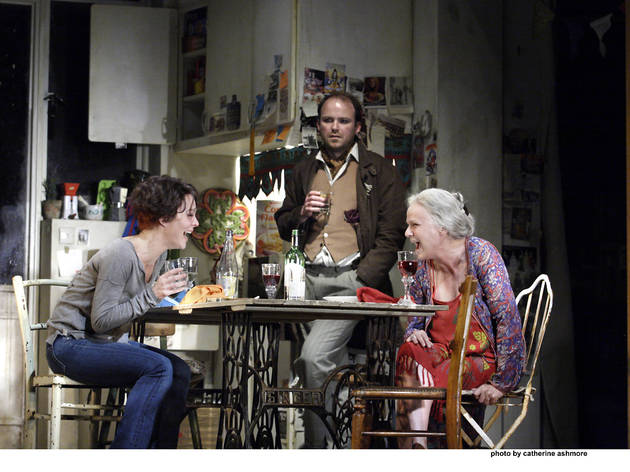 In Mike Bartlett's recent Royal Court hit, 'Love, Love, Love', the play's protagonists traded the '60s dream for unfettered self-interest, wreaking emotional havoc upon their own children. This debut play from screenwriter Stephen Beresford shows the flipside: that hanging on to the old ideals of love, peace and revolution can be equally damaging, and leave one's offspring equally (if not more) screwed.
'The Last of the Haussmans' begins with a reunion, as frazzled middle-aged siblings Nick and Libby Haussman (Rory Kinnear and Helen McCrory) meet in front of their family home, a semi-dilapidated seaside pile realised in a gorgeous sprawl of a set from Vicki Mortimer.
Nick is a gay, uptight semi-vagrant who potters blithely about the country drinking too much and occasionally hitting the smack; Libby is an outwardly tough but emotionally needy single mum making a fairly wretched fist of bringing up her teenage daughter Summer (Isabella Laughland).
They're both a mess and it's not hard to see why when we encounter their mum, Judy (Julie Walters), a gloriously unreconstructed hippy who shambles around the house in a Snoopy nightie, still spouting the revolutionary guff that originally persuaded her that it was a good idea to leave her kids with their authoritarian grandfather and go and join an orgiastic commune somewhere in India.
Howard Davies's typically handsome production draws fine performances from its three leads: Walters naturally gets the lion's share of the laughs (though she keeps Judy on just the right side of parody) and Kinnear's kohl-eyed Nick isn't far behind. But McCrory's single mother is key here, her vulnerable Libby bringing a crucial note of empathy to this trio of fuck-ups.
There is much to commend in Beresford's script – some of the one liners are a hoot, and it ultimately makes a far more nuanced argument about the '60s dream than 'Love, Love, Love'. But it's pretty thin: the first half is fun but slightly aimless; the second more purposeful, but reliant on some hackneyed revelations.
Considering that the NT could have commissioned a new play from more or less any living playwright, first-timer Beresford is an odd choice for the large Lyttelton stage. Still, a frothy comedy with Julie Walters is a safe bet for getting bums on seats during what's expected to be a challenging summer for London theatre, and if you're buying a ticket in order to see Walters being funny, you won't be disappointed.
Average User Rating
3.3 / 5
Rating Breakdown
5 star:

1

4 star:

0

3 star:

1

2 star:

1

1 star:

0
Beresford has been very lucky with his first play, straight from his Goldsmith NT stint as actor. Superb set and direction. Walters neatly avoided the easing back into theatre as Brenda's mum writ large (Dinner Ladies). I agree with those who found Kinnear's jibe that his mother was 'wanking into a chrysanthymum' somewhat challenging for Walters (frig perhaps, it really was lax from an otherwise excellent coiner of one-liners). Too many aunt Sallys, and too many sallies to and fro for this somewhat plotless character-driven Cox Orchard piece. Chekhov sprawled with incredible tautness. The strings are false: this doens't bear the weight of the 'failed' sixties or even the revolutioanry failures, let alone the sixties' permanent legacy which Nick (Kinnear) the son can guiltlessly enjoy. Don't buy the essential coup since McRory cant sell on equity release to an individual which sets up the catastrophe. Some superb endings (McRory tipping her mother's ashes over the cowardly treacherous doctor and announcing the title of the play) but not the right one. The right one comes just after this, five minutes before the end. The son's making a last raid on the surrendered house, discovering an ususpected occluded drinks cabine: Sound of splintering wood. and from within 'Now at last we're making progress.' That's where it should have ended and each act (as Michael Billington said) could have been pruned five minutes. Losing Act Three altogether as some suggested on the Guardian site is too harsh, but only just. There's none of the masterly, manic plotting that made Collaborators (Nicholas Hodge) such a joy or even that neatness and equal cleverness of Nicholas Wright's Travelling Light. Beresford should revise it and earn his luck a bit more. His second play though would be worth seeing. His strength lies resoundingly - as you'd hope in an NT actor - in dialogue and character, so two out of four. Plots and clearly ambivalent (not muddling) themes next please. And the Sixties did make us more tolerantly human. Thatcher didn't win entirely: Clause 28 is out for good and despite Hunt we won't get 12 weeks limit on abortion. Perhaps the true Tory victory is Tim W in the Telegraph telling us we're all as Beresford says post-political. What? Beresford as far as he's buying into this, is selling us a lie. It's just that on many issues, the bad guys won - for now. There's always an Arab Spring waiting in the north, if not in Plymouth - now Beresford's scorn there did score. I don't know how much it changed from preview on June 13th to the final live screening I missed tonight October 11th (foiled by the bi-weekly unreported suicide under train at Gatwick, so much for post-political), but I hope somewhat.
Fantastic set and wonderful performances. Thoroughly enjoyed this witty and absorbing play. Julie Walters is in her element and supported by two incredible performances from Helen McCroy and Rory Kinnear. There are lots of laughs as they fly though the script and McCroy plays the single mum perfectly, you fully empathize with her frustration's and at times despair. The play is a really great night out and should not be missed!
This rather dreary play will put bums on seats because of the actors Julie, Rory and Helen so good luck to the National but I do wish they would spend their money on new plays with a difference. This play is old hat but it does have a great set.