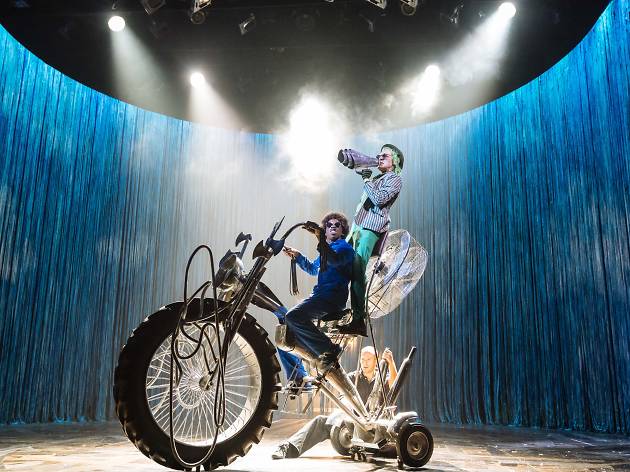 This enjoyable puppet adaptation of Dr Seuss's eco-parable returns for half-term
Dr Seuss's oddball rhymes have haunted the bedtimes of many children and parents, and this hit theatrical adaptation of 'The Lorax' does a good job of bringing them to life for the stage.
'The Lorax' is a dastardly tale of ecological woe, in couplets. It concerns the Once-ler - a young entrepreneurial type who massacres a forest paradise to produce a totally pointless consumer product called a 'thnood'.
In Max Webster's swaggering show, this bleach-haired bicycling zany is played with tremendous angular charm and energy by the returning Simon Paisley-Day. But he's basically upstaged by a puppet: the whiskery, gingery beaverish Lorax, the spokesperson for the troubled trees.
Puppeteers David Ricardo-Pearce, Ben Thompson and Laura Caldow are fantastically skilful bringing the Lorax into being. He talks like a retired Brigadier and pounces and twists like an otter as he tries and fails to persuade the avid Once-ler to moderate his activities. There's plenty food for thought in a show that, sadly, will still be topical for many years to come.
Designer Rob Howell creates a garish, vivid world onstage, and Charlie Fink's music punches up the volume even further. It could all do with a cut as the tale thins out towards its end, but it's impressively produced family entertainment with a worthy moral at its heart.
Rating Breakdown
5 star:

3

4 star:

2

3 star:

1

2 star:

1

1 star:

0
Took my 6yr old nephew to see this and from start to end he was on the edge of his seat as was I. I left wondering who enjoyed it more the kids or us adults everyone left with massive smiles and a warm glow. it totally captured the charm of the book and the songs were brilliant as well as the puppetry which was seamless that almost allowed you to forget they weren't real. All in all a brilliant show for all the family or just big Kids.

some incredible puppetry action going on down at the old vic but it didn't keep me engaged. However, my friend thought is was one of the best things he had ever seen so I'm pretty sure he would have given it 5 stars.

We read the book to our daughter 20 odd years ago, and it's certainly very relevant today.
The show was exuberant, energetic, colourful and very true to the original illustrations and feel of the text.
We loved it - laughing out loud one minute, and being close to tears, the next.
Great casting, set and costumes. Lively songs and wonderful puppets.
What more could you want?
An absolutely fantastic production, the puppets are amazing, the actors and staging is great and music just fantastic. I was a big fan of the book growing up and just loved the production, as did my friend who has never heard of it!