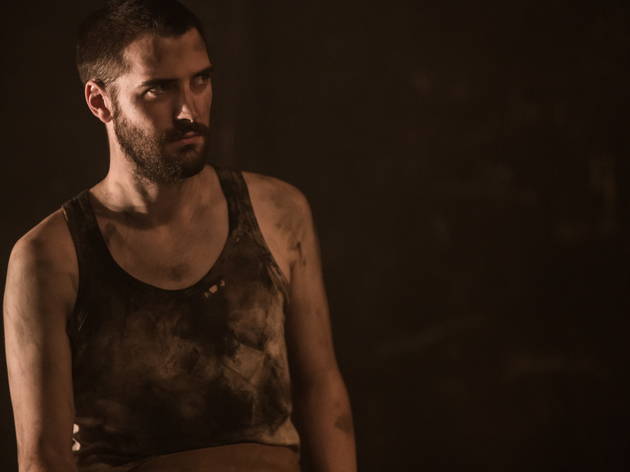 1/5
© Damian Robertson
Cian Barry
2/5
© Damian Robertson
Cian Barry, Rebecca Oldfield
3/5
© Damian Robertson
Daniel Stewart, Adam Venus, Kurt Kansley
4/5
© Damian Robertson
Kurt Kansley
5/5
© Damian Robertson
Rebecca Oldfield, Ben Onwukwe
If you're looking for a play to warm the cockles this October, Matthew Dunster's production of Aleksandr Solzhenitsyn's 1969 drama probably isn't for you. It evokes a bleak and cold Russian wasteland, filled with people who have been pushed to the brink of their humanity.
Undoubtedly based on Solzhenitsyn's own experiences, 'The Love Girl and the Innocent' is set in 1945 in a Russian labour camp and is the tale of ex- soldier Nemov, who has been given a 10-year-sentence for counter-revolutionary activities. A crime hundreds of people, including Solzhenitsyn, were convicted of under the reign of Stalin.
Nemov arrives full of good intentions: he's incorruptible and is ready for hard work. But life inside these places clearly wasn't a walk in the park and Nemov - played with a sweet vulnerability by Cian Barry - is ground down from the off.
Dunster deftly gets round the play's many staging issues. Constantly moving in and out of different costume, the 16-strong cast play 50 characters and work hard as they heft big wooden palettes around to change the sets. It's a fluid and vivid production which focuses on how easy it is to chip away at humanity when life is stripped of any value.
But the play takes too long to get to its crux. The entirety of the first half is spent introducing us to Nemov and the camp's myriad inhabitants. It's only the short second half which speeds up the pace, when Nemov's love interest is introduced: a girl who gets perks in return for keeping the men with power happy.
Dunster manages to convey the desperation and hell of the camp. It's just a pity that the piece lacks the drama to really make us care.
By Daisy Bowie-Sell