The Madness of George III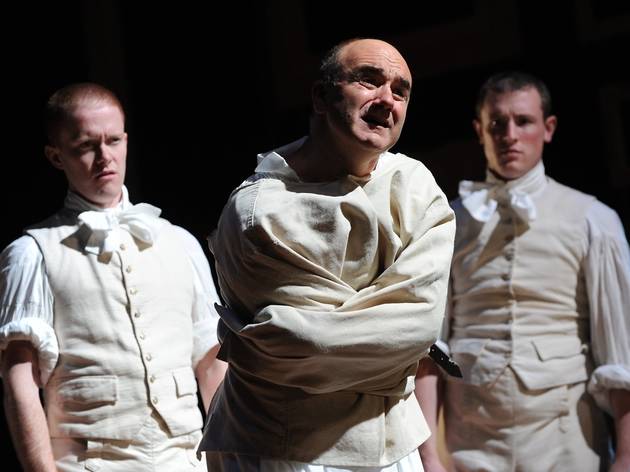 Hair from the pampered poodle school, talk of turds and farts, splendid crescendoes of choral Handel, and lots of lovely monarchy. It's easy to relax into the frank pleasures of the eighteenth century especially when history is the background in a gilt framed portrait of Our Sort of King 'what, what': George III, a hardworking national treasure who is so irredeemably Pooterish that he addresses his wife as 'Mrs King' when they're in bed together, and longs to remove them to a quiet life far from their disappointing offspring.
And it's even more comfortable when the court painter in question is Alan Bennett, who occupies a more modest but roughly similar place in the national affections as the NHS.
Christopher Luscombe's Theatre Royal Bath production of 'The Madness of George III' is middle aged, middle of the road, and sometimes mediocre. But it is, nonetheless, a very great pleasure. Its tireless ease comes from Bennett's affectionate script – which wryly sketches the comedy, politicking, wholly unecessary medical torture and marital bickering of a monarch's life, and wisely – and archly – quotes 'King Lear' when the sublime is required.
As for its power, that stems entirely from the wonderful David Haig, who plays the King with jolly authority when well, unruly hilarity when recuperating, and genuinely horrific self-awareness when an agonising mystery renders him unable to control his shitting, his speech, or his sexual impulses.
We now suspect that George's porphyria was triggered by traces of arsenic in the medicines he was prescribed. But the series of medical cruelties which the King endured, at the behest of his son the Prince of Wales (a vicious fatty with a voice like a girl, in Christopher Keegan's performance), are dramatised with relish and insight.
After Nicholas Hytner's sumptuous film, Janet Bird's efficient set design seems like a missed opportunity: its scratched beige wood flats with empty holes instead of pictures denudes the action and makes it seem like it's set in an unfinished drawing. More of Mic Pool's sound design – which memorably conjures the yeas and nays of the Parliamentary Whigs and Tories out of thin air – could have furnished us more handsomely.
Many supporting roles are dully played. There's little rapport between Haig and his Queen (Beatie Edney). Conversely, Ed Cooper Clarke is so strong as Captain Fitzroy, it seems odd that he's only a valet and even odder when he and three strapping military pals are routed by unconventional Lincolnshire physician Dr Francis Willis (Clive Francis) and a couple of his farm hands.
The minor threads in this tapestry don't glow as brightly as they could given Bennett's skilful weaving. But this is a fascinating albeit thoroughly conservative corridor of history. And Haig's King is so good, he's almost worth doffing your cap to.
Average User Rating
4.7 / 5
Rating Breakdown
5 star:

4

4 star:

2

3 star:

0

2 star:

0

1 star:

0