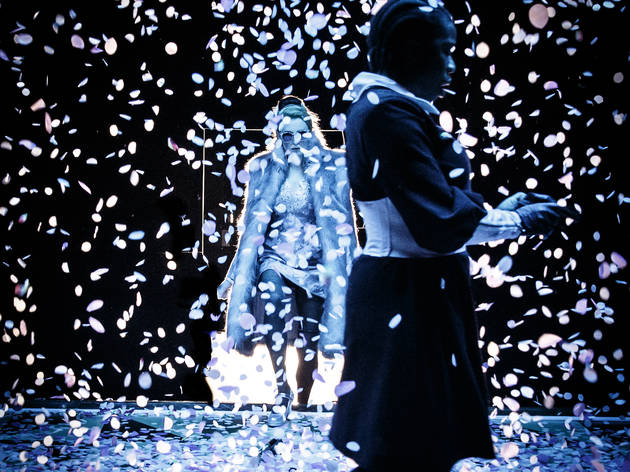 1/8
© Marc Brenner
Laura Carmichael and Uzo Aduba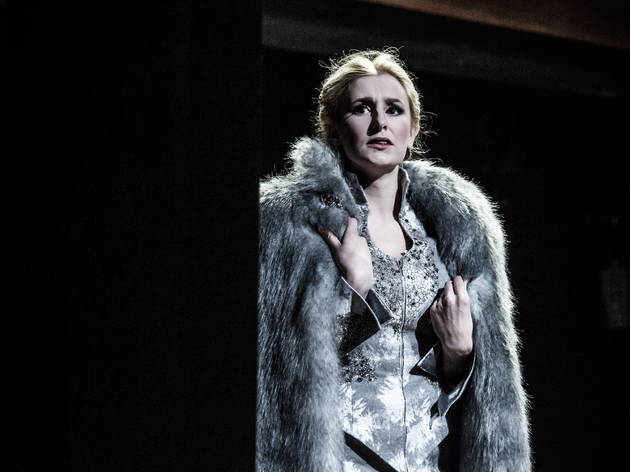 2/8
© Marc Brenner
Laura Carmichael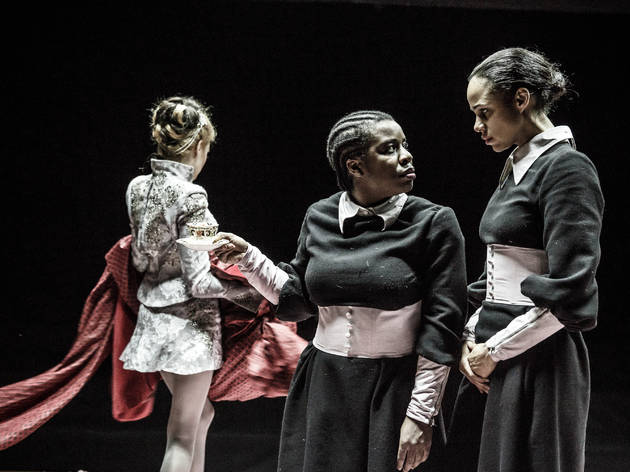 3/8
© Marc Brenner
Laura Carmichael, Uzo Aduba and Zawe Ashton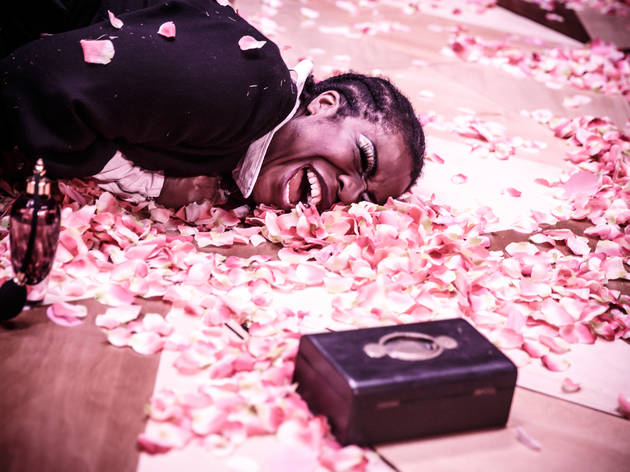 4/8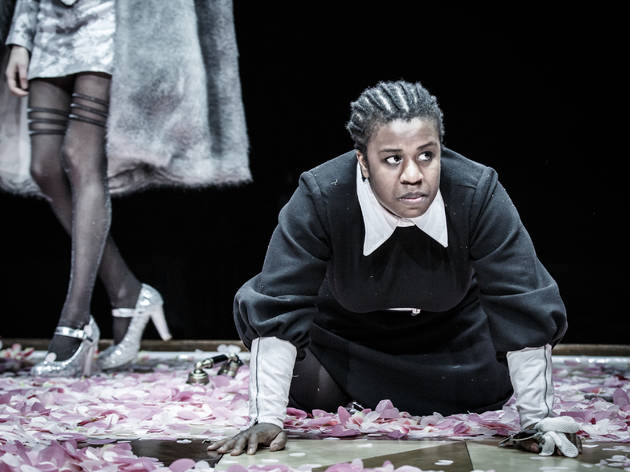 5/8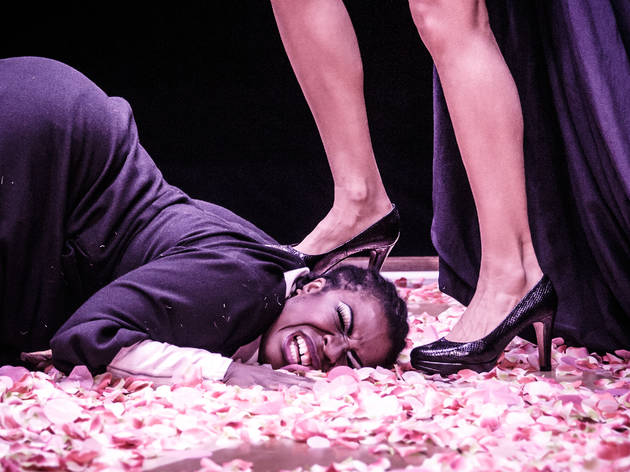 6/8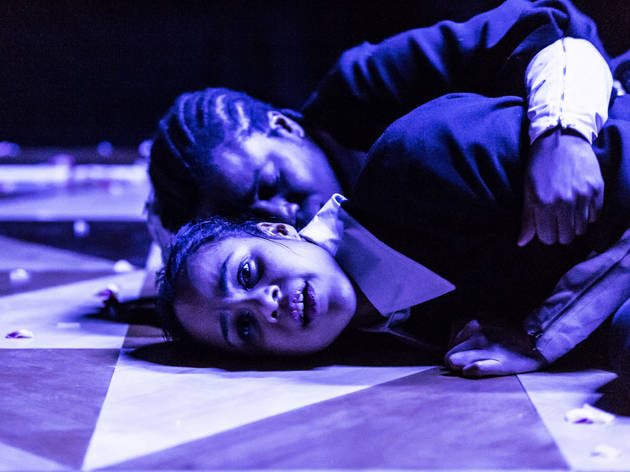 7/8
© Marc Brenner
Zawe Ashton and Uzo Aduba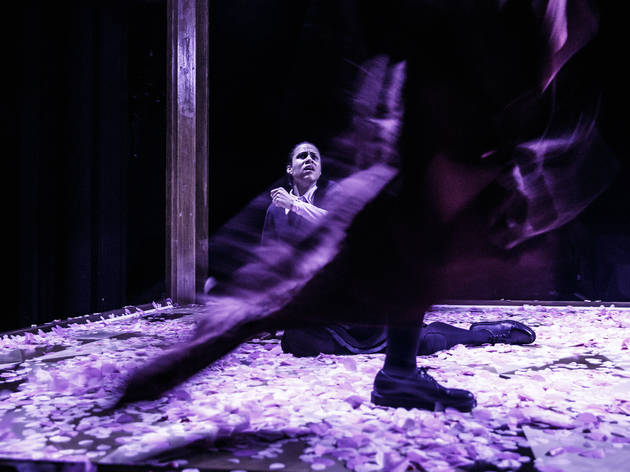 8/8
© Marc Brenner
Zawe Ashton
Phenomenal acting from Uzo Aduba, Laura Carmichael and above all Zawe Ashton in this revival of Jean Genet's violent classic
Interview: Zawe Ashton on 'The Maids', 'Fresh Meat', and more
A giant, ornate laundry hamper fills the stage. Its sides vanish to reveal two women contorting to synth music in a beam of light, showered with drifts of rose petals. It's an opener with all the high drama of an Alexander McQueen fashion show. But instead, director Jamie Lloyd is presiding over an intensely stylish tale of two maids fixated on dressing up in their mistress's clothes – McQueen frocks included – and drinking in the power that clings to them, lingering like perfume.
Ultra-cool, and deeply nasty, Jean Genet's 1947 play is a sadomasochistic shocker. And Benedict Andrews and Andrew Upton's version feels strikingly modern – and not just because it peppers the air with more swear words than Kate Moss on an easyJet flight. The twenty-first -century super-rich still have servants, and even if they've ditched the frilly outfits, they're expected to be as invisible and submissive as ever. As the play's Mistress, Laura Carmichael switches effortlessly between patronising kindliness and all the sadistic cruelty that was swept under the rug in her role as Lady Edith in 'Downton Abbey'.
When she's away, her maids mock her in a series of ritualistic role-plays. Uzo Aduba, best known as 'Crazy Eyes' in 'Orange Is the New Black', brings an appropriate degree of eye-rolling frustration and blind fury to these twisted fantasies. But Zawe Ashton, a cult-favourite for her role as penniless narcotic ninja Vod in 'Fresh Meat', proves herself as a mesmerising live performer. She's vulnerable, unpredictable and utterly in control. The text becomes a dressing-up box full of styles for her to try on – from chest-clutching mannerist acting, to languid Southern drawls, to twerking, to writhing on the floor in a homoerotic frenzy.
Unusually for a production that screams its message in your ears until you're as flecked with spittle as Carmichael's shoes, the play's racial politics are more of a whisper. We're left to come to our own conclusions as to how Mistress's whiteness lets her degrade her maids, driving them to a madness that's as overblown and heady as the rose petals that cover the stage. Underneath their scent, there's dirty laundry whose stink won't stay hidden for long.
Average User Rating
3.2 / 5
Rating Breakdown
5 star:

2

4 star:

3

3 star:

4

2 star:

4

1 star:

0
The message is important - psychological impact of serving other people - and it deserves a good play. Having not seen the original Genet version it is difficult to know whether this americanised, twenty first century interpretation, is just not to my taste, or whether the play itself is at fault. I found the lesbian interactions gratuitous and the histrionics overdone. I would love to see it done again with the same cast, but a completely different direction!
(my partner and I deserve the champagne to compensate for the £49 extra we paid to buy our tickets through TimeOut....this bit not for publication)
Absolutely compelling! Felt like I couldn't breathe until the play had finished. A truly professional performance, admiration for an hour and 50 minutes of learnt script and acting. Wonderful!
Superb acting from the three cast members. The show is 1hr 45 minutes straight through but it would be fair to say it feels longer. I'm not sure the Play is that good but its completely hidden by the stylish staging, the unique direction and first class performances. Well worth a night out to see.