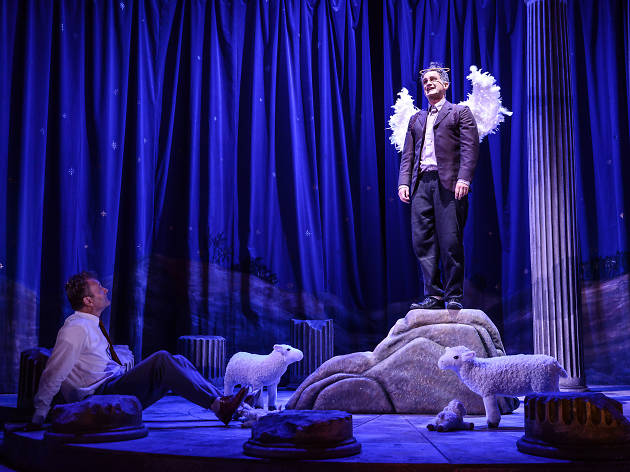 Time Out says
Lesley Garrett and Hugh Dennis star in this flimsy nativity spoof
First seen in 1983, Patrick Barlow's spoof on the nativity story, as performed by two hapless, over-earnest am-dram types and an opera singer, is always newly updated and devised when re-staged. But for all the Trump and Brexit nods, this version of 'The Messiah' feels far from fresh: it creaks like the deliberately naff set of faux-Roman columns it's staged on.
Barlow's made a career of send-ups, from the long-running hit 'The 39 Steps' to absurdly lo-fi takes on epics from the 'Ring Cycle' to 'Ben Hur'. I guess he got better at it – or maybe we just got overfamiliar with backstage comedies and sketch-like spoofs – because 'The Messiah' now seems rather tiresome.
The humour comes from the over-ambitious actors' fluffed lines and malapropisms, hectic multi-roling and slapstick silliness, missed cues and technical mishaps – it's a bit like the Rude Mechanicals, if they were the whole of 'A Midsummer Night's Dream'. But does anyone really want two hours of just that? Maybe I'm being a right Scrooge, but this performance, also directed by Barlow, failed to find the funnybone, and my goodwill to these performers wore out pretty quickly.
There is a bit of subtext in the form of some vague, simmering backstage drama: Hugh Dennis plays the pompous Maurice Rose, trying to keep his midlife crisis at bay; the idea for the show came to him on a 'spiritual journey'. John Marquez is Ronald, his enthusiastic but hopeless co-star who gradually gets fed up of being bossed about. But satirising actorly pretensions and histrionics is an easy target, and it doesn't really add that much meat.
Lesley Garrett as an old-school diva has nice comic timing and lends occasional bursts of opera, but her character doesn't feel fully integrated. While Marquez can be endearingly sweet, the main character note appears to just be 'a bit dim', as he endlessly struggles with pronunciation: heaven's 'transcendental realm' is chewed up as 'trans and incontinent'. Dennis is stuffy and stiff as Maurice, but despite enduring various indignities during the show, rarely are these turned into belly laughs.
Featherlight festive entertainment, then, but far from divine.
Details
Best selling Time Out Offers