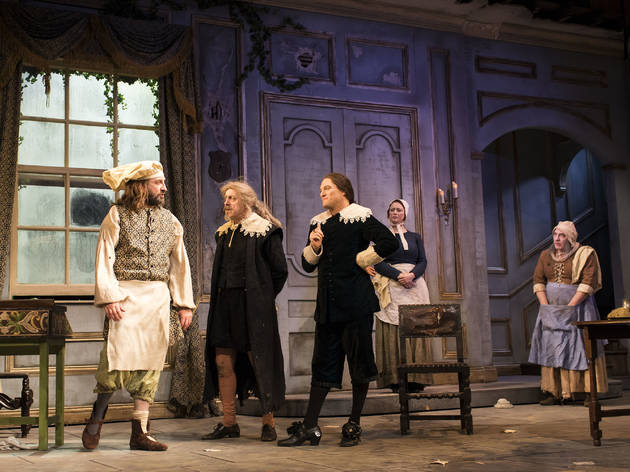 1/8
© Helen Maybanks
Lee Mack, Griff Rhys Jones and Mathew Horne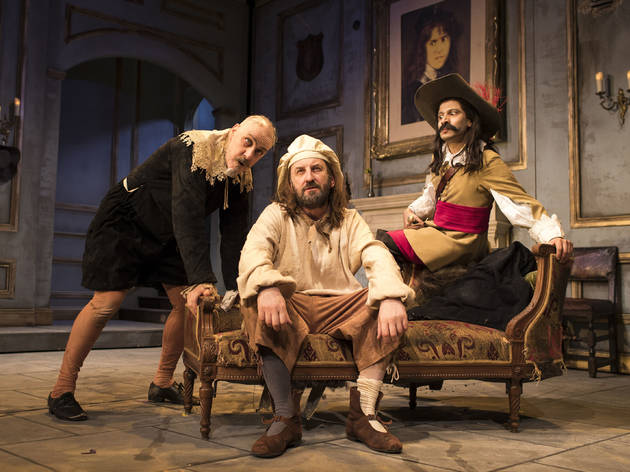 2/8
© Helen Maybanks
Griff Rhys Jones, Lee Mack and Saikat Ahamed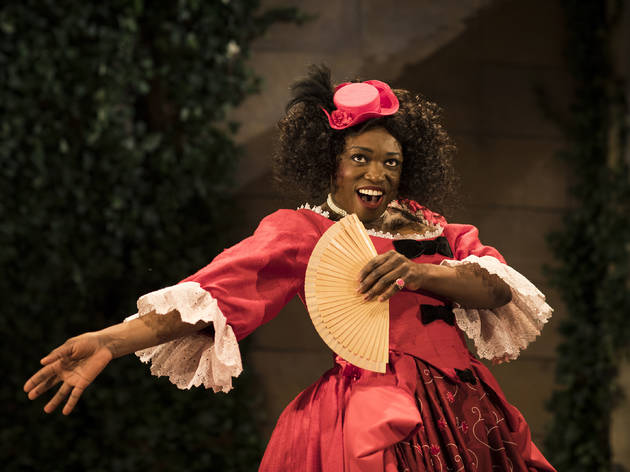 3/8
© Helen Maybanks
Andi Osho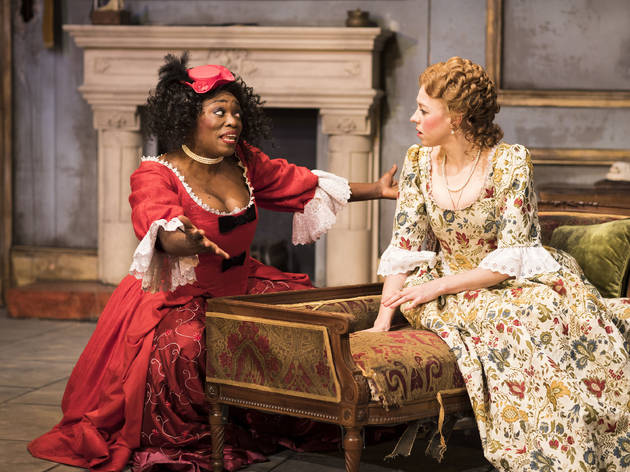 4/8
© Helen Maybanks
Andi Osho and Katy Wix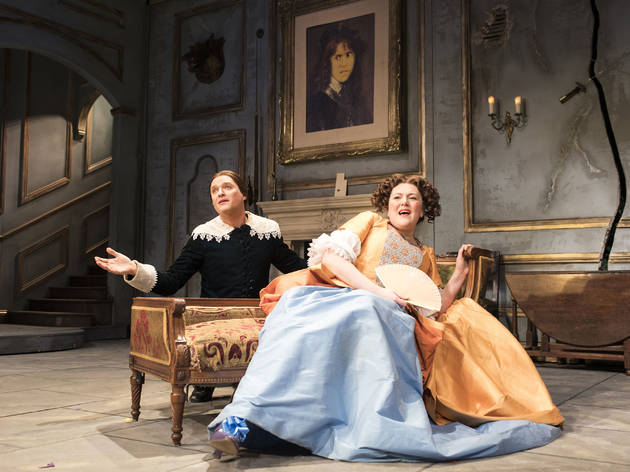 5/8
© Helen Maybanks
Mathew Horne and Katy Wix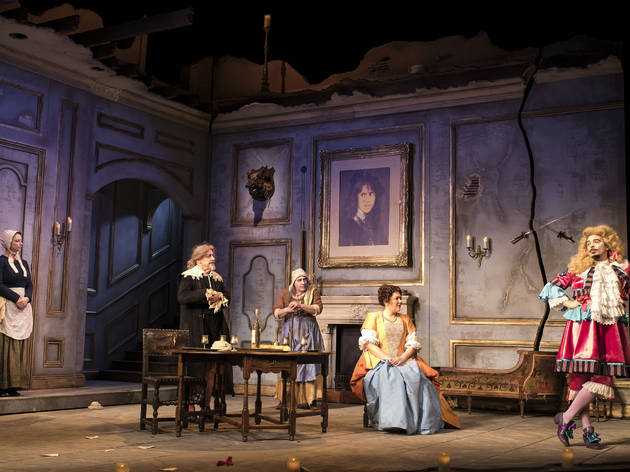 6/8
© Helen Maybanks
Griff Rhys Jones, Katy Wix and Ryan Gage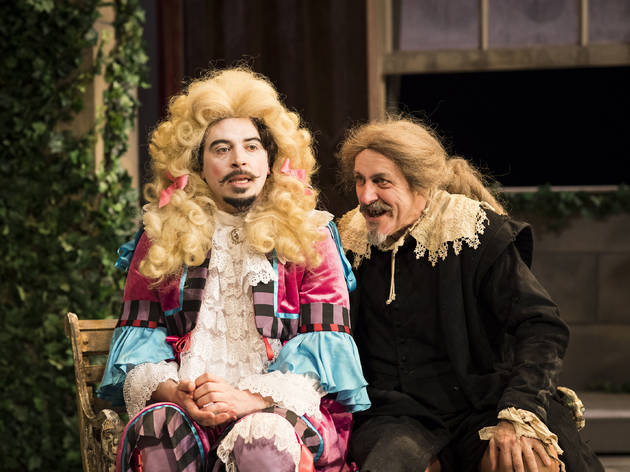 7/8
© Helen Maybanks
Ryan Gage and Griff Rhys Jones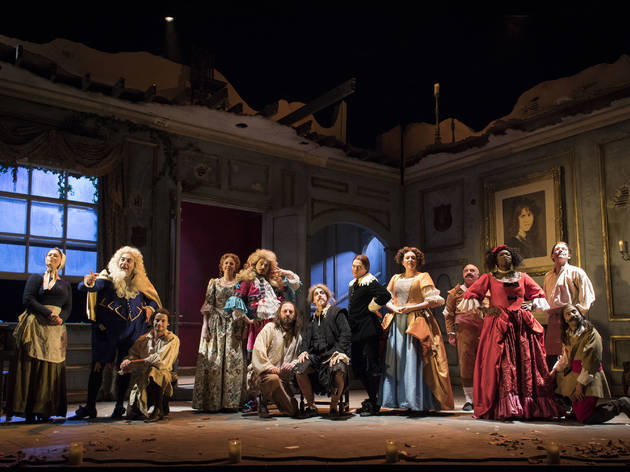 8/8
© Helen Maybanks
Griff Rhys Jones and Lee Mack star in this fun but overegged Molière update
'Far too respectful' is the charge writer-director Sean Foley levels against most revivals of seventeenth-century farceur Molière. Humour is an ever-evolving thing, and after 350-odd years even comic geniuses are in need of an update, right? So as a heads-up to any purists out there: don't expect any reverence in 'The Miser', which Foley has co-adapted with Phil Porter.
Given that the farce is essentially an ancestor of the sitcom, it seems appropriate that a roster of TV comic actors fill the cast. Griff Rhys Jones plays titular tight-arse Harpagon, who's convinced everyone's out to fleece him of his treasure. His daughter (Katy Wix) wants to marry the lowborn Valère (Mathew Horne of 'Gavin & Stacey'); his foppish, spendthrift son (Ryan Gage) has designs on Marianne (Ellie White). Running around in the background is curmudgeonly dogsbody Jacques (stand-up Lee Mack, clearly relishing the Baldrick-esque part).
Make no mistake, this is played for very broad laughs indeed. The fourth wall is dispensed with after about 30 seconds, the dialogue is peppered with topical anachronisms, and the gags involve falling plasterwork, scurrying rodents and boners in breeches. Beneath it all remains a stupendously fun story of stolen cashboxes, hurried weddings and long-lost relatives. Kudos to Jones and Horne in particular: they know to play it straight(ish) when Molière's breakneck plot requires it of them. But unending jokes about payday loans and Sports Direct are often as distracting as amusing.
It's a reminder that there's the finest of lines between enriching and compromising classic material. And okay, it's all low-IQ stuff, but you'll still be convulsing in your seat with laughter. And laughter was what Molière was in it for. He probably wouldn't care about the liberties taken here.
Average User Rating
3.6 / 5
Rating Breakdown
5 star:

6

4 star:

4

3 star:

5

2 star:

1

1 star:

2
No doubt they went for broad humor on this production. I accepted that choice and went for the ride and at times I was convulsing in my seat. Left the show energized in a very positive way and decided to go back and see it again. Alas, business is calling me out of town and I had to put my tickets up for sale -- superb stall seats -- for a steep discount on StubHub for the May 9 performance. Good luck if you buy them. I definitely recommend this show.
Go if you can get tickets!!! It's really fun and funny....I can't believe others are giving this gem of a show anything less than full marks! The Cast are very entertaining and freelance, they are very talented bunch and a joy to spend the evening with. Thanks folks for making us laugh so hard!
This was so much fun. Both Lee Mack and Grif Rhys Jones were on sterling form. The audience were completely on side and roaring with laughter and despite some flaws in the production, the humour was absolutely infectious. Although both this and Don Juan in Soho have been savaged by most critics, Moliere is much better served here than at Wyndham's. If you have to choose one panto-infused comedy, The Miser is certainly the clear choice in regards to humour, acting and the chemistry and comic timing of the cast.
Surprised yet again by some of the (miserly) reviews. This is great fun played strictly for laughs and there are plenty of them. Surrounded by happy grinning audiences, it's hard not to surrender to its charms. This isn't the sharpest production of Moliere's play, but it's hugely enjoyable. Go and see it and I guarantee you will leave with a smile on your face. Just lovely.
Loved The Miser from start to finish. Really made me laugh and a perfect antidote to the troubling times we seem to be in at the moment. Beneath the hilarity and absurdness the acting is excellent. Don't be fooled by the miserly reviews in the press, this is an entertaining and welcome lark with genuine warmth from the cast. I'd gladly go and see this again.
Brimming with big belly laughs and good humour. Lovely production with great performances from Griff Rhys Jones and Matthew Horne in particular. Not profound but then sometimes a good old fashioned laugh is exactly what you need. Certainly the much superior Moliere on stage at the moment. Don Juan down the road simply isn't funny and leaves a nasty taste, not a big smile. Go see this Moliere if you want some laughs.
We went on the time out offer and it was a great show, they don't take themselves ot seriously and is a good balance of good acting from GRJ in lead and comedy.
I think for serious theatre boffs expecting a starchy adaption of Molière's work they will be leaving unfullfilled however the actors are open, are clearly having fun, and most importantly make sure you are too. Would highly recommend for a great night out for a great price.
Not entirely a success but not entirely a failure either. Farce is hard to get ight but there was enough in this bright and breezy adaptation to keep theatregoers amused. I liked that it didn't take itself too seriously. 3 stars seems just about right for me. Hadn't seen Griff Rhys Jones on stage before but thought he did a great job. If you want a laugh, recommended. I also saw the other Moliere adaptation currently on show, Don Juan in Soho, in previews last week. By way of contrast, The Miser was much better staged and acted and many more laughs. Don Juan is leaden, unfunny and pretentious. If you have to choose your Moliere, this is definitely the one.
This is very much in the spirit of Moliere, in the sense that it is not faithful to the original text, but faithful to his playfulness. I think he would have approved. It's a lot of fun, with energetic performances from the cast.

Very slapstick production with a lot of extra gags sewn in around Moliere's already pretty ludicrous storyline. Went down well with some audience members and not others - several left at interval. Disappointing - really not my cup of tea.
It's brilliant. I haven't laughed so much in ages. I could quite happily have watched the show for another hour.

An awful pantomime. Ruined by terrible cheap gags. Aimed at drunk weekenders probably.