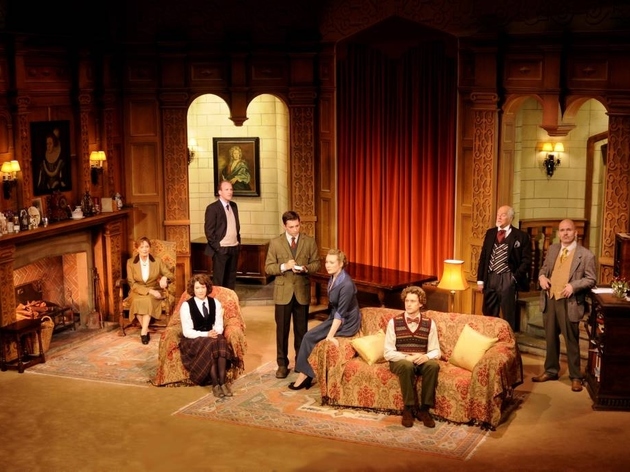 Time Out says
Agatha Christie's vintage hit 'The Mousetrap' is still luring in West End punters
At the end of this elegant Agatha Christie thriller, the newly uncovered homicidal maniac steps into a sinister spotlight and warns everyone never to reveal his or her identity. The production recently celebrated its 60th birthday and although Wikipedia and Stephen Fry have both blown the murderer's cover, there is a remarkable conspiracy of silence over 'The Moustrap'. The real mystery of the world's longest-running theatre show is not whodunit but, in its currently mediocre state, whydoit at all?
'The Mousetrap's ticket prices are the only element of this show that isn't stuck fast in the 1950s – although the actors' strained RP does make the odd break for the twenty-first century. Otherwise, this is a walking, talking piece of theatre history and – at £39 for a full-price stalls seat – the most expensive museum exhibit in London.
Christie's neat puzzler of a plot is easier to defend. It has defied the inevitably mummifying process of more than 25,000 performances and still possesses an uncanny precision worthy of the mistress of murder's chilling geriatric creation, Miss Marple.
In the 60 years since it premiered, its premise, in which six Cluedo-like middle-class stereotypes are imprisoned by snow in a country house while they try to fathom which of them is a raving murderer, has become a cliché, just as the authorities' response to adverse weather conditions (skiing coppers? In Berkshire?) have become a nostalgic memory.
It's fascinating to glimpse the ghost of Peter Cotes's original 1952 production. But this is sometimes a thin and campy shadow of its former self, whose creaks arise from cliché not suspense. Christie's best thrillers have a psychological conviction and a subtle sense of evil that the current cast, apart from one or two noble exceptions, shelve in favour of xenophobic exaggeration or dullness. Christie's trap still snaps shut but the cat's been away for years, leaving the mice to carry the play.

This review is from January 2012. As of March 2019, a full-priced stalls seat is £122.
Details
Venue name:
St Martin's Theatre
Address:
West Street, Cambridge Circus
London
WC2H 9NZ

Transport:
Tube: Leicester Square
Price:
£25-£122
Average User Rating
3.4 / 5
Rating Breakdown
5 star:

7

4 star:

8

3 star:

6

2 star:

2

1 star:

5
We saw this show last night.....In all honesty, it was dreadful. The acting wasn't particularly great and the show was nothing short of boring. The only mystery was when would the end arrive so that I could leave. Save your money because the Mousetrap is truly awful..
Boring, stagnating cast - could be so so much better/interesting- save your money and choose another play.
I'm an avid theatre goer & always put this show on the long finger on the assumption it will always be on! Now in it's 65th year it shows no sign of flagging with our performance almost a sellout. Sadly I felt it was an anti-climax. The plot is adequate, at times it is scary & the twist was unforeseen but it all felt a bit dated & lacklustre. I've seen far more clever & thrilling plays so am perplexed at it's indefatigable longevity. However a highlight is the actual theatre- itself a beautiful time capsule. Also it is a piece of theatrical history so am glad it's finally ticked off my list.
Written in 1952 doesn't mean you should carry on the play just out of nostalgia. I saw this play yesterday evening, and it had to be the worst play I have ever seen in London. The acting was appalling, and it just seemed like whoever directed this has given up. Honestly, see something else.
My boyfriend & I took his Mum to watch the Mousetrap for her birthday and we all enjoyed it. It's a classic - London's longest running show. Yes, the plot is fairly predictable but it was fun and different from the usual musicals in the West End.
This play builds and builds and builds, and you think there must be a clever twist coming...but alas, this is not to be. The storyline is predictable and to be perfectly honest, nothing of note really happens. I am genuinely surprised that this show has managed to run for so long. Would not recommend.

I took my girlfriend to see this and as our first murder-mystery theatre experience we had a great time! It was by no way 'genius' but that is not what we came to see, we came to be entertained and that we were. The play set the mood for a great night of birthday celebration!
On a damp Monday evening the audience was even thinner than the plot. This coffin of a play defies explanation for its continued longevity. It creaks and strains and is quietly beyond parody. Only worth seeing to get a glimpse of the beautiful, although shabby St Martin's theatre. As Time Out once said, waste of a good theatre.
Great story, really enjoyed it :)
Snap up exclusive discounts in London
Time Out's handpicked deals — hurry, they won't be around for long...