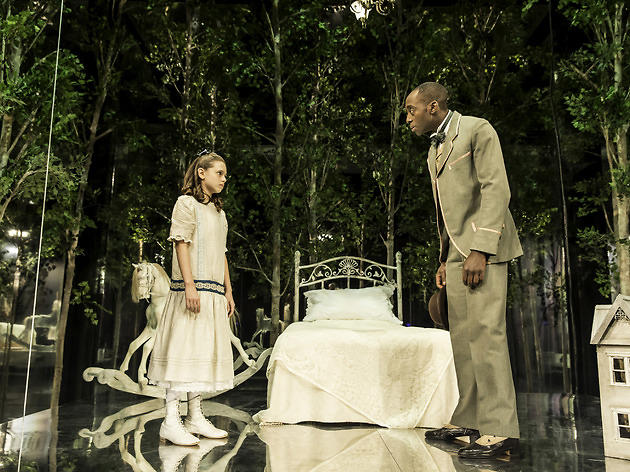 1/6
© Johan Persson
Iris (Jaime Adler) and Woodnut (Ivanno Jeremiah)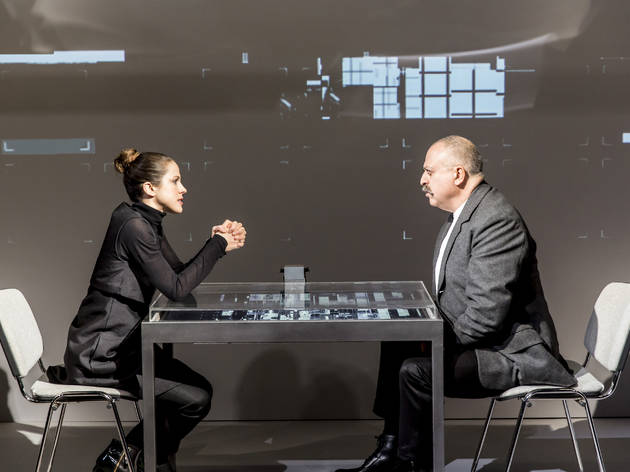 2/6
© Johan Persson
Morris (Amanda Hale) and Sims (Stanley Townsend)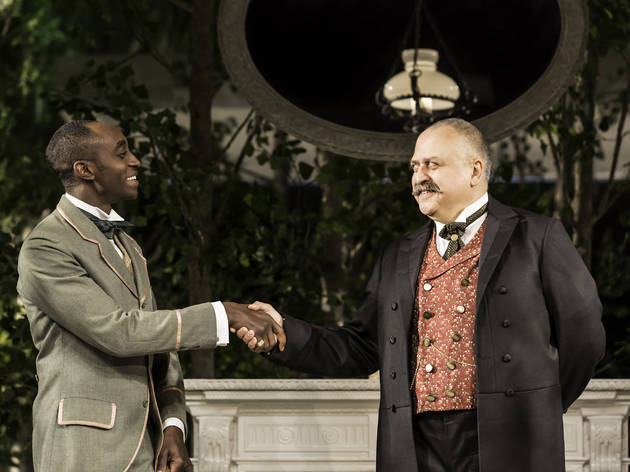 3/6
© Johan Persson
Woodnut (Ivanno Jeremiah) and Sims (Stanley Townsend)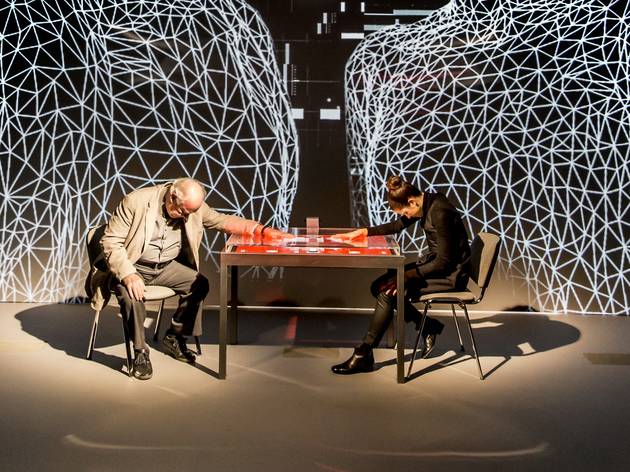 4/6
© Johan Persson
Doyle (David Calder) and Morris (Amanda Hale)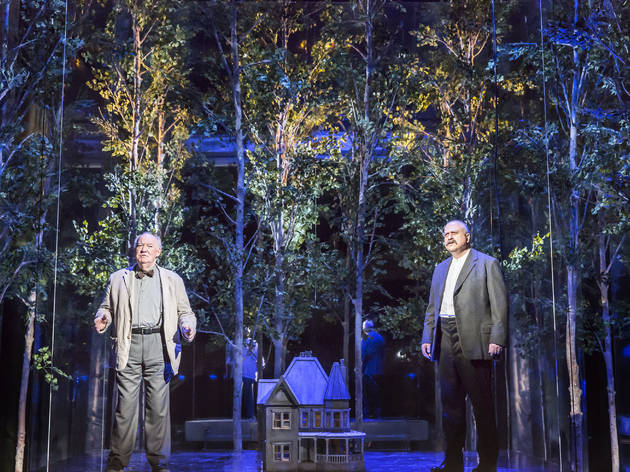 5/6
© Johan Persson
Doyle (David Calder) and Sims (Stanley Townsend)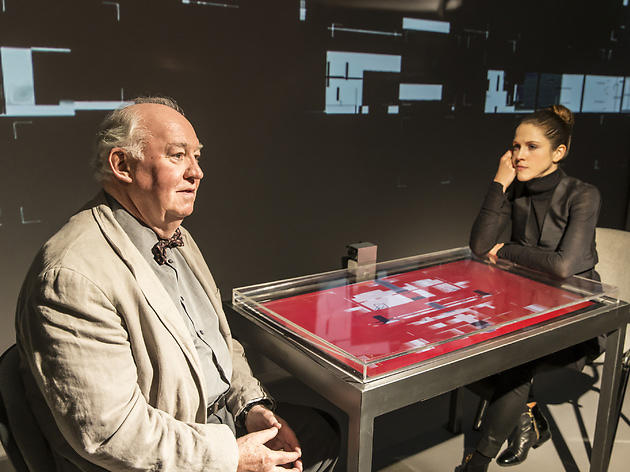 6/6
© Johan Persson
Doyle (David Calder) and Morris (Amanda Hale)
Jennifer Haley's smart, thrilling play serves as a stark warning about the future of the internet.
In Jennifer Haley's smart sci-fi thriller, 'The Nether' is the future of the internet and it's moved on from cat memes. It's a high-tech digital world where you can live in a virtual reality and commit crimes without consequence. Forget Kim Kardashian's bum – this is true internet horror.

Plays dealing with humanity's more abhorrent urges don't shout 'guaranteed crowd puller'. Props, then, to super producer Sonia Friedman, for getting this excoriating Headlong production transferred to the West End following a run at the Royal Court last year. 'The Nether' is an unsettlingly relevant piece of work, a detective thriller exploring moral issues in the burgeoning relationship between humans and technology.

The play moves between two worlds. The first is a dull reality, where detective Morris interrogates grey-haired Sims about the whereabouts of the server for his virtual realm, The Hideaway. The second is Sims' realm. People log in to spend time – literally smelling, touching, tasting – in a beautiful, and very real, Victorian country manor house and are encouraged to hurt, rape and viciously murder four charming children that live there. But the children always re-spawn, and to complicate things even more, they too are the avatars of adults who have plugged in from the real world.

Amanda Hale is excellent as Morris, taut, relentless and intent on destroying something she thinks is very wrong. Sims believes the contrary, as nobody actually gets harmed. Which is right at the heart of 'The Nether': does feeling or imagining a vicious act, make it real? It's an extension of a question that emerges today whenever a child massacres their classmates and people ask if video games, or films, can brutalise someone. Here, in a world where digital life can replace a life itself – something we're perhaps not really that far from – that question takes on a whole new dimension.

Though the ideas are explicit, what happens on stage isn't. Debate makes up a lot of this play – which has more twists than the Nemesis at Alton Towers – and the arguments are electrifying.

Jeremy Herrin's slick production is driven by an extraordinary set design from Es Devlin and video from Luke Halls. Halls' futuristic, 'Big Brother' projections zoom in on parts of the faces of Morris's interviewees, and Devlin creates the layers of different worlds by using a clever system of mirrors and moving screens. It looks, as Sims's world is designed to, seductively and disarmingly gorgeous.

'The Nether' is a relentlessly gripping, entertaining play. But it's also an unnerving dystopian vision of the future and a stark warning of where we may be headed.
Average User Rating
4.3 / 5
Rating Breakdown
5 star:

10

4 star:

1

3 star:

0

2 star:

0

1 star:

2
The acting was excellent but the subject matter appalling. If you enjoy watching an hour and a half of child abuse then this is the play for you. The actress is an eleven year old girl who is getting pimped out by her Papa and encouraging the guests to strike her with an axe. The very existence of this play bears testament to the sickness of our current society.

Disturbing to the core, thought provoking and relevant.
I would recommend this to anyone, I can't stop thinking about it.
Loved the play abs amaze balls!
I never usually leave comments on these things but I couldn't resist, especially as I saw my housemate's comment below. Hi Harriet :-). She speaks the truth, go and see it :-)
I was apprehensive going to see this play regarding the subject matter, but was impressed on how it was staged and agree with the other reviews below. I would have liked the discussion afterward improved perhaps with a list of previously asked questions.
Excellent. Very well done, great acting and the way the story moved from the physical world to the virtual was very clever and really drew you into the storyline.
The morals tales at the centre of the storyline are thought provoking and I'm sure have sparked numerous debates!
Definitely worth seeing and I would agree with Charly, I sat near the back of the dress circle and being further away you could take in the whole setting as there is effectively 2 stage areas, 1 on the main stage and the virtual stage slightly elevated.
Absolutely brilliant! Thought-provoking story, impressive acting and brilliant set.