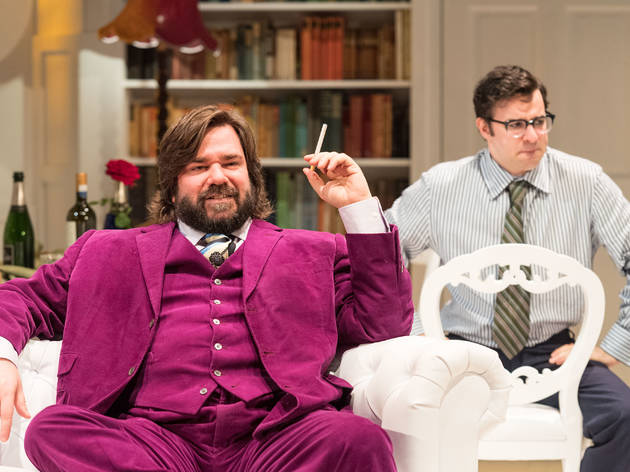 1/12
© Manuel Harlan
Matt Berry, Simon Bird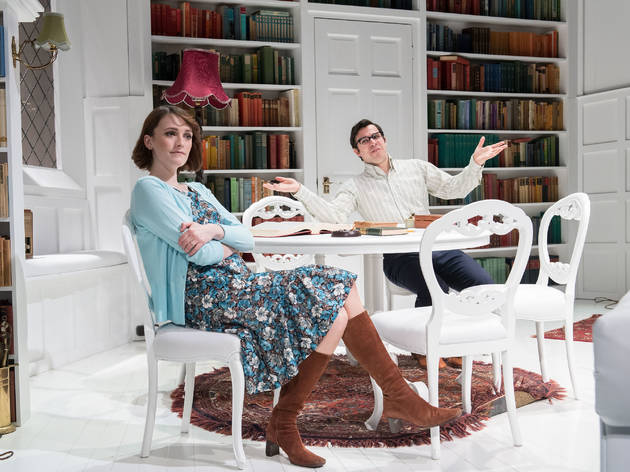 2/12
© Manuel Harlan
Charlotte Ritchie, Simon Bird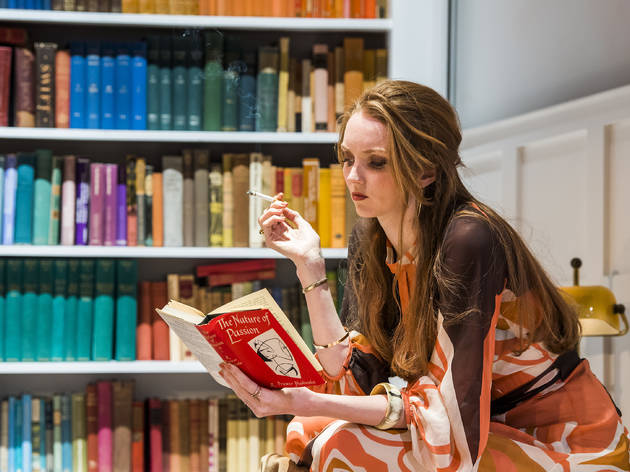 3/12
© Tristram Kenton
Lily Cole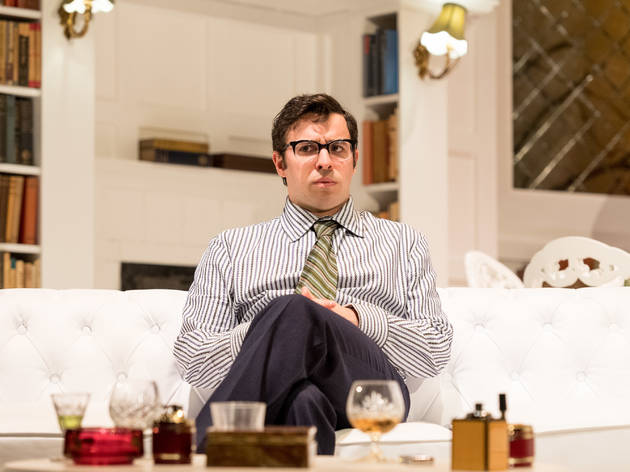 4/12
© Manuel Harlan
Simon Bird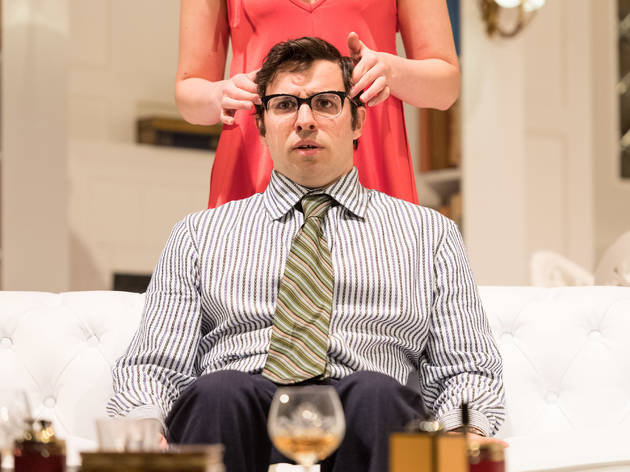 5/12
© Manuel Harlan
Simon Bird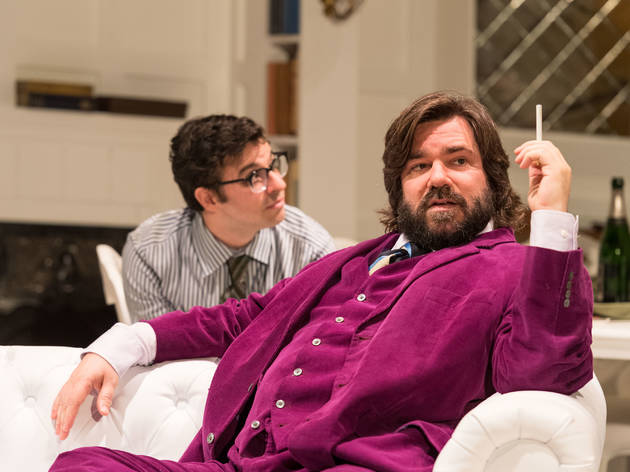 6/12
© Manuel Harlan
Simon Bird, Matt Berry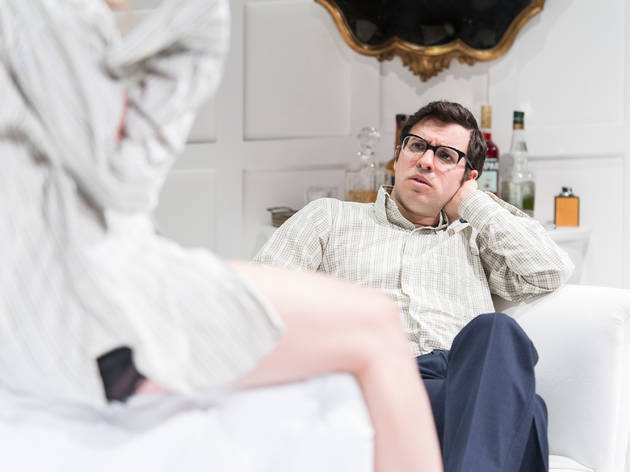 7/12
© Manuel Harlan
Simon Bird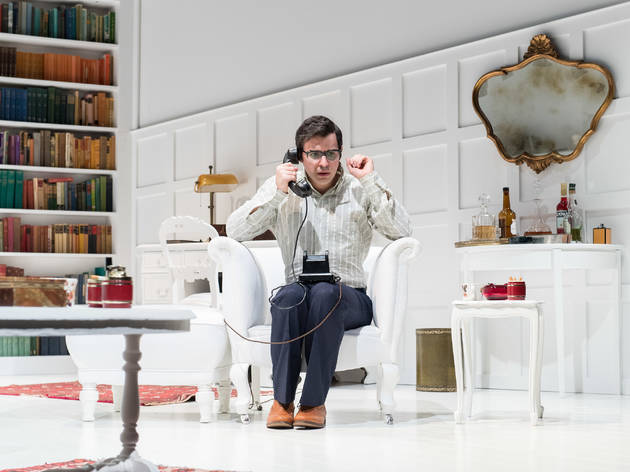 8/12
© Manuel Harlan
Simon Bird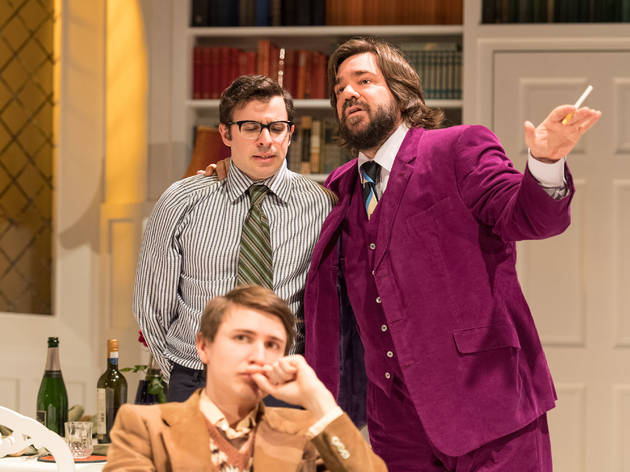 9/12
© Manuel Harlan
Simon Bird, Tom Rosenthal, Matt Berry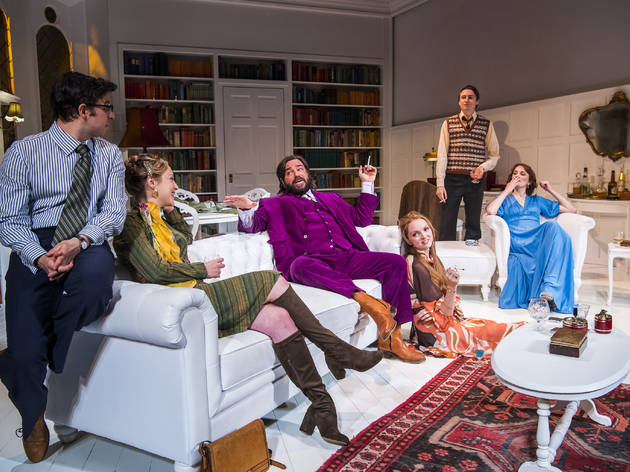 10/12
© Tristram Kenton
Simon Bird, Lowenna Melrose, Matt Berry, Lily Cole, Tom Rosenthal, Charlotte Ritchie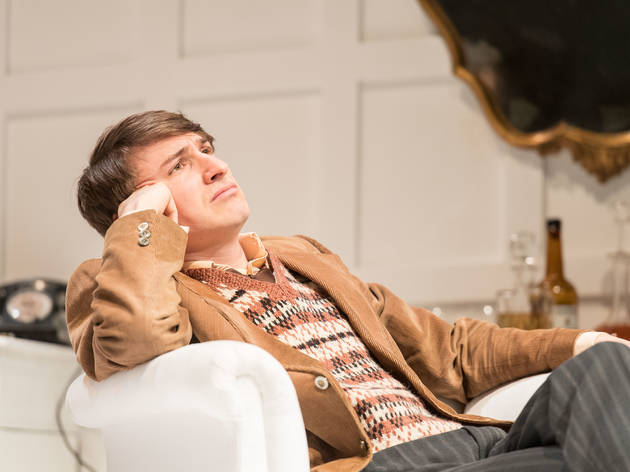 11/12
© Manuel Harlan
Tom Rosenthal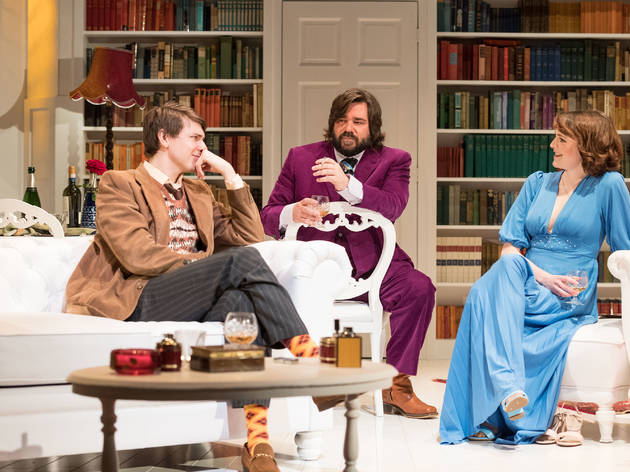 12/12
© Manuel Harlan
Tom Rosenthal, Matt Berry, Charlotte Ritchie
Time Out says
Simon Bird struggles in this misjudged revival of an early Christopher Hampton play
For the first half, it almost works. 'The Philanthropist' is a 1969 play by Christopher Hampton, best known for his film and stage adaptations of 'Les Liaisons Dangereuses'. This revival comes with an unusual director – plummy uber-thesp Simon Callow – and an unusual cast, including sitcom actors Simon Bird and Matt Berry, and model Lily Cole.
Some of the surrealist '60s humour has aged terribly: an ongoing joke about a far-right terrorist gunning down a group of MPs feels entirely charmless in 2017.
But with some reservations it's pretty solid, pre-interval. Unworldly Oxford don Philip (Bird) and his exasperated fiancée Celia (Charlotte Ritchie) are hosting a dinner party. Their most notable guest is awful novelist Braham (Berry), an outrageous provocateur and self-publicist whose considerable gifts are entirely channelled into working out what he can do that will horrify people the most. Playing Braham as a self-satisfied monster in an impressively hideous purple suit, Berry isn't exactly stretched, but is pretty funny. And his sort-of-showdown with Philip is entertaining, as the blithe academic infuriates the puffed-up proto troll by failing to be even remotely offended by him.
The party ends with Philip unwittingly rebuffing Celia, instead being led to bed by his oversexed colleague Araminta (Cole, charming in a posh, one-dimensional way).
The second half is almost unbearable. Philip embarks on a tedious voyage of self-discovery, via long conversations with Araminta and then Celia, in which he becomes increasingly despondent about his inability to understand other people. I'm not convinced it's great writing, but in the hands of a really strong actor – Simon Russell Beale was the last to play Philip on the London stage – it's something to work with. Simon Bird, bless him, is not a really strong actor. A bemused grin and a couple of neurotic tics is pretty much his entire emotional range, but he's required to anchor the entire play, in a role more tragic than comic. He's simply not up to the job – pluckily droning through a role whose emotional nuances are far, far beyond him, with no Berry for light relief.
Why an old hand like Callow believed virtual stage newcomer Bird would be able to nail the part I can't imagine. The director has assembled the perfect cast for a funny, youth-orientated play – but that's not what 'The Philanthropist' is. Hardcore Berry fans might consider it, but otherwise it's a desperate slog of an evening.
Details
Average User Rating
2.2 / 5
Rating Breakdown
5 star:

0

4 star:

1

3 star:

6

2 star:

8

1 star:

4
I fell for the idea that this would be a good way to encourage my teenage son to enjoy theatre. with some of his favourite actors from tv in the cast, he was persuaded to come along.
What a disaster.
Why cast actors aimed at a younger audience in such an old fashioned play? The play depends on the sort of "witty" dialogue that may amuse a fusty radio 4 regular, but leaves anyone else cold. I registered each carefully phrased joke, and heard them fall flat in the auditorium. How awkward to hear the cast laughing at each others jokes because the audience didn't.
Maybe the fault is in the actors not really understanding the material themselves, so they are unable to pace it correctly. Their inexperience on the stage was so obvious, it was like watching a particularly poor student effort. It wasn't just that they weren't able to project, they just stood around looking uncomfortable most of the time. They didn't know how to react to others when it wasn't their line. A real director may have been able to coach them better, but a moonlighting actor isn't up to the job.
And then the "smoking". On the occasions when they did manage to light the cigarettes they were supposed to be smoking, their discomfort in dealing with the smoke was funnier than the play. Given this, why insist that they smoke at all, other than when the plot requires it? It only helps to stress how old fashioned the play is.
Twelfth Night at the National with another member of the Friday Night Dinner team would have been a much more entertaining way to get my son into theatre, unfortunately I chose this one.
A real disappointment as on paper this should have been great. I saw a production of this with Simon Russell Beale quite a few years ago which I loved. This production just felt flat and was insipid. The cast weren't as polished and sharp as I would have expected and it really dragged in the middle. Maybe my memories of 10 or so years ago were a bit rose tinted?
Oh well, here's hoping Twelfth Night at The Globe and Woyzeck at the Old Vic will hit the mark after a pretty dismal run of plays I had thought would hit the spot. Obsession is nowhere near as bad as some reviews would indicate and yes, Don Juan in Soho is every bit as atrocious as everyone says. You have been warned!
Ignore the miseries here, this was a funny and delightful outing. Any niggles with timing or delivery have clearly been resolved. The audience last night enjoyed this wholeheartedly with loads of laughter.
Nowhere near as bad as some of these reviews would indicate, but not outstanding either. I saw a production with Simon Russell Beale a few years ago which I remembered fondly so was probably inclined to like this play. Solid enough but unless you are a particular fan of Christopher Hampton, wouldn't recommend this. If you are or like the attractive and winning cast, there is enough to enjoy to justify the ticket price.
Agree with the main review and the other people on here who have said this was dreadful, the first half was sort of OK, no major laughs but it seemed affable enough, although terribly dated. I only stuck around after the interval because I was hoping to see more of Matt Berry, but instead we got another hour or of so of Simon Bird doing a very poor version of Sorry, with even less laughs - by the time it dragged itself to the finish I had hoped we might get to see Bird's character blow his brains out too but alas it just spluttered to a halt, without much of a point to the previous two hours proceedings. Just glad I 'only' paid £20 to see it, I would have been furious if I'd paid top price to see this.
Yes, this is a truly dreadful production. With the exception of Simon Bird who at least has some energy, the rest of the cast are wooden, listless and hopeless. Matt Berry is underpowered, unconfident and unconvincing, Tom Rosenthal gabbles and swallows his lines, Charlotte Ritchie is physically uncomfortable and her acting lacks emotion or range, whilst Lily Cole drifts around the stage, uttering her lines in a bizarre accent. She has long legs but no discernible acting ability.
Nor can I see any pressing reason to revive the play. The background of the Prime Minister and the cabinet all being murdered is in curiously poor taste nowadays, as is Cole's monologue explaining why her character is sexually voracious: basically she was raped by her uncle and then imprisoned by another man. (In Cole's inept hands, it's impossible to tell whether this was intended to be comic or moving. Needless to say, it manages neither.)
The coup de theatre at the end of the first scene is impressive. But I wish I'd left after that as there was no point to the rest of the evening whatsoever, and precious few laughs.
Avoid!
Not too bad but still feels a little underbaked. Simon Bird is fine but I found some of the delivery and reactions of other cast lacked crispness and didn't feel assured. The play itself is one which just doesn't seem necessary to revive. It's resoluetly old fashioned but doesn't have enough charm nor charismatic cast to get through on that basis alone. With old hands like Roger Allam or Mark Gatiss for example this would work a treat. I suspect this will tighten and improve as it goes along and will probably get a solid 3 stars from the press.
This is the second play I have seen of late which seemed unnecessary for a revival. Don Juan in Soho up the road suffers from the same lack of oomph and relevance. Both are flimsy and suffer from some quite second rate performances and try far too hard to milk laughs which aren't there. This one, unlike Don Juan, is no bomb of the first magnitude and if pressed, this is the more accomplished, but I would say the pair of them are probably the weakest things I have seen of late. With so many excellent productions of the last decade or so, why are these the two which have gotten onto the West End?
After seeing this I trawled the internet to try and find some official reviews and couldn't find a single one. Does the theatre critic world feel some kind of obligation to the producers or director not to write criticism because of the names involved ? That seems very strange.
Anyway... the play is terribly miscast and the performances awkward. There are some genuinely entertaining moments especially from Simon Bird who is the only person on stage who seems to have understood the writer's intention with his character: the others struggle to make sense of their lines and the pace and timing of delivery is often uncomfortable. The female characters are played particularly poorly. A classic case of producers casting with the emphasis on celebrity rather than suitability.
Much of the blame must go to the director of course: a national institution he may be and unquestionably a fine actor, but as a comic director he has fallen well short here.
Maybe the official critics feel the play should just be allowed a quiet death.
It's a stinker. Saw a preview on 13 April and was deeply unimpressed (I'm a regular theatregoer). The lack of stage experience of most of the cast really shows.
Really likable. Berry and Bird are on fine form and unlike Don Juan on Soho which I saw tonight, this looked as though the cast were working to give the audience something to enjoy. A good diversion and well worth a visit if you want something fairly undemanding played with real flair, but the play itself is not one I would have thought worth reviving. I suspect it will get pretty good reviews though. A three starrer for me. Good but not great.
It strikes me that Time Out didn't actually go see this play, as their review is not quite accurate. Firstly, Matt Berry's novelist is hardly the central character. Secondly, to use the lazy, broad brushstroke of 'millennial faces' is both an insult to one of the city's largest demographics and frankly, irrelevant to the review. Allow me - as someone who saw this from the back row on opening night - to offer a real review.
The Philanthropist opens with some good comic timing, particularly from Tom Rosenthal who I thought carried the play. But the timing of this story is awkwardly inappropriate when you consider that one of the themes of the play is a shooting in Parliament. Not Callow's fault, obviously, but the audience visibly squirmed at this.
Charlotte Ritchie is excellent as the dislikable Cynthia and could teach the rest of the cast a thing or two about vocal projection. Simon Bird plays, well, Simon Bird in everything ever, although is likeable and oddly charming. However, overall the play lacked pace, timing and editing (my companions yawned throughout act two). Lily Cole was nowhere to be seen, and the theatre offered no forewarning that an understudy was to take one of the lead roles. Whilst I appreciate how hard it must be to step in on opening night at the last minute, Araminta was weak, sloppy, inaudible and the character seemed as sexually suggestive as a Digestive biscuit.
Opening night is always tricky. Matt Berry didn't seem ready. The theatre was cold. The cast were rushing. The jokes fell thin. But most of all, the anachronistic themes of the play jarred with the very identity that London has created for itself in the past twelve months. The Philanthropist isn't relevant, and we didn't resonate.