'The Ridiculous Darkness' review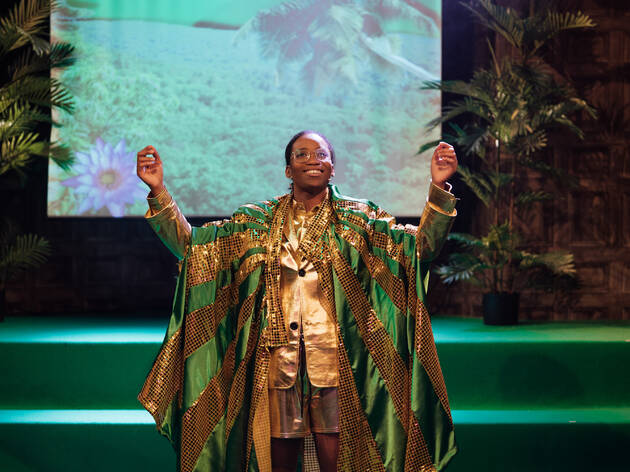 1/5
© Helen Murray
Shannon Hayes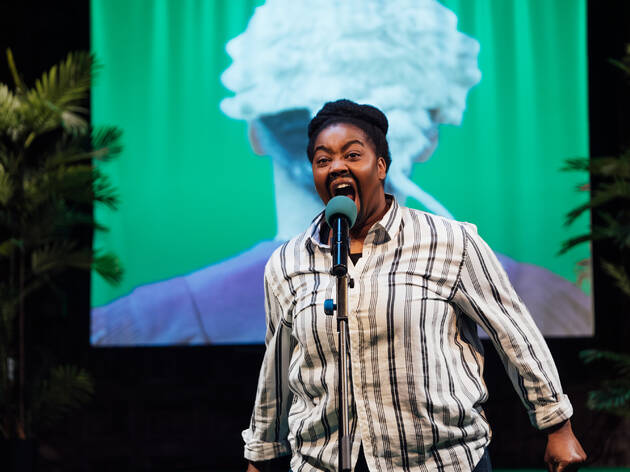 2/5
© Helen Murray
Rochelle Rose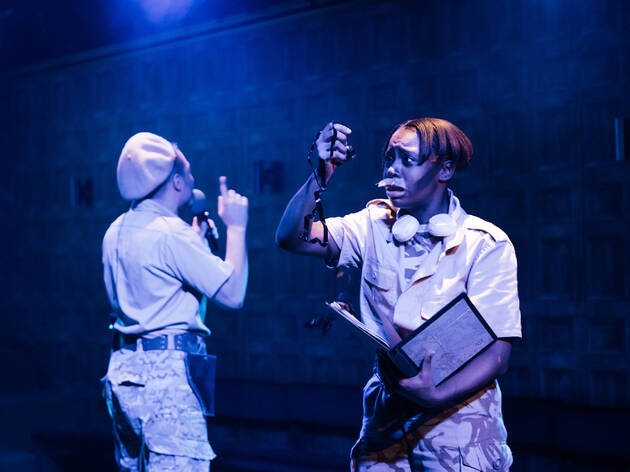 3/5
© Helen Murray
Travis Alabanza and Seraphina Beh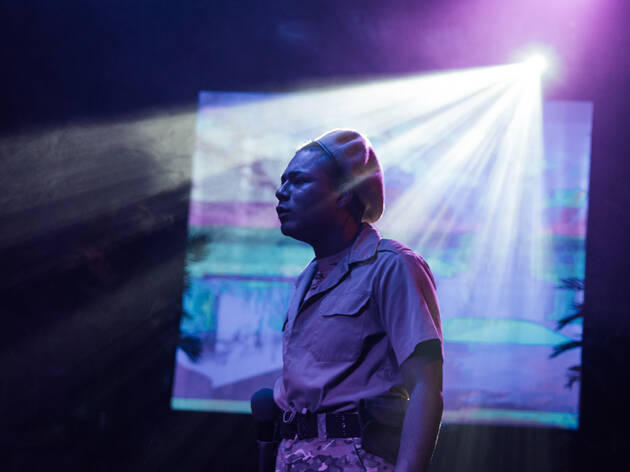 4/5
© Helen Murray
Travis Alabanza
5/5
© Helen Murray
Shannon Hayes
Time Out says
Biting and loopy postcolonial deconstruction of 'Heart of Darkness' and 'Apocalypse Now'
It's almost impossible to know where to begin with Wolfram Lotz's 'The Ridiculous Darkness', a sort of very very out-there postcolonial – possibly post-postcolonial – deconstruction of Joseph Conrad's 'Heart of Darkness' and its famous film adaptation 'Apocalpyse Now'.
Maybe, before I tie myself up into sociological knots, I should point out that it is an absolute bloody hoot. After a slightly more serious opening monologue that offers a sympathetic portrait of a young Somali pirate, it settles down as an irreverent satirical rewrite of Conrad and Coppola, in which a pair of dysfunctional German army officers – prissy, snobbish Sergeant Pellner and his taciturn sidekick Officer Dorsch – head upriver into the, er, rainforests of the Hindu Kush to eliminate Lieutenant Colonel Deutinger, a Kurtz-alike rogue officer due to be terminated with extreme prejudice.
Along the way they encounter a lot of very strange things, from a neat-freak UN officer losing his mind over the lack of wifi, to a man who lost his family to a Western smartbomb but blames himself for buying an awning that caught fire, to a missionary who attempts to get the audience singing and dancing to 'The Lion Sleeps Tonight'.
There is a sort of Monty Python-esque surrealism for surrealism's sake to some of the dialogue, which maybe feels a bit old-fashioned at first. But pretty soon the feverish, spangly weirdness of Anthony Simpson-Pike's production gets under your skin, and 'The Ridiculous Darkness' settles down as a silly, restless, endlessly visually inventive – great, playful work from designer Rosie Elnile – pricking of the pomposity of Western imperialist endeavour. It is sardonic and political, but also really funny: Travis Alabanza is particularly amusing as the haughty Pellner, who at one point describes graphically native culinary rituals in a near swoon, only for it to become increasingly apparent that the horrified officer is talking about the making of sausages.
The thing that nagged at me slightly: Simpson-Pike's production of 'The Ridiculous Darkness' uses a non-white, non-male cast to explicitly reclaim this narrative from its white colonial roots. But throughout it all, it's not entirely clear what Lotz's original intention is: it perhaps feels important to know whether this production is a realisation of a white playwright's vision or a subversion of it (or a subversion of a subversion if you will).
Clearly whatever the case, Simpson-Pike and his cast are not hapless pawns. But maybe clarity of intention would give it a bit more bite: the last scene, in which the cast idly discuss the role of people of colour in colonial narratives, feels a bit patronising if attributable to Lotz, but much more reasonable if it was a devised addition from the company.
I digress: it's important not to straitjacket this singular show by applying an earnestness that it utterly rejects. The horror, the horror – yup, it's here. But also: the fun, the fun!
Details
Users say