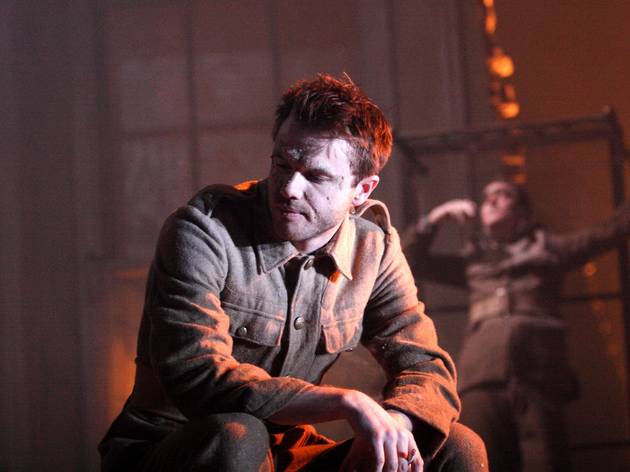 1/8
© Catherine Ashmore
Ronan Raftery (Harry Heegan)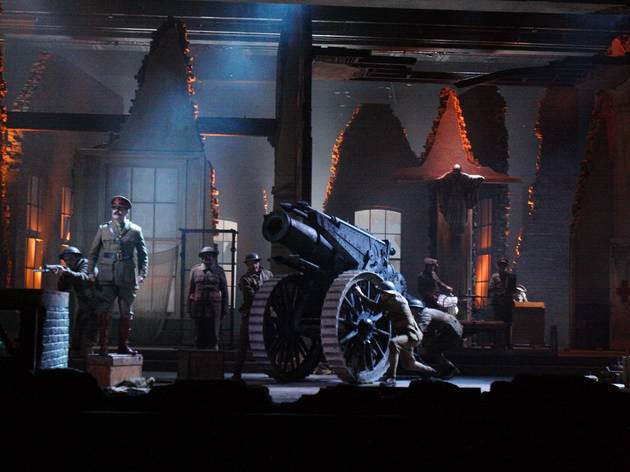 2/8
© Catherine Ashmore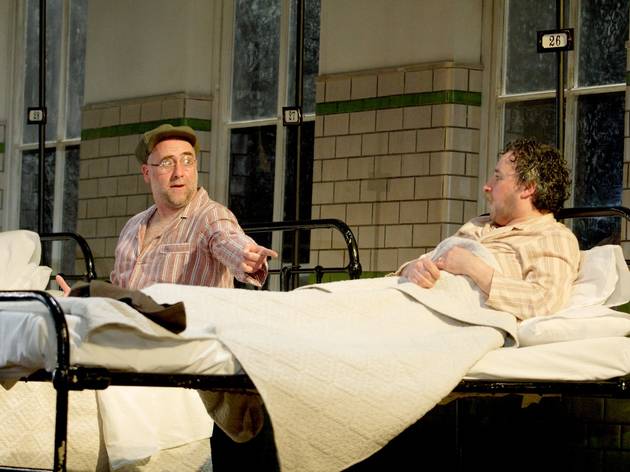 3/8
© Catherine Ashmore
Aoife McMahon (Mrs Foran)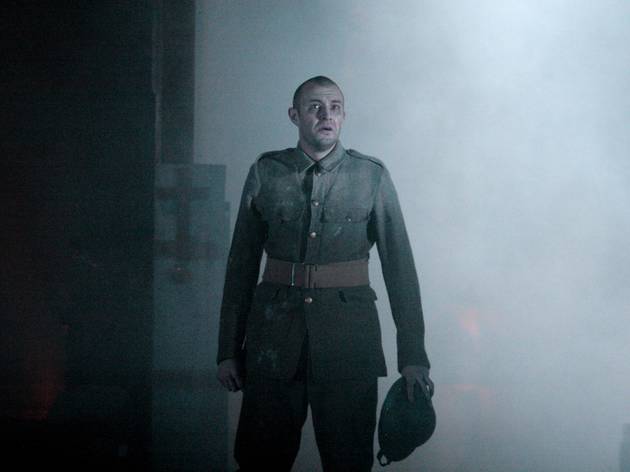 4/8
© Catherine Ashmore
Benjamin Dilloway (The Croucher)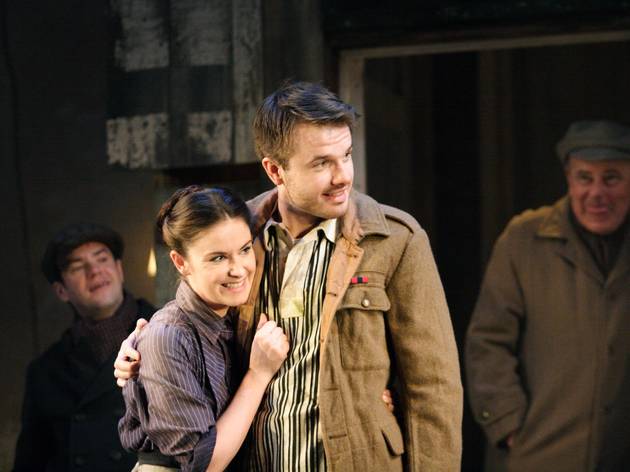 5/8
© Catherine Ashmore
Judith Roddy (Susie Monican) and Ronan Raftery (Harry Heegan)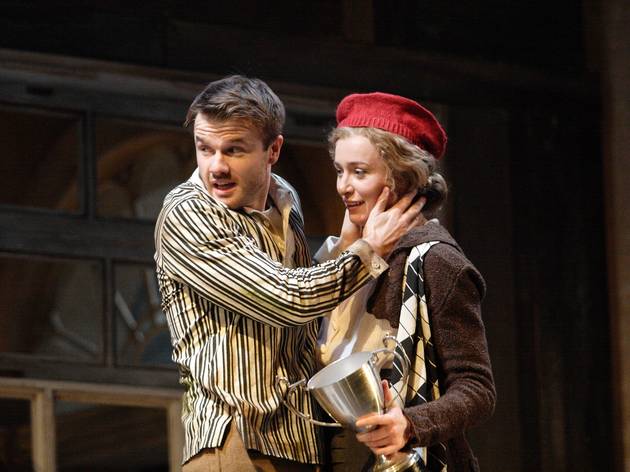 6/8
© Catherine Ashmore
Ronan Raftery (Harry Heegan) and Deirdre Mullins (Jessie Taite)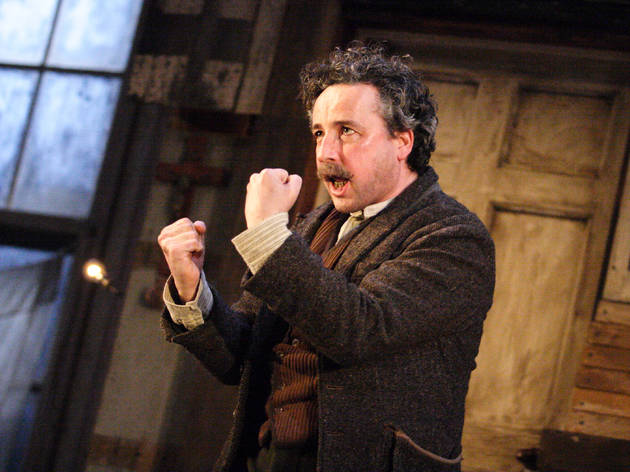 7/8
© Catherine Ashmore
Aidan McArdle (Sylvester Heegan)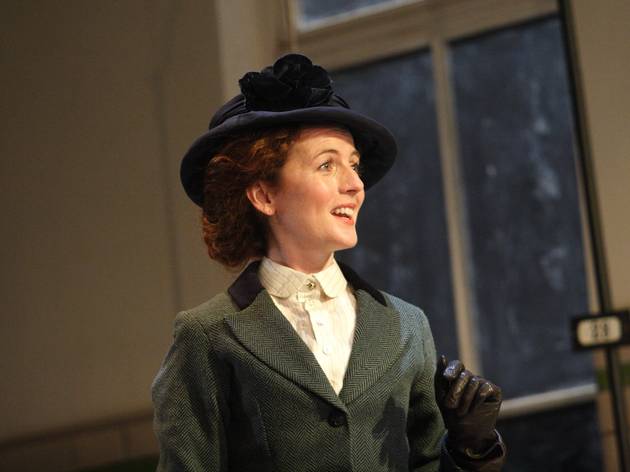 8/8
Catherine Ashmore
I didn't really enjoy the National Theatre's revival of Sean O'Casey's 1928 First World War drama 'The Silver Tassie', or even find it dramatically satisfying. Nonetheless, Howard Davies' production is one of the more extraordinary and haunting sights I've seen on the NT stage, and for all the problems with O'Casey's text, its flurries of cracked poetry have a way of embedding deep in one's cerebellum.

In three out of its four acts, 'The Silver Tassie' is a drama about a war-touched Dublin community, straightforward in style, albeit spiked with ornate language and the odd surreal flourish. Though other characters are almost perversely given greater stage time, the focus of the story lies with Ronan Raftery's arrogant sporting hero Harry, who leaves Dublin a golden god and returns a paraplegic embarrassment.

The second act, though, is something else entirely. Set in a shattered chapel on the Allied lines, it compresses weeks – possibly even months – of the war into a wheezingly macabre sing-song that vaguely, horrifyingly apes a church service, building from the earthy babblings of an unhinged English private through folky, jokey reels up to almost hymnal high strains as a field gun is primed at the climax of the 'service'. I didn't feel much connection with it, but Davies marshals a staggeringly unsettling spectacle, and there's great work from designer Vicki Mortimer – the transition between the first and second acts is, in a very literal sense, one of the most explosive things I've seen at the theatre.

Does it mesh with the rest of the play? I would say not – unnerving though they are, the stylized excesses of the second act seem to say less about the horror of the war than the blazing bitterness in Raftery's voice as he decries the 'the horrible sickness of life.' It's an exceptional performance, but he's marginalised, a bold dramatic move that doesn't reap the emotional dividend it might. 'The Silver Tassie' is deeply problematic, but when all's said and done it's a true one-off of a play, given as good a production as one could imagine.
Rating Breakdown
5 star:

1

4 star:

0

3 star:

0

2 star:

0

1 star:

0
Saw this in preview on 19 April.
This play is rarely performed, I suspect because it has a "reputation" born of WB Yeats dismissing it for his own personal reasons in 1928. When it originally played in London in 1929 it was compared adversely to other WW1 plays of a more realist bent which had aired just before. And when it eventually came to the Dublin stage, its original intended showplace, it lasted 5 performances. But this is a great play by an Irish master playwright, Sean O'Casey, and this production is masterful.
The play itself is in 4 acts, the second act being a "dream sequence". But what a dream - just behind the Front in WW1. It seems it was this second act that WB Yeats so despised first because WB didn't think WW1 should be depicted on stage by those who hadn't been there and second because "impressionist theatre" was avant garde, and not to his taste. Well he was worng on both counts. I will not spoil the play by relating any of this act. Suffice it to say that it is both mind-blowing and central to understanding how those who went into the War felt disconnected from their loved-ones when they returned. Once you have witnessed the events on stage (and, fear not, there are no serious blood and guts), you will understand why.
The rest of the play relates the story of a Gaelic football hero cheered off to war by his loved-ones and misunderstood and misplaced on his return. Along the way O'Casey takes aim at established religion, domestic violence, militarism, authority, healthcare and disloyalty (to name the main ones) and scores a hit every time.
In the 1920s and 30s this play expressed very uncomfortable ideas. Today, I think most of us would agree with the points made. But those points are no less valid because they are more familiar to us and they are made in the context of a story which engages and saddens us. Do not miss it.