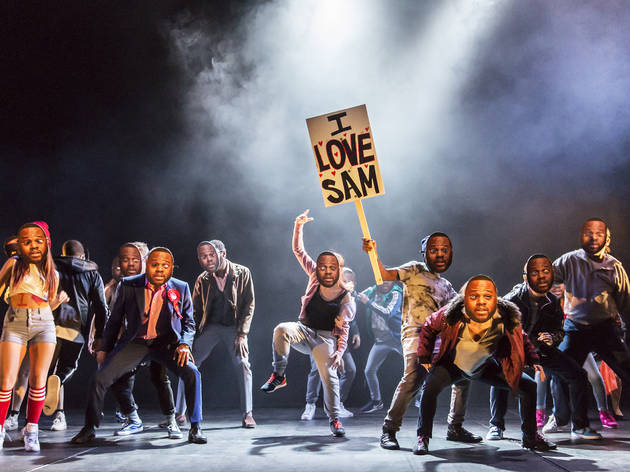 1/13
© Johan Persson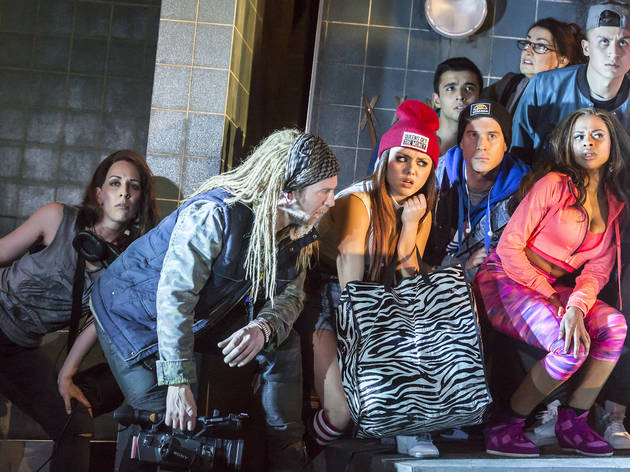 2/13
© Johan Persson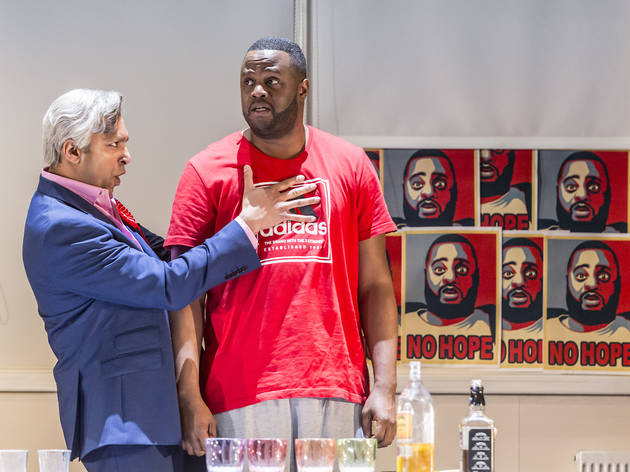 3/13
© Johan Persson
Pal Aron (Councillor Brian Dawes), Javone Prince (Sam)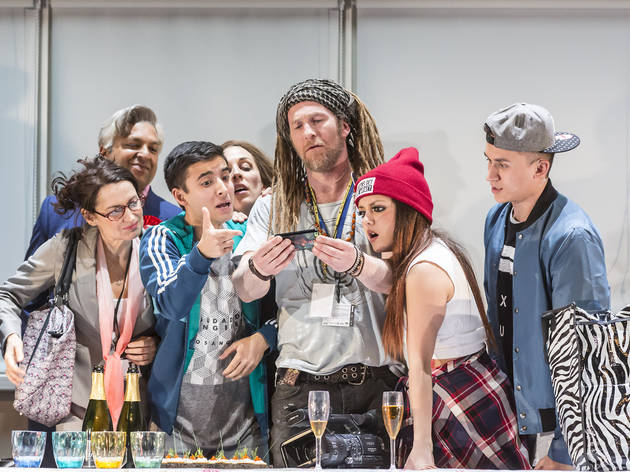 4/13
© Johan Persson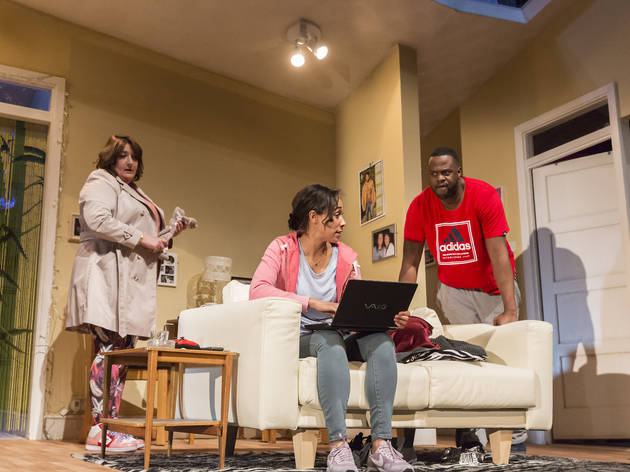 5/13
© Johann Persson
Ashley McGuire (Sarah), Rebecca Scroggs (Maya), Javone Prince (Sam)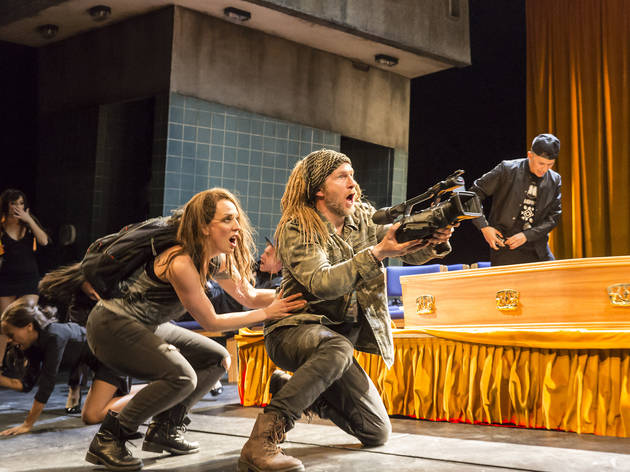 6/13
© Johan Persson
Roxanne Palmer (Ensemble) and Paul Kaye (Patrick)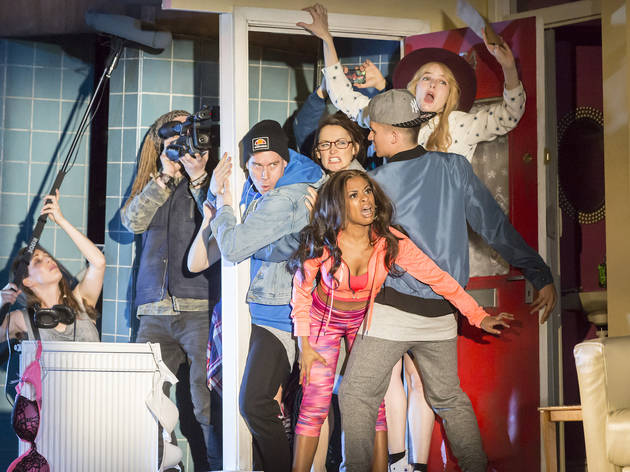 7/13
© Johan Persson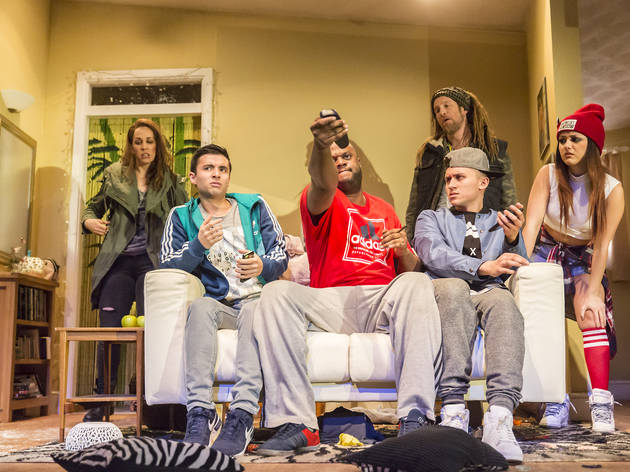 8/13
© Johan Persson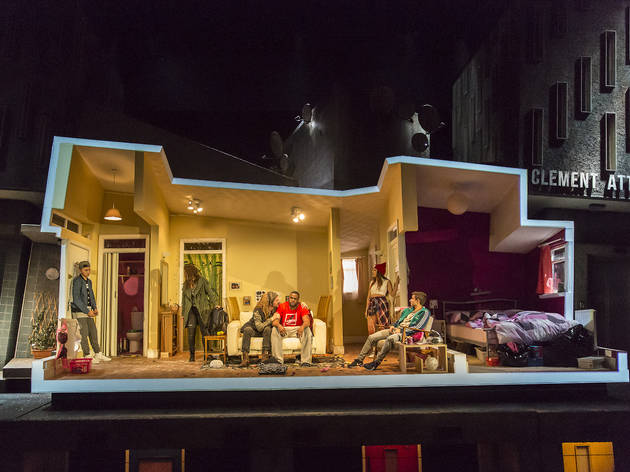 9/13
© Johann Persson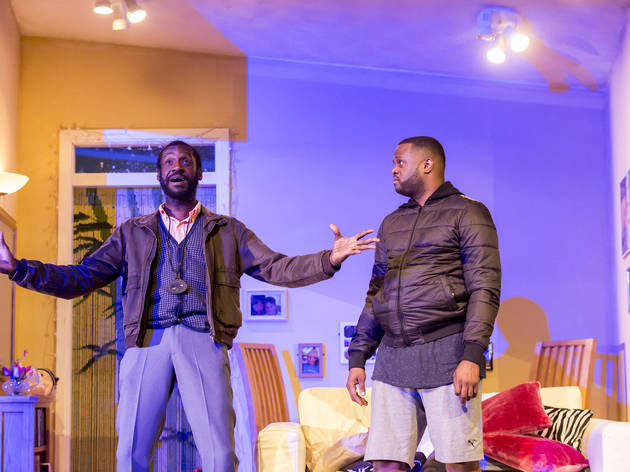 10/13
© Johan Persson
Sule Rimi (Hajji), Javone Prince (Sam)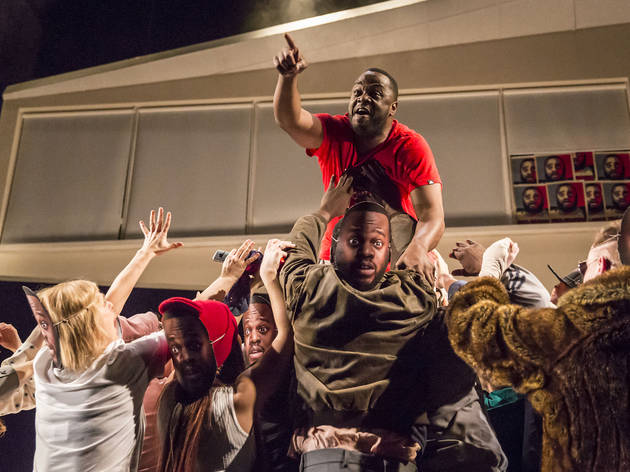 11/13
© Johann Persson
Javone Prince (Sam)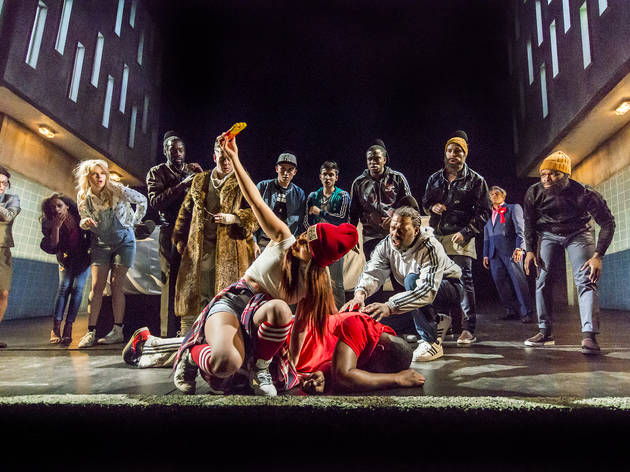 12/13
© Johan Persson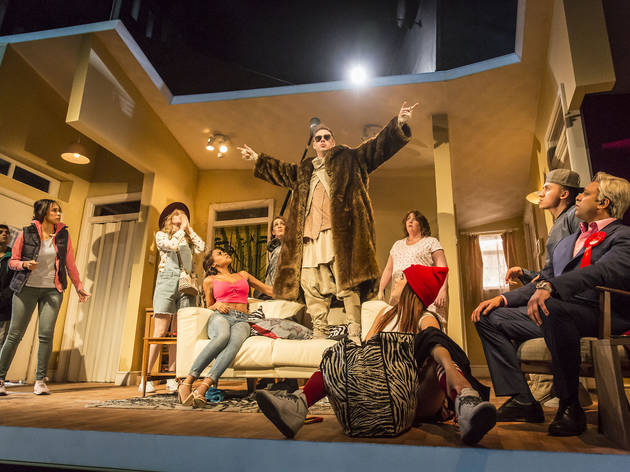 13/13
© Johann Persson
Messy update of a classic comedy
Various broadsheet commentators have lately had a mewl about the gloomy, challenging nature of the work in Rufus Norris's first year in charge at the NT. Well, I hope they're bloody happy now. Daft comedy 'The Suicide' isn't a disaster but it is a bit of a mess, Nikolai Erdman's classic Russian satire relocated to modern, multicultural London and left to stagger all over the shop.
Sam (Javone Prince) is a schlubby loser whose benefits have just been sanctioned. He lives in a tiny flat with his long-suffering wife Maya (Rebecca Scroggs) and her oversexed mum, Sarah (Ashley McGuire). It is the middle of the night, he's grumpy and – long story short – threatens to kill himself. Unfortunately his self-pitying rant becomes a YouTube sensation, and he's pounced upon by various chancers who see a golden opportunity. This rogue's gallery includes an oversexed neighbour (Ayesha Antoine), who wants Sam to pretend he's her lover, Paul Kaye's trustafarian documentary maker, intent on making Sam's death the first spark in a revolution, and Pal Aron's ambitious local politician (who bears an amusing resemblance to a certain Labour mayoral candidate).
There is a lot of good stuff in Suhayla El-Bushra's adaptation: at its best it feels like it comes close to skewering the phenomenon of hashtag empathy and our society's chronic fetishisation of the individual. There are some legit laughs and memorable characters, notably Kaye's Patrick, Lizzie Winkler as Patrick's pathologically earnest German assistant Ava, and Tom Robertson as a godawful slam poet. And Prince – heroically battling a sore throat on press night – gives good everyman as Sam.
But still. The tone of El-Bushra's adaptation is all over the shop, veering wonkily from domestic comedy to social satire to cartoonish tit-around, too hyperactive to really nail any of them. She's clearly a talent, but her work has predominantly been in TV and sustaining a two-and-a-half-hour play feels like a step too far. If there is any truth to accusations of dourness in the Norris era, it lies in the fact that his predecessor Nicholas Hytner directed most of the NT's big comedies – you suspect he would have imposed some order on this in a way the competent Nadia Fall hasn't quite managed.
'The Suicide' is enjoyable enough, but it's hard not to think it could have been something more.
Average User Rating
3.2 / 5
Rating Breakdown
5 star:

0

4 star:

6

3 star:

5

2 star:

0

1 star:

2
Felt like it had been written by three different people in three different rooms who didn't talk to each other. I don't know the original but this felt as though it didn't know whether it was a bedroom farce, a weak political satire or a pantomime, or just some bizarre jumble of genres that didn't go together and filled in the gaps with pointlessly gratuitous nudity or swearing gags. The acting was obviously supposed to be hammy and the characters supposed to be caricature but this took it to another level that was just cringing to watch.
Really liked this. Sets were brilliant. It was not what I expected, I was pleasantly surprised. It was funny and I liked some of the cheeky moments. I thought it was cleverly done and the cast did a great job. Like a few others have said, I found the Margaret Thatcher dream scene a bit strange but I guess it was a good way for the cast to change for the next scene.
I saw it in preview, and it felt like at least a half hour of material could usefully be cut to produce something far tighter and funnier- and the Thatcher dream scene would, if I were wielding the scissors, be first to go. This is a play with several things going for it- a strong central idea and some very amusing incidentals, both characters and business. The set is both imaginative and authentic looking, calling to mind very precisely the tower blocks of North London estates while allowing rapid switches from inside to out. However, somehow the whole does not tie together and it is too long. Drumming as a background to the more heated dialogue is distracting and pointless. All credit to the cast, who were energetic and very frequently spot on funny. It's the structure of what they were put into which needs work. So: an experiment, not all bad, but not a complete success either.