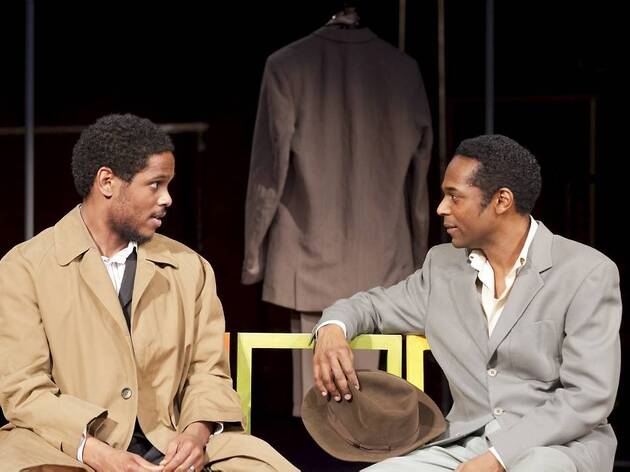 Despite the fact that he's 87 and has been based in Paris at the Théâtre des Bouffes du Nord for the last 38 years, director Peter Brook is a titan of British theatre. And his English-language version of Can Themba's much-toured 1950s Johannesburg fable, adapted, co-directed and scored with regular collaborators Marie-Hélène Estienne and Franck Krawczyk, is a headline import in the World Stages London season.
In Themba's cruel and unusual fable, an adulterous woman, Matilda, is driven to suicide by her husband, Philemon, who forces her to take care of the suit that her fleeing lover left behind him as if it were a house guest. It's a powerful, elliptical story from 1950s Sophiatown, a bohemian black cultural hub whose artists and intellectuals, Themba included, were forcibly relocated and worse when the township was destroyed by the government.
So why do we see so little of it here? This show plays like a pretty, lightweight tribute concert party. Its 'empty space' lacks a sense of place, and its emotional range stretches from affection to nostalgia with little in between.
The music is lovely: a suave trio of superb jazz musicians swell the slender story to 75 minutes with American blaxperience classics like 'Strange Fruit' and one slightly more local solo, the soaring Tanzanian ballad 'Malaika' ('Angel').
Nonhlanhla Kheswa, who plays Matilda, epitomises its attractions and prettified flaws: she's a stunning singer with a radiant stage presence – but when she dies from humiliation, it looks like she's dozed off after a comfortable dinner. Jared McNeill's wised-up narrator and William Nadylam's besotted Philemon are sweet and impish elements in a production which is over-dressed with cosy audience interaction, conjured in and around a pair of empty clothes rails.
This is an undeniably stylish 'Suit' cut from fascinating historical cloth. But it's all charm and no trousers.