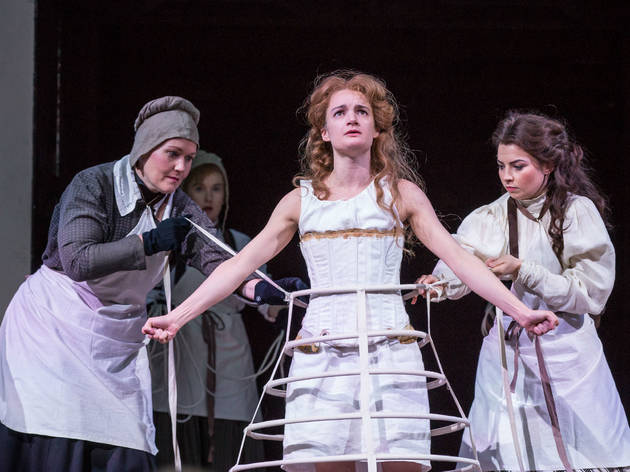 1/7
© Marc Brenner
Amy Conroy (Haberdasher), Aoife Duffin (Katherine) and Genevieve Hulme-Beaman (Bianca)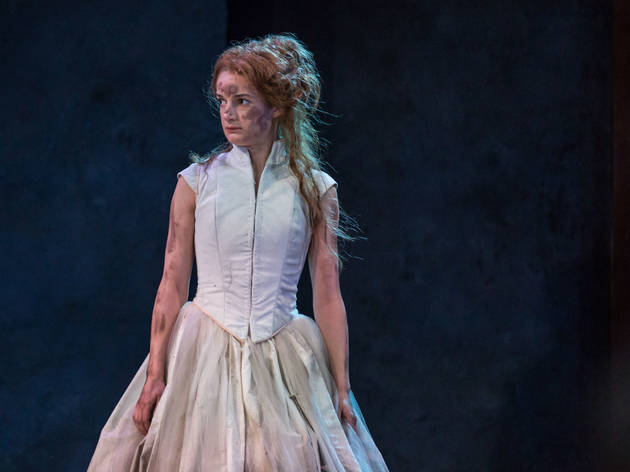 2/7
© Marc Brenner
Aoife Duffin (Katherine)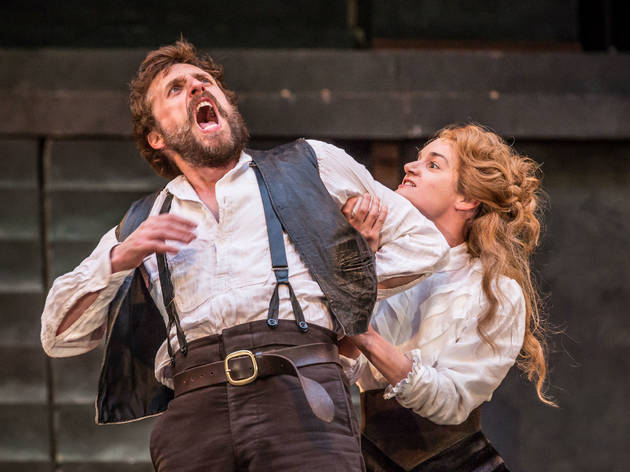 3/7
© Marc Brenner
Edward MacLiam (Petruchio) and Aoife Duffin (Katherine)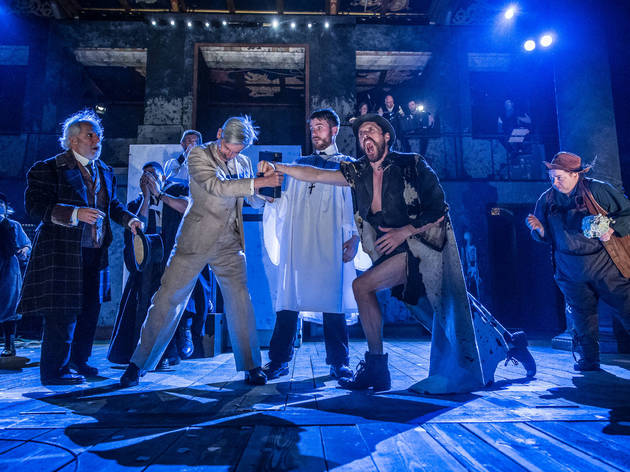 4/7
© Marc Brenner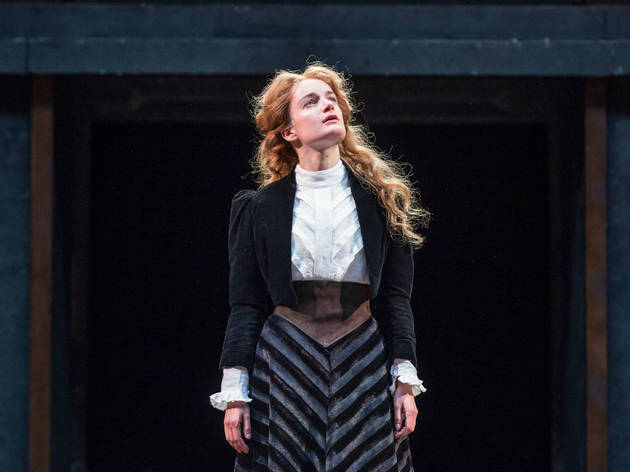 5/7
© Marc Brenner
Aoife Duffin (Katherine)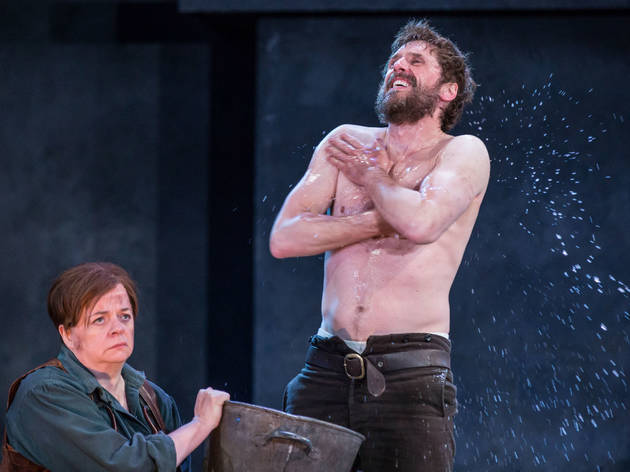 6/7
© Marc Brenner
Helen Norton (Grumio) and Edward MacLiam (Petruchio)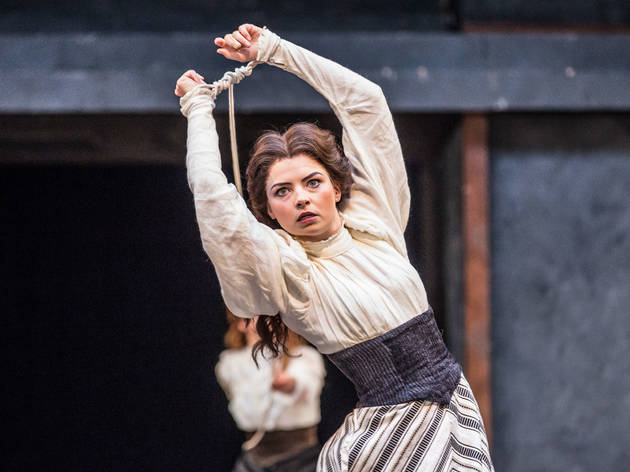 7/7
© Marc Brenner
Genevieve Hulme-Beaman (Bianca)
Rising star director Caroline Byrne directs an Irish-set 'Shrew'
'The Taming of the Shrew' returns to Shakespeare's Globe in March 2017. This review is from the 2016 run.
You may have heard of William Shakespeare, he's quite famous. But does that mean we should stick his plays on stages in 2016 even if they are sexist relics? In the past I've said no, but then I watched Caroline Byrne's production of 'The Taming of the Shrew' at the Globe. Taking up new artistic director Emma Rice's gauntlet to make adventurous work, Byrne has relocated the play to Ireland and the Easter Rising of 1916, and created something astonishingly powerful.
Putting the play in this context turns it into a tale of the bold resistance and inevitable breaking of women struggling against patriarchal oppression. It also allows us to see the spirit of defiance of the women from this period of political turbulence, whose equal rights were guaranteed in the Proclamation of the Republic that accompanied the Easter Rising, but were then rapidly trampled on.
Aoife Duffin's Katherine, exuding ferocity and tenderness by turns, spits in men's faces and would rather read a newspaper than have a bloke crack on to her. Her presence is so huge and unapologetically independent that her subjugation in marriage to Petruchio is all the more appalling when it comes.
Here, Petruchio becomes a serial gaslighter. 'It shall be what o'clock I say it is' is not some cheeky, flirty bants but a way to make a woman doubt her confidence and intellect. For their first kiss, she licks his face; second time round, she might as well be in a coma. Her lack of consent is always apparent.
Byrne uses beautiful, startling images to make clear the transfer of power from women to men. At one point Baptista is caught up in a giant skipping rope; later, Katherine in her wedding dress is immersed in a black lake, then lies silent and broken across an empty bed frame on a mound of rubble.
If it sounds dark, there is still plenty of fun to be had, and there's an expert balance between tragedy and comedy, with Imogen Doel, cross-cast as Tranio, bringing some major lols.
What is essentially a misogynist curio here becomes a call for empathy, compassion and a more progressive way for men and women to live alongside one another. This production is masterly, elegiac and full of force – entirely in control of its vision, it is true to Shakespeare's text while bearing witness to the lives of women in history.
BY: TESSIE JOHNSON
Average User Rating
4.1 / 5
Rating Breakdown
5 star:

6

4 star:

5

3 star:

2

2 star:

1

1 star:

0
It's a problematic piece, but if you see this version, you may feel that all the fun has been taken out. Yes, there are a few wonderfully executed jokes and delightful music, as well as powerful acting, but the production is far more of a tragedy than a farce. The second half had us wincing in pain as Katherine experienced agonies of despair and mistreatment. It was hard to watch, and the wrenching lesson to the audience seemed extraordinarily heavy-handed and very probably not what the Bard had in mind when he wrote the play.

I was a Globe virgin. Yet having done a theatre tour during the winter months & being told by my enthusiastic guide that to see Shakespeare performed there is a unique & magical experience it was top of my summers must-do list. I have to say I completely concur! My expectations were low, I'm not a natural Shakespeare aficionado & have been known to doze off during previous attempts to connect with the bard. However this performance blew me away. It was a natural fit to set it in 1916 Ireland & the trad musicians really added to the atmosphere. The cast are uniformly fantastic & engage with the audience on a personal level, the comedy is truly physical & although the depiction of domestic abuse & female oppression is disturbing especially in these modern times it is a truly mesmerising production. I look forward to returning again, I think I've finally got the playwright's magic!
Absolutely Fabulous play, Great performance by the actors, fantastic artistic choice by the director to portray the abuse of the 'shrew'. Sensitive, funny, dramatic. Just Fantastic