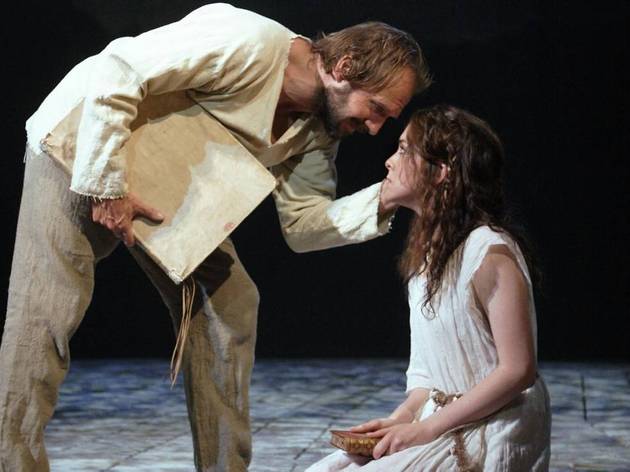 Perhaps he's overcompensating for all that snake-faced malice as Lord Voldemort, but there's something too good to be true about Ralph Fiennes's Prospero.
Shakespeare's dispossessed magician, exiled to a magic isle with his daughter, is considerably whiter than his Hogwartian counterpart. But he and his enemies are more interesting when they're less straightforward than Trevor Nunn's impressive but old-fashioned production imagines.
Fiennes is a fine verse-speaker and it's touching to see his irascibility melt into thin air as he chokes up with love and fear for his beautiful daughter Miranda. Elisabeth Hopper seems a little stiff playing opposite this illustrious father, but finds sweetly comic eagerness with her first boyfriend, shipwrecked Prince Ferdinand (the excellent Michael Benz).
But Fiennes's powerful, straightforward Prospero is marooned by a dull production. Nunn's direction is majestic – a pageant in which gold-masked goddesses descend from the firmament is phenomenal. But, at the same time, it is unmagical and lacks inspiration. This rich, strange isle requites visionary directors. Instead of discovering a new world, Nunn adds an odd jumble of ruined buildings, cavalier-style costumes and supernumerary sprites who seem to have tripped gaily out of a production of 'Cats'.
Boringly, this is textbook Shakepeare: firstly because every character – from Giles Terera's muscular Caliban to Julian Wadham's improbably penitent villain Antonio – is well played in a clear and conventional way; secondly, because the island they consciously inhabit seems mainly to be a famous play called 'The Tempest'.
The bright exception is Nicholas Lyndhurst as the feckless butler, Trinculo. Like a depressed seventeenth-century scarecrow, with his lanky body and straw-like hair sticking up at impossible angles, he is woebegone to his fingertips and ticklishly funny.
Natural comics can make silk purses out of Shakespeare's comic roles and Lyndhurst brings subtlety, instinct and elasticity. If only it would spread like wildfire and ignite this grand, overly well-mannered production.
Average User Rating
2.8 / 5
Rating Breakdown
5 star:

3

4 star:

0

3 star:

0

2 star:

2

1 star:

3