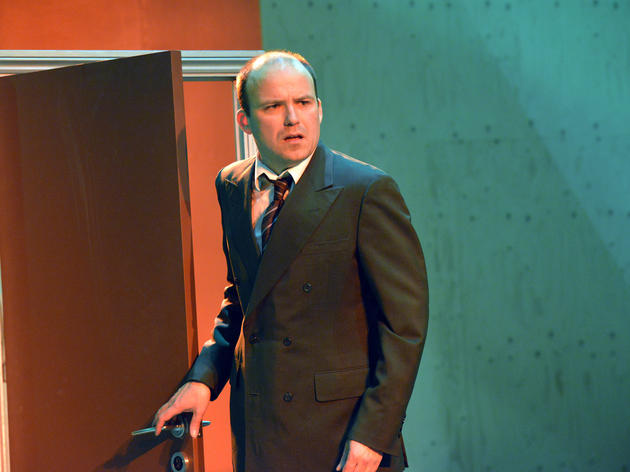 1/8
© Keith Pattison
Rory Kinnear (Josef K)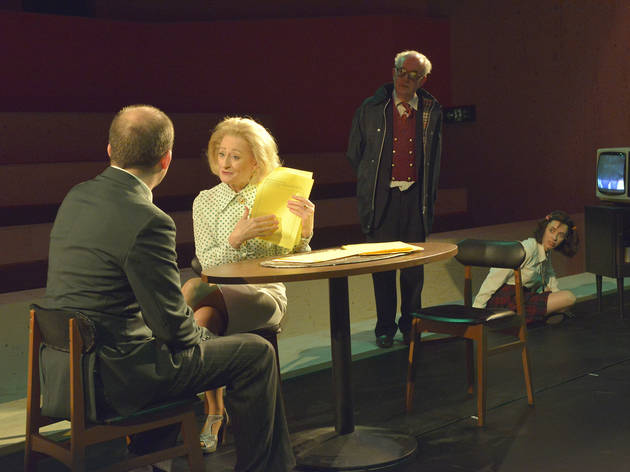 2/8
© Keith Pattison
Rory Kinnear (Josef K) Sian Thomas (Mrs Grace) and Steven Beard (Uncle Albert)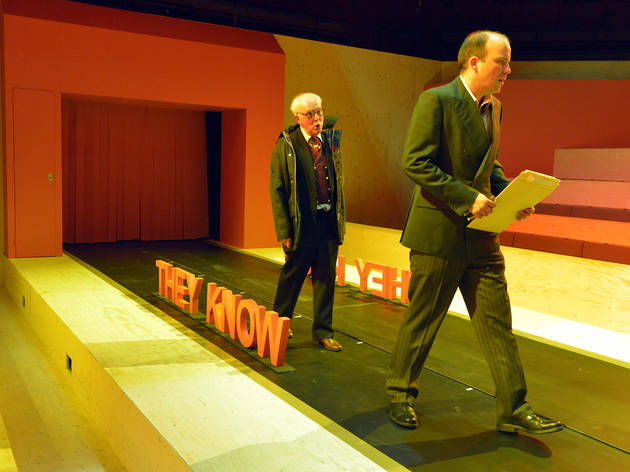 3/8
© Keith Pattison
Steven Beard (Uncle Albert) and Rory Kinnear (Josef K)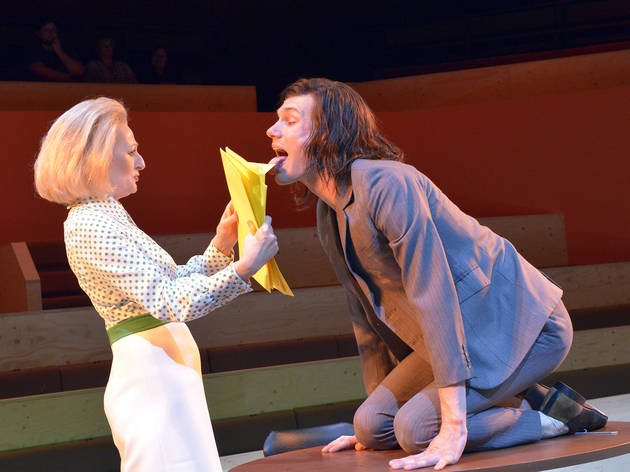 4/8
© Keith Pattison
Sian Thomas (Mrs Grace) and Hugh Skinner (Block)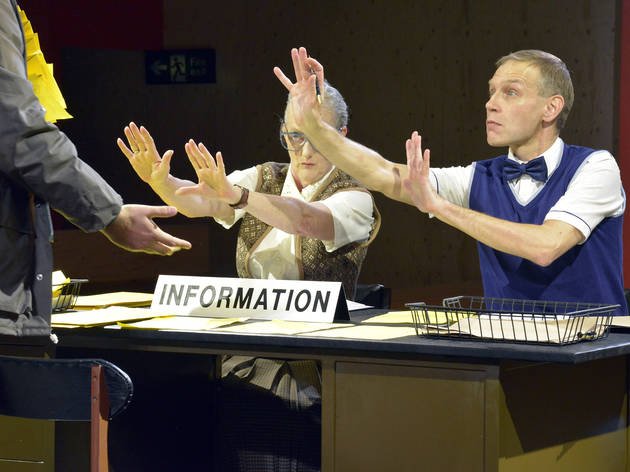 5/8
© Keith Pattison
Sarah Crowden (Information Officer) and Richard Cant (Assistant)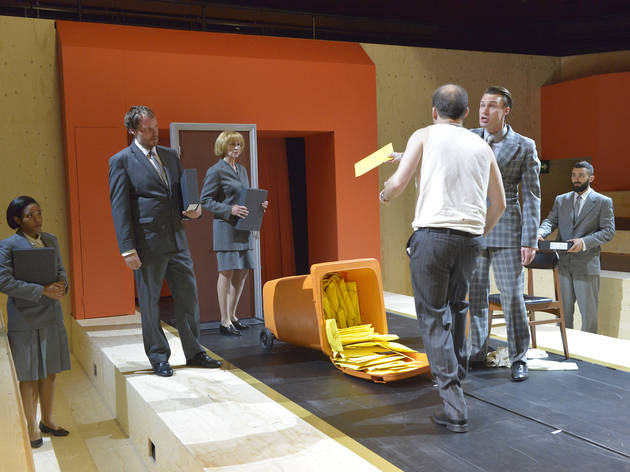 6/8
© Keith Pattison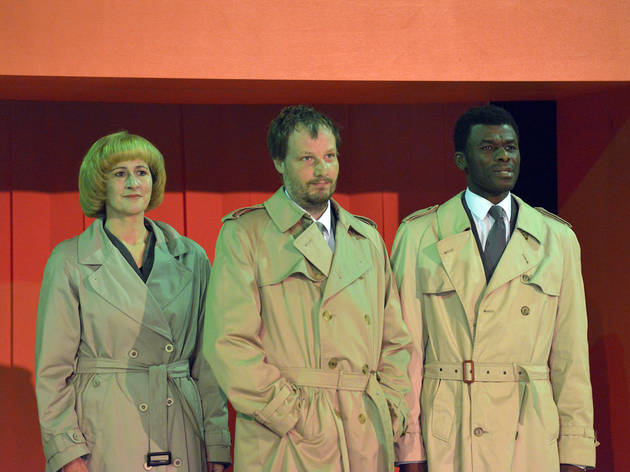 7/8
© Keith Pattison
Suzy King, Neil Haigh and Charlie Folorunsho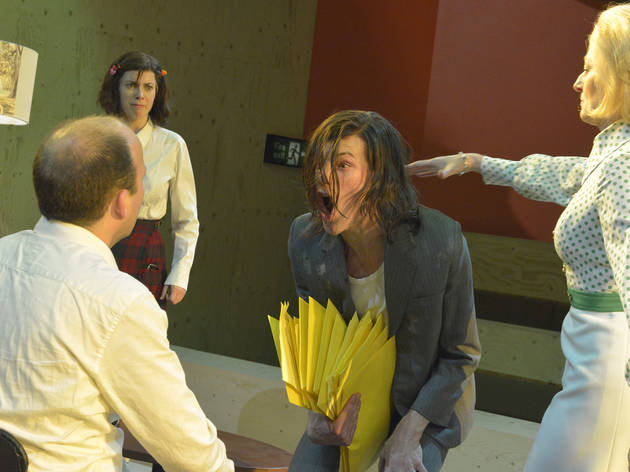 8/8
© Keith Pattison
Rory Kinnear, Kate O'Flynn, Hugh Skinner and Sian Thomas
Time Out says
Rory Kinnear offers a masterclass in modern guilt in this challenging Kafka adaptation
Kafka's endlessly malleable satire about a man arrested for an unspecified crime is reimagined as a roiling Freudian psychodrama by director Richard Jones and playwright Nick Gill. And while wags will declare this two-hour, no interval, unabashedly avant-garde show to itself be a bit of a trial, the fact is that its sometimes pummelling otherness is offset by two towering acting performances: Rory Kinnear, at the peak of his powers, and rising star Kate O'Flynn.

Jones's chief physical innovation – assisted by designer Miriam Buether – is to set all the action on a gigantic travelator that runs traverse through the auditorium, with the audience sat on court-style benches on either side. As Kinnear's Josef K slides into view, moodily gazing at O'Flynn as stripper Tiffany, there is a thought that James may in fact require his cast to remain in perpetual motion throughout.

Blessedly for them, this doesn't happen. But something almost as disconcerting does: when left alone, Kinnear launches into a strange, babbling pidgin English. I guess it's supposed to be Gill's approximation of the rhythm of human thought and I'm not certain it's entirely successful, but certainly it grew on me, not least because of the sheer conviction Kinnear invests in it.

It is banker K's birthday, and a series of strange, unidentified bureaucrats have turned up at his miserable bachelor's pad to inform him he is under arrest. He is neither imprisoned nor charged, but his life slowly starts to unravel as he becomes increasingly distracted by the idea of the arrest. When Sian Thomas's wonderfully arrogant lawyer Mrs Grace suggests that K fill out a form explaining everything he might possibly have done wrong in his life, it's clear this is the key to the production. K is guilty, because he feels a tremendous amount of guilt, most of it about sex and women, most of whom are played by O'Flynn, in a modest tour de force that sees her gleefully tacking six characters, each with a hysterically different accent.

It is a grotesque and darkly comic two hours in which Kinnear never leaves the stage and we never leave the tumult of K's mind. Whether any of this is 'really' happening is irrelevant – K feels guilt at his life, and the show immerses us in a modern, existential guilt that nags at the back of most our minds. And for all the leftfield flourishes brought to bear by the director, it is the wonderful Kinnear that does the most to show us K's gnawing, increasingly ill-suppressed self-loathing, a nuanced, universal and entirely engrossing performance that again confirms him as one of our greatest stage actors.
Details
Best selling Time Out Offers