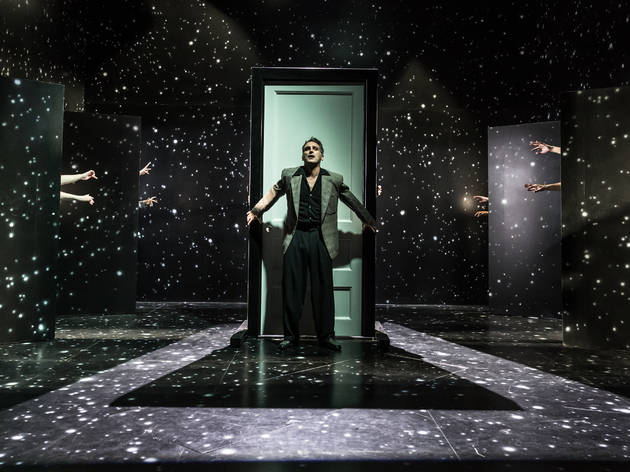 1/8
© Marc Brenner
John Marquez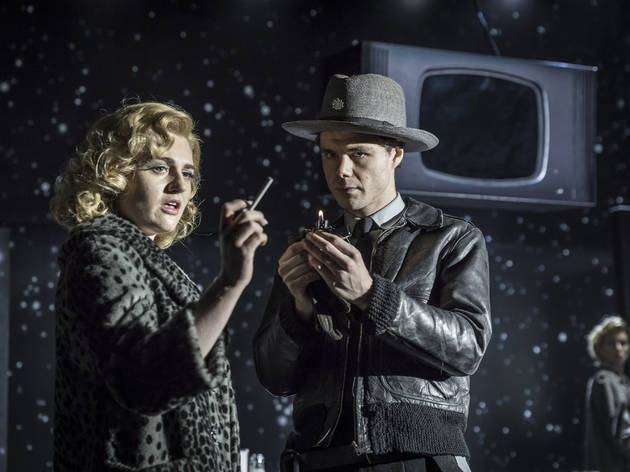 2/8
© Marc Brenner
Lizzy Connolly and Matthew Needham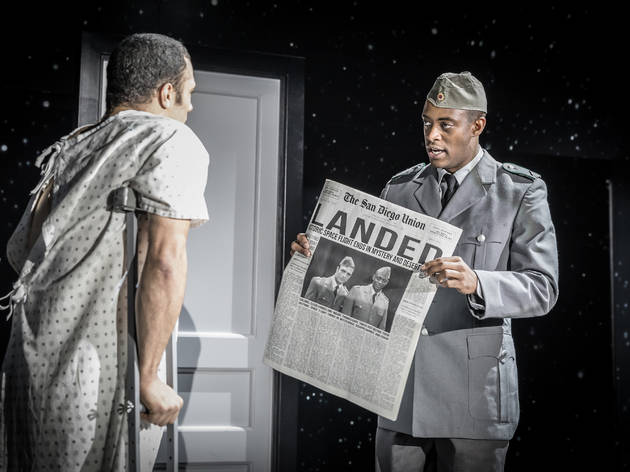 3/8
© Marc Brenner
Cosmo Jarvis and Oliver Alvin-Wilson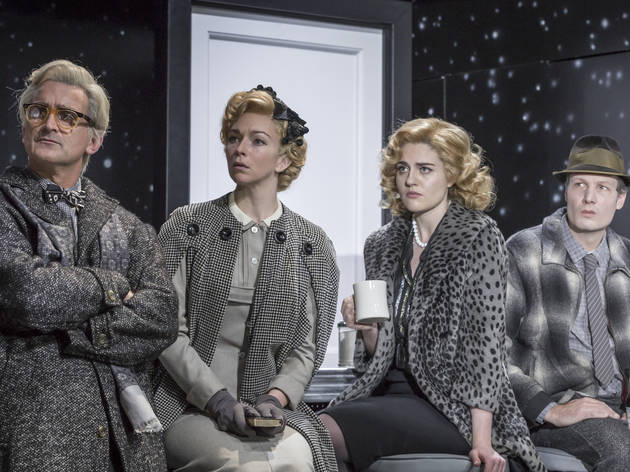 4/8
© Marc Brenner
John Marquez, Amy Griffiths, Lizzy Connolly, Neil Haigh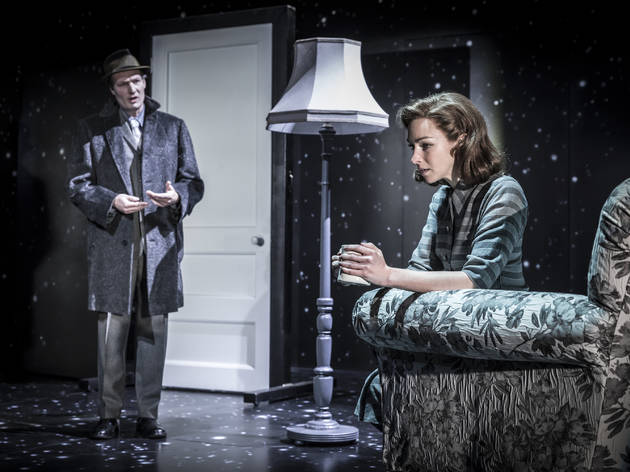 5/8
© Marc Brenner
Neil Haigh and Amy Griffiths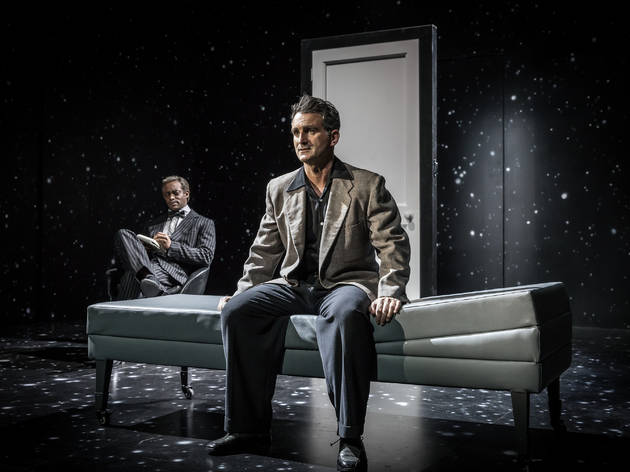 6/8
© Marc Brenner
Oliver Alvin-Wilson and John Marquez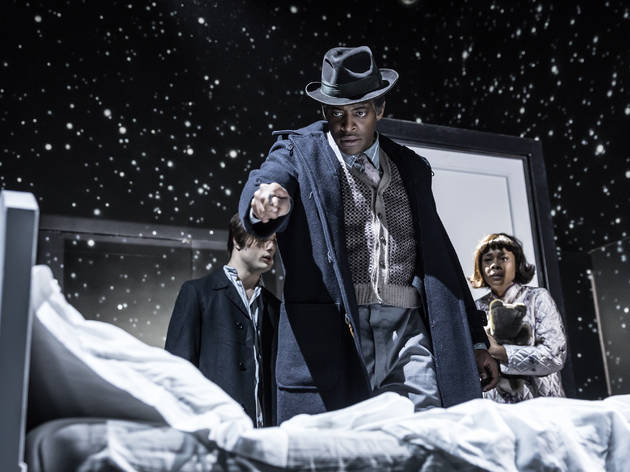 7/8
© Marc Brenner
Oliver Alvin-Wilson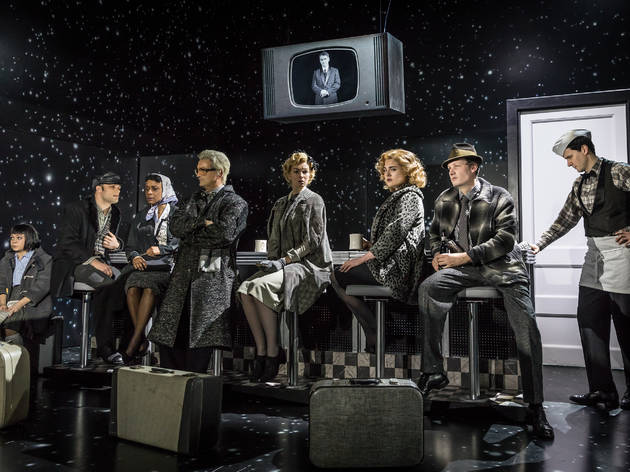 8/8
© Marc Brenner
Anne Washburn's stage version of the iconic 1959 sci-fi show is a glorious exercise in kitsch with a few smart lessons about the present
This review is from December 2017. 'The Twilight Zone' transfers to the West End from Marc 2019.
Pitched somewhere between a smart update of seminal Cold War sci-fi show 'The Twilight Zone' and a loving pisstake of it a la 'Futurama's 'The Scary Door', the Almeida's Christmas show is frequently as silly as any panto. But it's also piercingly smart (when it wants to be).
In a sense, US playwright Anne Washburn's most daring move is to not monkey with the original stories too much. 'The Twilight Zone' ran from 1959 to 1964 and the eight episodes reworked for this show feel dated in innumerable ways. But Washburn and director Richard Jones have fun with this. Cast members in black flying goggles and jumpsuits daubed in the same starry pattern as Paul Steinberg's set carry cardboard props around in a wilfully lo-fi imitation of the original starting credits. And there are very funny running gags about the amount of smoking on the show and, best of all, creator-presenter Rod Serling's iconically overwrought opening and closing monologues (which are constantly interrupted here before the actor delivering them can say the last line).
Washburn's po-faced embrace of apple-pie '50s Americana is very funny, abetted by the deliberately stilted delivery of the terrifically game ensemble cast. As it kicks off with a story about an earnest investigation into an alien stowaway on a Greyhound bus, I had to pinch myself to remember that 'Alien' was made less than two decades later.
It is daft, it is kitschy, it is a fond tribute and – being a 2017 theatre show recreating an old black-and-white TV show – it is often very weird (there is a song and dance sequence toward the end of the first half that will probably encourage a portion of your brain to commit harakiri in bafflement).
And yet: there are moments where Washburn lowers the protective forcefield of camp and socks us with the parallels between Cold War America and Trump's America, or simply the undying brilliance of the original show. The real knockout scene is a reworking of 1961's 'The Bunker', in which a white couple, a black couple and a Jewish immigrant launch into a ferociously nasty argument over who has the most right to take refuge in their friend's nuclear fallout shelter (which they're trying to smash their way into). It is basically the current battle for the soul of America distilled into a bleakly comic 15-minute playlet.
Washburn's last show at the Almeida was the wildly divisive 'Mr Burns'. 'The Twilight Zone' is less aggressively avant-garde, but there are a couple of similarities, methinks. It won't be for all, because I'd guess that if you have zero interest in even the idea of the TV show I can't imagine you'll get much out of this.
Moreover, both shows are love letters to the enduring power of pop culture. In 'Mr Burns', a half-remembered episode of 'The Simpsons' becomes the creation myth of a post-apocalyptic future society. Here, Washburn wryly posits the seminal sci-fi series as a cycle of legends on which contemporary America is founded. Welcome to 'The Twilight Zone'? Perhaps we were there already.
Venue name:
Ambassadors Theatre
Contact:
Address:
West Street
London
WC2H 9ND

Transport:
Rail/Tube: Charing Cross; Tube: Leicester Square
Price:
£10-£48. Runs 2hr 30min
Rating Breakdown
5 star:

0

4 star:

0

3 star:

2

2 star:

0

1 star:

0
I've never seen the TV programme so have no reference point for the in jokes & nods to the original shows. That said I still thoroughly enjoyed this show. It was kitsch, tongue in cheek & knowing. The cast were brilliant & parts were laugh out loud funny. There were some clever twists. Several stories were interspersed & threaded together. Some worked better than others. The monochromatic theme worked well & the sets & costumes were evocative of the era. Well worth catching
Snap up exclusive discounts in London
Time Out's handpicked deals — hurry, they won't be around for long...