'The Twilight Zone' review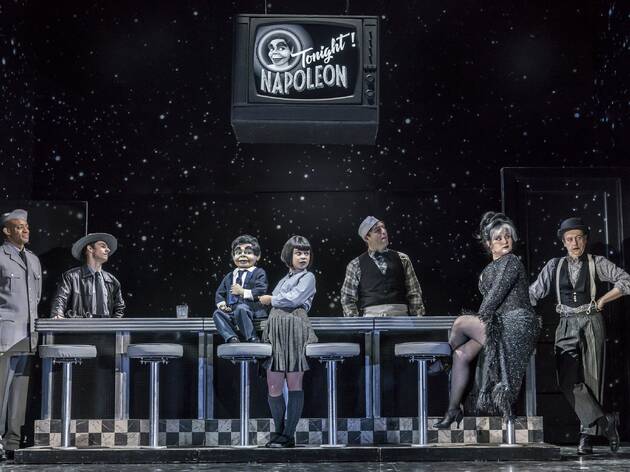 1/9
© Johan Persson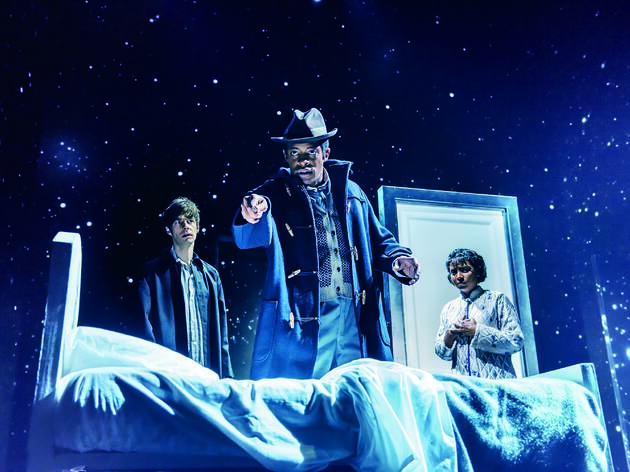 2/9
© Matt Crockett
Dyfan Dwyfor, Oliver Alvin-Wilson & Alisha Bailey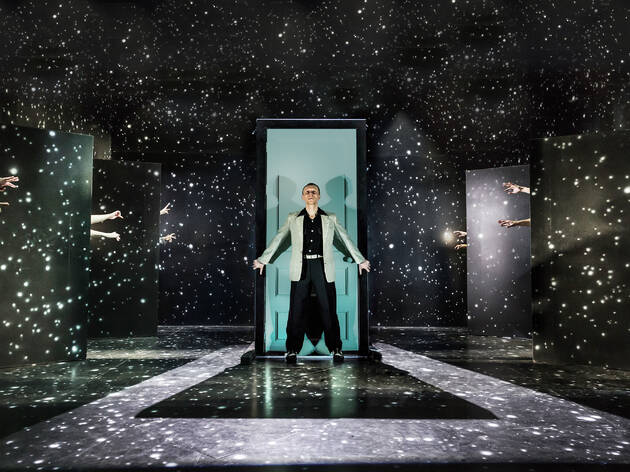 3/9
© Matt Crockett
Daniel Crossley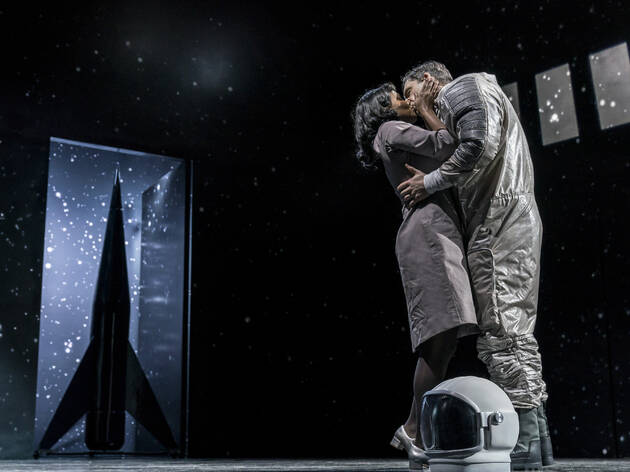 4/9
© Johan Persson
Alisha Bailey and Daniel Crossley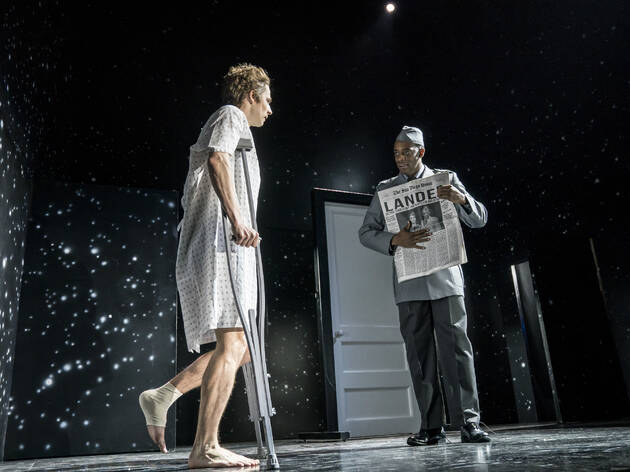 5/9
© Johan Persson
Dyfan Dwyfor and Oliver Alvin-Wilson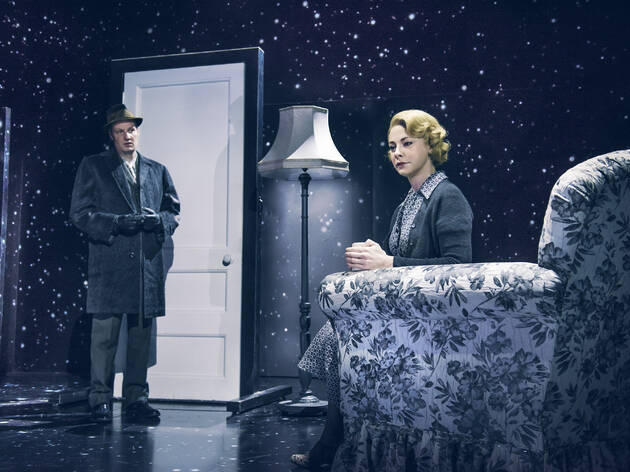 6/9
© Matt Crockett
Neil Haigh & Lauren O'Neil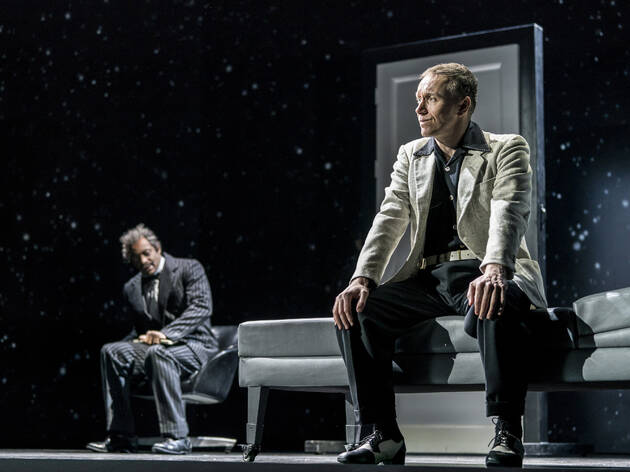 7/9
© Johan Persson
Oliver Alvin-Wilson and Daniel Crossley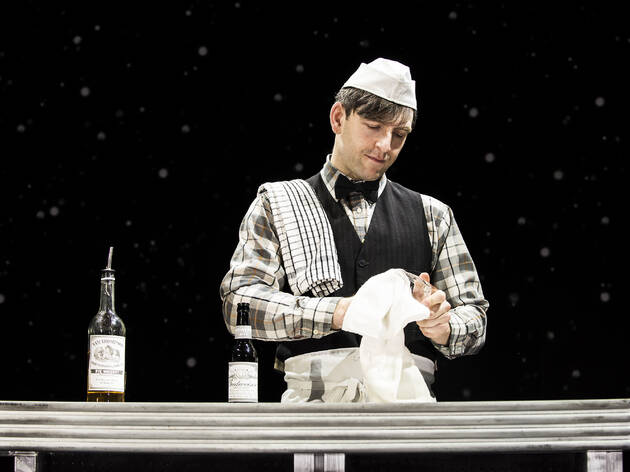 8/9
© Matt Crockett
Nicholas Karimi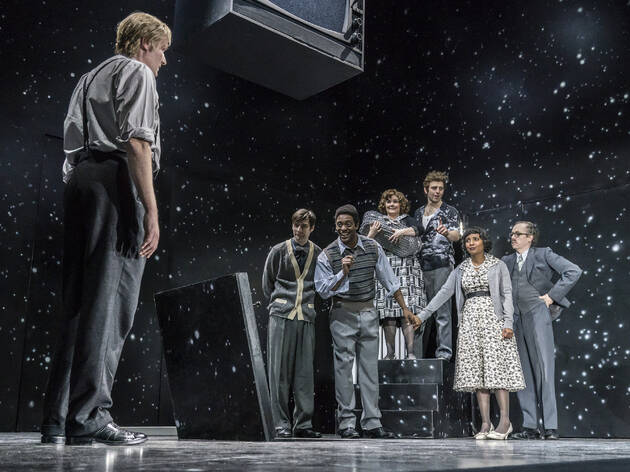 9/9
© Johan Persson
Time Out says
Anne Washburn's excellent adaptation of the seminal show is more funny than scary
Anne Washburn has a knack for taking the baffling rubble dump of modern America and turning it into an enchanted gothic castle. Her play 'Shipwreck', currently playing at the Almeida, tackles Donald Trump's presidency with black humour; her 2012 play 'Mr Burns' imagined a post-apocalyptic US where half-remembered lines from 'The Simpsons' are retold by a group of survivors.
In her adaptation of 'The Twilight Zone', the iconic sci-fi horror anthology series, she remains true to the original stories by Rod Serling, Charles Beaumont and Richard Matheson while playfully acknowledging their inherent camp.
Actually, the stories themselves, to a modern audience fed on 'American Horror Story', 'Black Mirror' and 'Stranger Things', feel a bit silly, like a boy scout's idea of a campfire thrill. An alien joins a group of strangers waiting for a bus in a storm; a little girl falls into an alternate dimension; a pilot is blasted into a half-century return journey to the nearest solar system; a man dares not sleep for fear of getting so horny for a beautiful dream-woman that he'll die of a heart attack.
They are told in disjointed piecemeal bursts over two acts, non-chronologically. Only two stories have any real emotional power; in one, loyalty and love are thwarted by good intentions; in another, a painfully pertinent conversation about race and identity expose the dark heart of a friendly neighbourhood.
But, for all its silliness, the stories in 'The Twilight Zone' are lavishly, hilariously presented. Illusion, trompe l'œil and trickery abounds, caked in deadpan humour. A black set, painted with stars, conjures numerous settings – atom bomb shelter, HQ of Nasa, psychiatrist's office, backwater diner, child's bedroom – by wheeling various elements of sets on and off (sometimes barely settling before being whisked into the mysterious depths). The famed white door of 'The Twilight Zone' appears in every scene, and original presenter Serling's ubiquitous cigarette (he was said to smoke almost four packs a day) makes wickedly funny cameo appearances.
This West End transfer is a success – the Ambassadors' petite stage perfectly conjures a black and white television screen blown up to theatrical proportions. The terror has long worn off these tales, but the chuckles just keep coming.
Details
Average User Rating
2.8 / 5
Rating Breakdown
5 star:

0

4 star:

3

3 star:

7

2 star:

1

1 star:

2
I must admit I was very excited to see this show because I do like Sci-Fi and I have never seen such thing as a Sci-Fi theatre play! The sets were amazing and cleverly changed over. This really got me from the start. The story however... I am still confused about it. I'm not sure there is much point in trying to make sense of it. Some bits seem to match but it's overall quite confusing. The actors are very talented though and the main singer's voice is amazing.
It wasn't a bad show but it definitely depends on your expectations...
If you are old enough to remember the TV show then you'll love this fun, fast paced, crazy show. For context, it's good to remember that the original show was aired in the early cold war years, communists invading, and spy's infiltrating everyday life was the mood of the day, America was gripped by a wave of paranoia and fear. The TZ seized upon this and while it stretched the realms of reality, it did tap into people's paranoia like no other show. The production is very true to this, made up of 8 original episodes spliced together this riotous ride has some wonderful OTT acting and great 'jumpy' scenes. At times confusing, you must stick with it, all is explained in due course...well, as much as can be explained when it comes to the Twilight Zone...
Sadly this play is not my cup of tea. It is too wacky and fragmented. It was quite difficult to follow the mini stories and piece them together. There seemed to be no plot. I have not watched the TV version before hence I just did not get it.
It was at times funny but majority of the time I was bored and confused. At the time of watching it, a few young members of the audience left during intermission... The show's target audience may be the Baby Boomers.
More like a series of mini performances rather than one complete story. I found it hard to following places as I wasn't sure where we were following the same character and where they became different people, and the timeline seemed to be a bit mixed up in places.
The actors were all fantastic, and I think if you're already a fan of the TV show this would be a really great show, but for me, while it was really entertaining, it was a bit confusing and I left feeling like I didn't really know what the point of the story – if there was one – actually was.
I enjoyed the mini stories format and how the stage cuts across these stories as they would on tele. Good nod to the 50s (I thought it was the 20s actually from their period outfits). There are some cool stage magic and mysteries that keep you engaged throughout the mini stories.
Unless you are a super fan of the original television series I would recommend avoiding this production. Having seen the 1980s revival of the show I though I would understand some of the nuances, alas I felt like I was trapped in another dimension, alternating between bored and confused, and wondering how this production made it to stage...
If you have watched this series on television in the past, you will probably appreciate little nuances more than if you are arriving cold. Grey, black and white abound. A cigarette (or many) appear and disappear mysteriously between actors' fingers or in their mouths. People go through doors many times, fall into alternate worlds and dare not sleep for fear of being abused. A number of short stories run alongside each other until the whole picture emerges. The iconic music is still there, thank goodness, but the show doesn't hold the thrill that the programmes did all those decades ago. Sometimes good things should not be re-invented.
I was quite confused watching this and got lost between the different scenes, I've never seen the tv programme and did expect it to be out there but I did find it hard to follow. It was very tongue in cheek and definitely not scary but funny, I think this was the idea?
I did really like the costumes and the set and thought it was really clever the way the switched between scenes.
Not going to lie I spent the first 20 mins completely confused, having never seen the TV Show and how quickly they switch between numerous stories.
However by the end I was totally invested into the twilight zone with its style and humour. Well worth a trip to the theatre to watch something classic but still highly relevent for the modern day.
Warning - It is an old theatre and the seats are small with little leg room, I'm 5'11' and I struggled.
I've never seen the TV programme so have no reference point for the in jokes & nods to the original shows. That said I still thoroughly enjoyed this show. It was kitsch, tongue in cheek & knowing. The cast were brilliant & parts were laugh out loud funny. There were some clever twists. Several stories were interspersed & threaded together. Some worked better than others. The monochromatic theme worked well & the sets & costumes were evocative of the era. Well worth catching
As a self-confessed Twilight Zone 'fanboy' (I have all the original series on DVD), I was so excited when I heard about this stage version (and world premiere) at the Almeida Theatre. A collection of several stories, the staging, design and acting were all superb but I couldn't help feeling underwhelmed by the overall story - part drama, part parody, it just didn't seem to gel when trying to combine and interweave all the narrative - the only time I felt truly gripped was during their adaptation of the classic episode 'The Shelter' and the initial introduction in the diner. I also feel my experience may have been marred by my seats - yes, I did buy the cheapest seats in the house (£10) in the Circle (C31 & C32) but I still feel you should be able to see most of the stage. Due to the set design and people in front leaning onto the bar, we hardly got to see any of the staging (Almeida Theatre - if you are reading this, those seats shouldn't be for sale during this production - there is 'restricted but this was waaaay beyond this). Overall, a stylish but ultimately unfulfilling retelling of the 'other dimension'.