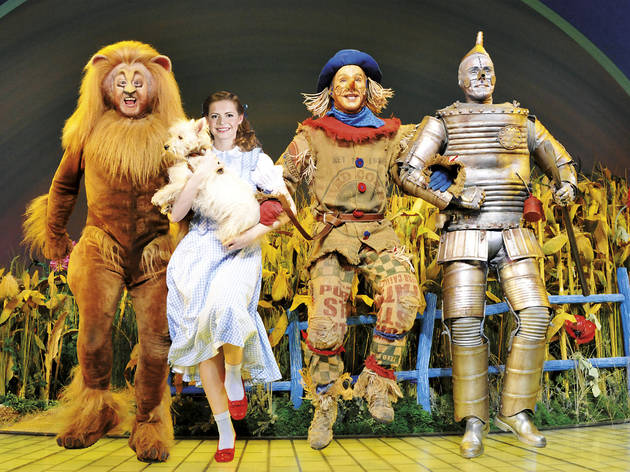 How much help does Andrew Lloyd Webber's Palladium show need from the taxpayer? First it was 18 episodes of free PR on the Beeb; then London sent bobbies to patrol the Lord's new Technicolor dreamboat. At least Jeremy Sams and Robert Jones (the duo who moved mountains for Lloyd Webber's BBC-boosted 'The Sound of Music') have blown the extra budget on a spectacle that's worthy of the Palladium's heyday. Visually, this stage remake of MGM's 1939 special effects blockbuster is 'Over the Rainbow' and accelerating.
Oz is the land that subtlety forgot: the blue-hatted yokels, emerald urbanites and relentless Yellow Brick Road can feel like a bad acid trip in a candy store. But designer Robert Jones fills L Frank Baum's weird world with delicate shades and fun-house mirror angles. Oz figures are elegantly distorted by bustles and thigh-pads. The humbug Wizard's lair is a masonic ziggurat on the outside and a megaphone machine on the inside – operated by a below-par Michael Crawford, who was ill during previews. And, thanks to Jon Driscoll's film wizardry, the twister that blows us to Oz storms all over the auditorium.
By contrast, Kansas is as sepia as the movies that Technicolor revolutionised. Talent-show winner Danielle Hope sings 'Over the Rainbow' with sweetness and drama (she's had plenty of practice). But her acting doesn't hit such a large range of notes.
'Oz' the film is a story with songs; as a stage musical it blows its bag ten minutes in when Dorothy longs to fly with the bluebirds. Lloyd Webber and old lyrical partner, Tim Rice, are right to add extra material to Harold Arlen and EY Harburg's soaring, yammering, brain-squatting classics. The new music is tense and atmospheric, albeit a tad cruel and campy. Hannah Waddingham's wonderful post-'Wicked' Witch makes it hum with vicious sexual tension. She has a trad nose that could span the Thames, and plummets down on a falming broom (parents be warned: this performance will launch a thousand nightmares). But Waddingham's more S&M green goddess than witch, queening it over the sluggish second half like Madonna at Halloween (ie semi-clothed in a revolving dungeon staffed, bemusingly, by minaret-hatted muscle-men).
The Palladium's organ-hunting threesome don't shatter the MGM mould. David Ganly's Cowardly Lion continues the British habit of diluting American screwball humour into camp: his act of courage here is to out himself as a 'friend of Dorothy'.
It is the First Commandment in the 'Book of Twee' that a cute white terrier who can trot on a revolving yellow conveyor, as Oz's four Totos (Bobby, Razzmatazz, Dazzle and Topper) can – will steal every show. But, frankly, anyone who can't handle a little crowd-dog love – or a lot of razzmatazz and dazzle – had better stay home in Kansas.