Theatre company 1927 interview: 'You can bring your auntie and it'll be all right'
Subversive animated theatre gurus 1927 talk willies, Christmas and how their latest show 'Golem' proves they definitely aren't nostalgic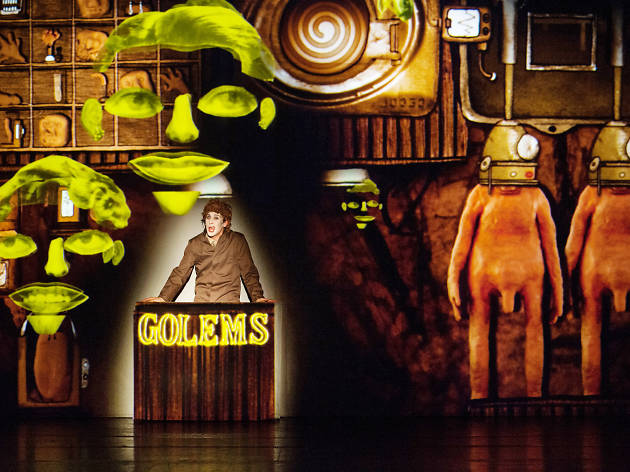 Two days after I make the extraordinary theatre company 1927 bristle indignantly by suggesting that their gorgeous silent movie-influenced shows are 'nostalgic', Paul Barritt – responsible for their ravishing animations – sends me a 'self-portrait' (inset) of the pair dressed as an Edwardian couple. Which says all you need to know about the duo's sense of humour.
'I hate that attitude, "Oh things were better then…",' drawls his chic co-creator Suzanne Andrade. 'Fuck off. We've never had a fucking heyday. We might reach it one day, but humans are pretty dreadful, so probably not.'
Sat at a table covered with a bewildering array of wine and tea-drinking paraphernalia, Andrade and the scruffy Barritt could be mistaken for hip indie bandmates. They kind of are: 1927 have gone from underground cabaret concern to major contenders via a singular style of theatre in which live actors perform in sync with Barritt's gorgeously quirky animated worlds.
As the pair are wryly aware, they've become a festive institution in London ('We just fit really well into the "alt Xmas" round-ups in newspapers,' deadpans Andrade), with their blockbuster 'The Animals and Children Took to the Streets' playing here four Christmases in a row in progressively bigger venues.
And finally they have a new show, '
Golem
' (above), their most visually sophisticated and politicised work to date. It's neither based on the Jewish myth of the golem, nor Gustav Meyrink's cult novel 'The Golem'. 'The tagline should be "Meyrink fans will definitely be disappointed",' says Andrade. Instead it's a surreal satire of our unquestioning love affair with technology, with giant, animated clay golems acting as servants to the show's human cast – who turn a blind eye to the automatons' shady creators.
'The themes in the show are essentially a culmination of years of ranting about the state of the current world,' says Barritt.
'And seeing more of our friends getting addicted to their phones,' Andrade adds, 'and not thinking there's anything wrong with that, acting like you're a spoilsport if you comment on it.'
'The Golem is very much an iPhone turned into a six-foot clay man,' says Barritt. 'With a big willy,' notes Andrade, accurately.
The pair are happy calling 'Golem' a 'polemic', but even Apple loyalists will fall in love with the jawdropping visuals and the rascally but never profane humour: 'We like entertaining people,' says Andrade, 'you can bring your auntie and it'll be all right. Give you something to talk about.'
Now hugely in demand, 1927's next project is animating a ballet for Berlin's Komische Oper. Their Komische production of 'The Magic Flute' will come at least as close as Edinburgh in the summer. As for their next London show?
'I'd love to do a panto,' says Andrade, possibly serious.
'What, like "Dick Whittington"?' guffaws Barritt.
'No, not "Dick fucking Whittington". We'd write a new one. Starring Barbara Windsor. And it'll be great.'​
'Golem' is at the Young Vic, Dec 9 - Jan 17 2015.