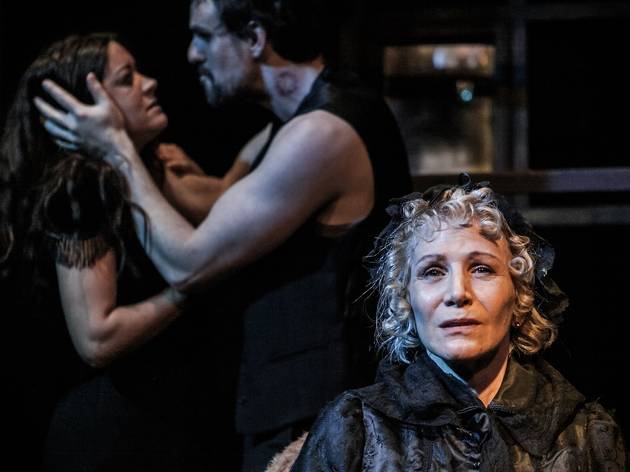 'Therese Raquin' transfers to the Park Theatre from July 31.
For most of Act l, the antiheroine of this brilliantly miserable new musical doesn't utter a word – until her husband's friend unlocks her shrill soprano in what may be the first ever scored orgasm.

In the grim finale, Thérèse Raquin's aged mother-in-law is struck mute by her discovery that the lovers have murdered her son. There's plenty going on in Nona Shepphard's new adaptation of Zola's 1867 classic, which she also directs – sex, violence, haunted portraits and cat defenestration included. But some key moments are small and silent: a straining chest, a desperate pair of eyes.

The Finborough's tiny stage is the perfect setting for a study of stifling domesticity swapped for suffocating guilt, and Laura Cordery's set hugs the 12 performers like a cheap wood coffin.

Ben Lewis's painter Laurent secretes careless masculine force as he settles on seducing Thérèse (Julie Atherton) with the refrain 'may as well and why not'. Jeremy Legat ratchets songs into tantrums as the childish husband Camille. Tara Hugo is superb as his mother, Madame Raquin, a Lear-sized guilt-tripper whose (brilliantly directed) domino evenings in her Paris shop incubate irritation and tension.

Pockets of silly melodrama aside, Shepphard skilfully balances bleak naturalism and black comedy. In one extraordinary song, Madame Raquin insists her new life with Thérèse and Laurent is a picture of contentment. She has to gasp it out hysterically over the noise of the guilt-stricken couple rowing through the bedroom wall.

'I have simply done on two living bodies the kind of analysis that surgeons do on dead bodies,' Zola said of his original novel. Each note of Craig Adams's modern score is a brutal little nick of the scalpel.
Rating Breakdown
5 star:

0

4 star:

2

3 star:

0

2 star:

0

1 star:

0