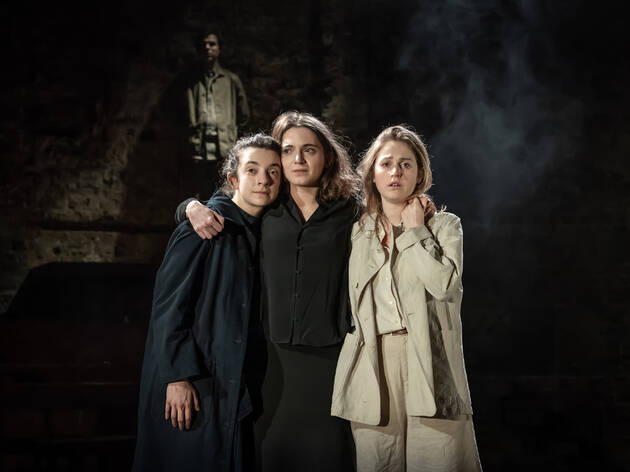 1/12
© Marc Brenner
Patsy Ferran (Olga), Pearl Chanda (Masha) and Ria Zmitrowicz (Irina)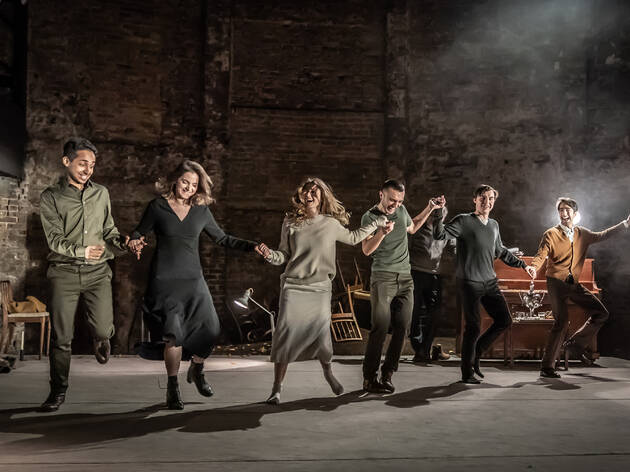 2/12
© Marc Brenner
Akshay Sharan, Pearl Chanda, Ria Zmitrowicz, Sonny Poon Tip, Freddie Meredith and Shubham Saraf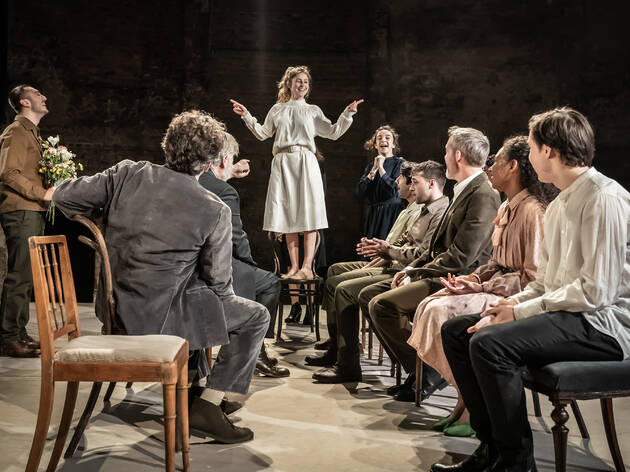 3/12
© Marc Brenner
Ria Zmitrowicz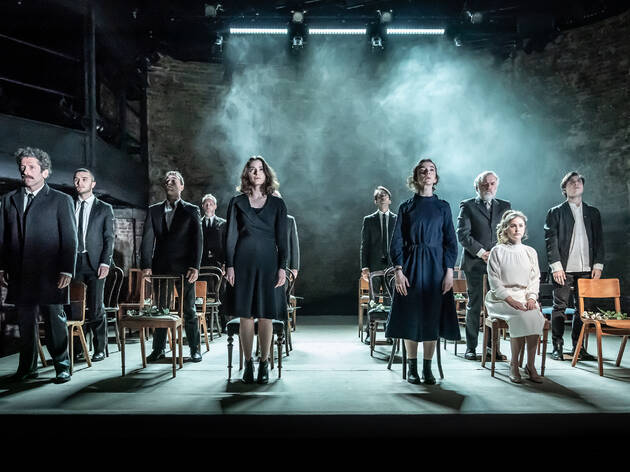 4/12
© Marc Brenner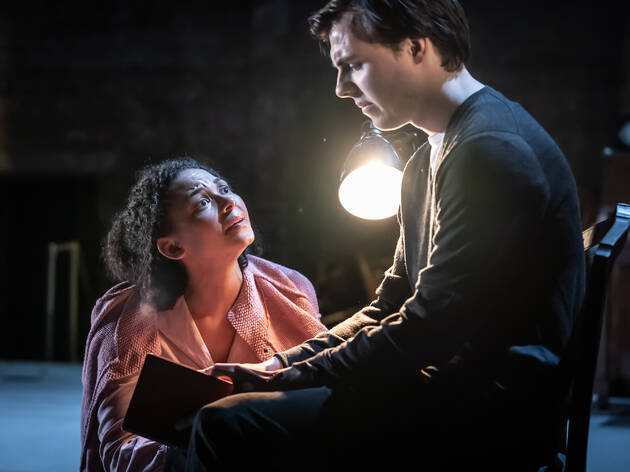 5/12
© Marc Brenner
Lois Chimimba (Natasha) and Freddie Meredith (Andrey)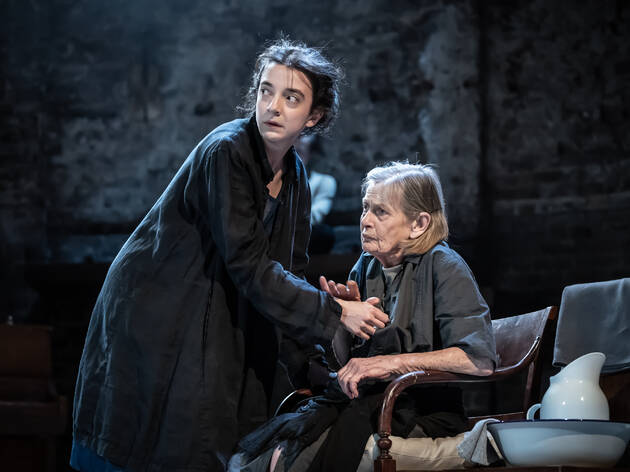 6/12
© Marc Brenner
Patsy Ferran (Olga) and Annie Firbank (Anfisa)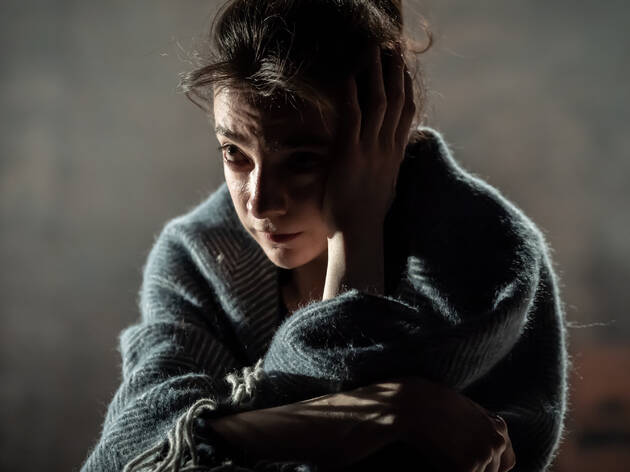 7/12
© Marc Brenner
Patsy Ferran (Olga)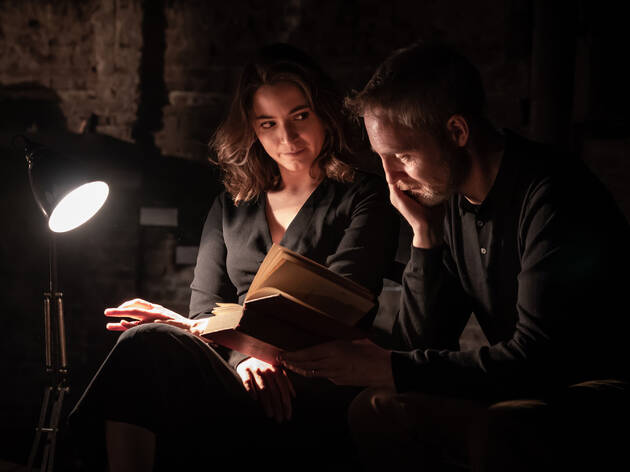 8/12
© Marc Brenner
Pearl Chanda (Masha) and Peter McDonald (Alexander Vershinin)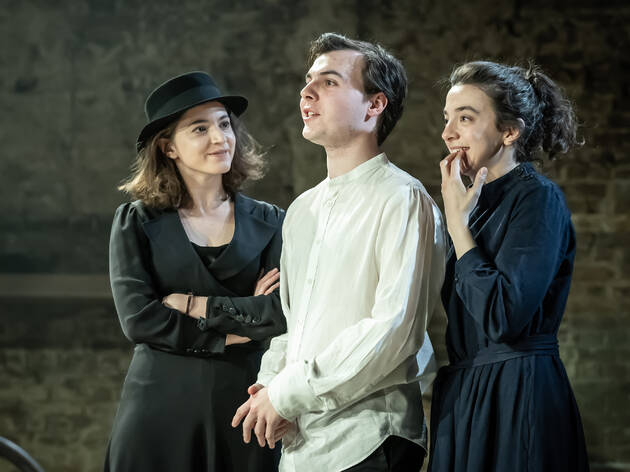 9/12
© Marc Brenner
Pearl Chanda (Masha), Freddie Meredith (Andrey) and Patsy Ferran (Olga)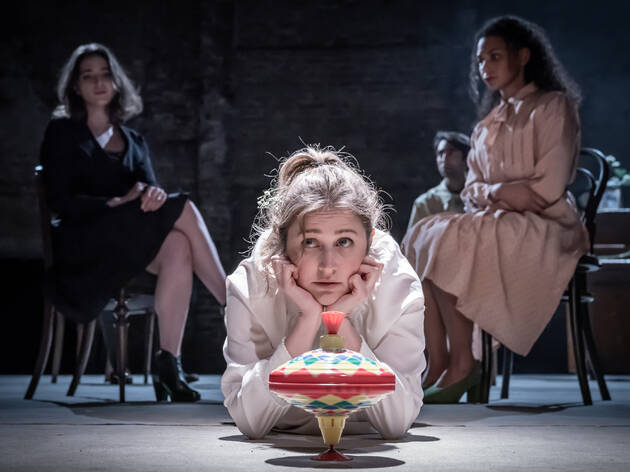 10/12
© Marc Brenner
Pearl Chanda (Masha), Ria Zmitrowicz (Irina), Shubham Saraf (Nikolay) and Lois Chimimba (Natasha)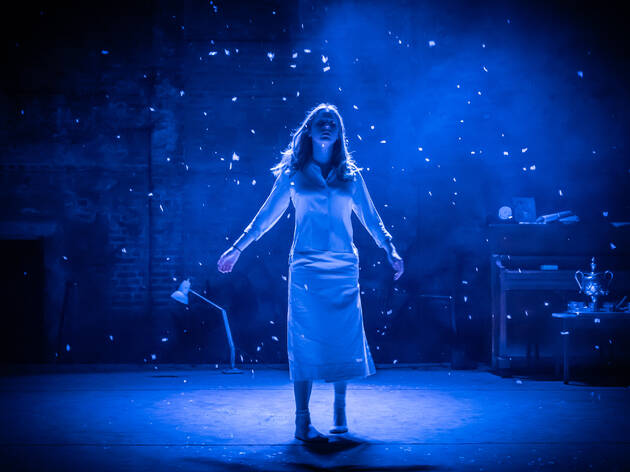 11/12
© Marc Brenner
Ria Zmitrowicz (Irina)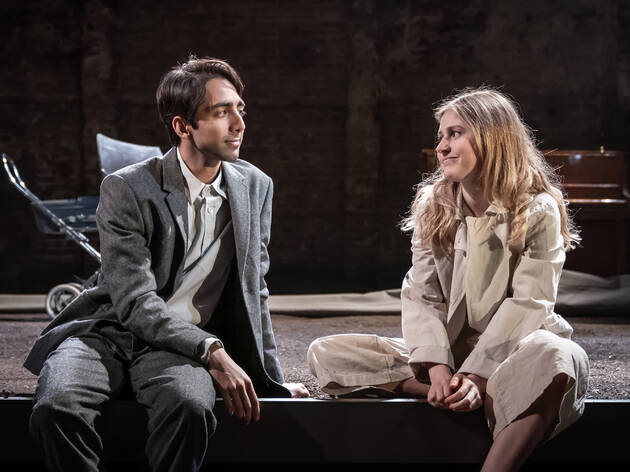 12/12
© Marc Brenner
Shubham Saraf (Nikolay) and Ria Zmitrowicz (Irina)
Time Out says
Patsy Ferran, Pearl Chanda and Ria Zmitrowicz are superb in Rebecca Frecknall's dreamy take on the Chekhov classic
Just over a year ago, the then-obscure director Rebecca Frecknall made a massive splash with her debut show for the Almeida, a revival of the Tennessee Williams obscurity 'Summer and Smoke'. It transferred to the West End and won two Oliviers – best revival, and best actress for Patsy Ferran. Perhaps more importantly it reclaimed a play that had essentially been written off in this county.

'Three Sisters' by Anton Chekhov is a very different kettle of fish: his portrait of a trio of Muscovite siblings fading in provincial exile is one of the most famous plays ever written, and clearly isn't in need of a rescue job.

Still, Frecknall's gentle, dreamy production is a very beautiful thing. Adapted with a poetic light touch by Cordelia Lynn, it strips Chekhov's 1900 drama of any real sense of period setting: there's barely a set, and you'll have a slippery time trying to pin down the era of Hildegard Bechtler's elegant costumes.

Instead Frecknall devotes everything to the elegiac ebb and flow of the characters' lives. Now a pretty big star, Ferran takes the smallest and least flashy sibling role as the eldest, Olga, but she makes it all her own, warmer and more fun and just more damn vivacious than usual. But she hardly dominates. Pearl Chanda gives the show its heart as a sort of sardonic semi-goth Masha: funny, sexy and a bit weird, you really feel the sense that she is drowning in this fading town. And as for the third sister, Ria Zmitrowicz is a marvel as Irina: hysterically gauche and unworldly in the first half, wise and resigned in the second.

If there's a through-thread between Frecknall's two Almeida shows it's a generosity of spirit. With the exception of Lois Chimimba as the sisters' shrill, scheming in-law Natasha, everyone here is more-or-less well-meaning in a way they're sometimes not permitted to be in other productions. In particular, Masha's doomed affair with dashing officer Alexander (Peter McDonald) feels like a warm and beautiful thing. He is dashing, but earnest, and his constant speeches about the future come across as an eccentricity that matches Masha's studied grumpiness.

There is a wilful bagginess at play here, a willing to let Chekhov's lengthy drama spool out without imposing any particular direction on it other than strip it down and let us listen to the characters' beating hearts. It works really well in the first half, less so in the second, when quite a lot of actual plot occurs in a way that jars with the dreamy, period nonspecific drift (it feels particulalry weird when a gun duel happens). Not a game changer, perhaps, but its warmth lingers.
Details
Average User Rating
2.5 / 5
Rating Breakdown
5 star:

0

4 star:

1

3 star:

0

2 star:

0

1 star:

1
I went to see this 'adaptation' by Cordelia Lynn of Chekhov's Three Sisters, a Wednesday matinee performance, and endured all 4 acts, lasting in total almost 3 hours, not counting the interval. I had travelled from Leeds especially to see this play. What I could have done in all that time.
It was an incredibly strange experience to sort of see Chekhov's play, but not hearing it or at least a good translation thereof, but one as if for a final year's school production somewhere out in the sticks where the quality of language matters little.
By ripping away the play's language, it lost its intentions, it's place in time, it's relevance, Cordelia Lynn would have been better advised writing a completely new version, similar to Simon Stone for his production in Basel a few years ago, instead she opted to use pretend modern language for people alien to the concept. people who were brought up in and for a completely different world to the one they find themselves in.
Maybe this common touch was intended for us, rather than the actors, so we could understand and follow the sisters' inability to change their circumstances. Maybe that's why the father was remembered as 'Daddy', in the very first line of the play, which there and then made me want to leave the theatre. Maybe that's why the swearwords. Maybe that's why Irina needed to celebrate a birthday, rather than her name day, as we would not be able to grasp the concept?
I have seen the Three Sisters in a number of productions, including good amateur stagings, in a number of different languages and translations, in the UK and in the EU, from very traditional to the outlandish, also the version mentioned above, none before were described as gentle, or dreamy. Being presented with that, we don't see the Family Prozorov, understand or learn.
The most exciting thing of this production actually happened outside the performances, the rather lavish and costly scene change to the final act, which unlike the other 3 acts is set, not inside the house, but out in the garden. Considering the time and cost to me, to watch the floor of the Almeida stage being ripped up in an elegant manner, this was a somewhat extravagant undertaking, and I hope something similar doesn't happen in the future.
I have to give it a star to post this comment on this production of the Three Sisters at the Almeida Theatre, I would have preferred to give none, it was that disappointing.
This is going to be a corker of a production with a bit of tightening. All three actresses fantastic. Another hit for Almeida. Will undoubtedly be a five star production by press night, but a strong four stars on first preview.