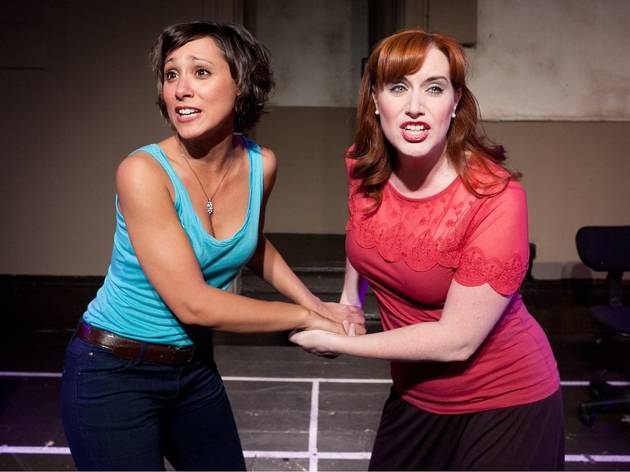 Jeff Bowen and Hunter Bell's '[title of show]' began life in 2004 as an entry into New York's Musical Theatre Festival. With three weeks to go before the submission deadline, and knee-deep in balled-up show ideas, the struggling writer-composers decided to write a musical about two struggling writer-composers trying to write a musical. '[title of show]' – named after the ominous space on the application form – was what they came up with.
The show starts with Jeff and Hunter – played here by the pitch-perfect Simon Bailey and Scott Garnham – desperate to shake off their part-time jobs and devote themselves to making theatre. A call for submissions at the local musical festival might just be the opportunity they're looking for. So, once they decide on the Russian doll-style theme of their latest work-in-progress, Jeff and Hunter recruit two performer friends, Heidi and Susan (Sarah Galbraith and Sophia Ragavelas) to complete the cast. With little more than a few chairs and a pianist called Larry, the story about taking an idea, working on it and putting it down on paper can get underway.
Director Robert McWhir's London premiere is a witty, pin-sharp musical, and clearly the cast delight in the knowing looks, the bitchy in-jokes and in tying themselves up in knots playing characters who are pretending to play themselves.
What appeals most, though, is Bowen and Bell's love and knowledge of their trade. With countless references to bygone musicals – some hopelessly dusty and obscure – the show feels like a rummage through the dressing-up box of Broadway history. It's an inventive, fresh and well-spent 90 minutes, and it has a lot more heart than you might expect.
By Nathan Brooker